Annual General Meetings
Upcoming, Last and Past AGM's
---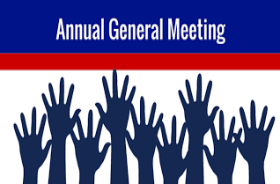 One of MUNPA's important events for the year is the AGM with Morning Information Sessions, held in early June. The themes for the sessions are always very popular and then members turn to the Associations' business in the afternoon. Watch for announcements with more details as we get nearer the event.
---
Upcoming Annual General Meeting
10:00am - 3:30 pm
Thursday, June 9th, 2022
In-person at Signal Hill Campus
AND Online via Webex
**Pre-registration required. DEADLINE - Thursday, June 2**
Mr. Glen Roberts, Memorial University's Manager of Benefits, Pensions, and Compensation, will speak on Travel Insurance at our morning session. We will be serving a light lunch followed by the afternoon business session, which includes Annual Reports and the election of our Board of Directors for 2022-2023.
2022 AGM Documents
The timeline will be as follows:
10:00 - 10:30am Registration for in-person attendees
10:30 - 11:45am Mr. Glen Roberts, Human Resources, MUN
"Travel Insurance" - Session includes online attendees
12:00 - 1:15pm Lunch
1:30 - 3:30pm AGM Business Session - Session includes online attendees
Please pre-register for the AGM by sending an e-mail to munpaevents@mun.ca
For pre-registration:
Indicate if you are attending in person or online.
If attending in person, there will be a $10 registration fee (cash or cheque only, payable at the door). As of June 1st, 2022, MUN has suspended its proof of vaccination requirement, so we won't be checking this. Effective the same date, MUN is dropping its compulsory mask-wearing requirement, but strongly recommending that people keep wearing them while indoors. MUNPA joins with MUN in encouraging continued mask-wearing, and recommends wearing them at the AGM when not actively eating or drinking.
If parking at SHC, please provide your licence plate number in your pre-registration email, and we will pay the fee for you.
Lunch will be vegetable soup and sandwiches, with your choice of meat OR vegetarian plates. Please inform us of your meal choice, and if there are dietary restrictions, in your pre-registration email.
If attending in person without lunch, please note this in your pre-registration.
Closer to the date:
All registrants will be provided with online access to the meeting documents.
All online attendees will be provided with the Webex meeting link. Webex is very similar to Zoom, for those new to Webex. Log-on will be available 30 minutes before each online session, in case anyone has a technical query.
Pre-registration is REQUIRED to meet COVID regulations, food order deadlines, and provide online access. The deadline is THURSDAY, JUNE 2.
Read our parking details for Signal Hill Campus events.
---
Last AGM
2021 Annual General Meeting
12:00 – 4:00pm,
Tuesday, June 8th, 2021
In-person at Signal Hill Campus
AND Online via Webex
There was a $10 charge for attending the AGM in person.
The registration deadline was Wednesday, June 2. The room capacity at SHC for the meeting room B2007 was a maximum of 50 MUNPA members.
All registrants were provided with online access to the meeting documents.
In-person attendees were advised of COVID-19 regulations then in place at SHC, eg mask usage, contact information required, and other items as necessary.
Online Attendees were provided with the meeting link. Those not familiar with Webex were given an opportunity from 2:00 – 3:00pm, June 7, to meet briefly on that platform to check out any possible usage issues. There was also a 30 minute advance sign-in on meeting day to serve the same purpose. Webex is very familiar to Zoom, as well as other online meeting services.
Business Meeting, AGM Report
Due to the COVID-19 pandemic, the MUNPA board chose to forgo the usual AGM morning session. A light lunch was followed by an address from MUN President Vianne Timmons. The afternoon business session, which included reports and an election of a new board of directors.
---
Past AGM's
Documents from past AGM's are found under the AGM Archives.
2022-05-09