Lecture Capture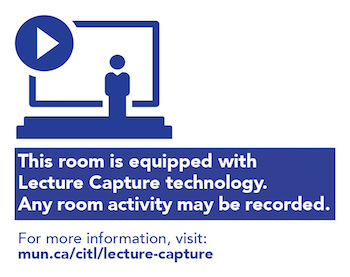 When used in class, Lecture Capture records a small video image of the instructor, the instructor's voice, and all information being projected through the data projector.
After the class is over, links to the recordings can show up automatically in the associated Brightspace course site.
The purpose of Lecture Capture is to provide verbatim recordings of lectures. Instructors must opt into Lecture Capture for each class, each semester.
If you are an instructor, and interested in learning more about Lecture Capture, please visit our Lecture Capture resource.
If you are a student, and wondering if Lecture Capture is used in your course, please check your course syllabus or talk to your instructor. Note, Lecture Capture is not a substitute for regular class attendance and should not be relied upon as the only means of accessing lectures.
Frequently Asked Questions
What is Lecture Capture good for?
Lecture Capture technology is a great way to review key course material before assignments or examinations. It provides students with a verbatim copy of the lecture so they can review content as many times as necessary in order to reinforce their learning.
How can I tell if the system is recording?
Recordings are configured by the instructor at the beginning of each semester and start and stop automatically for the dates and times they specify. Otherwise, all recording equipment is off.
In what rooms is Lecture Capture available?
You can find a list of all Lecture Capture rooms on our Technology Resources page.
Will students be recorded?
The Lecture Capture equipment is configured to capture only a narrow field around the lecturers podium, and audio from a personal microphone on the instructor. If students ask a question, audio could be picked up by the microphone, and if students walk behind the podium they will also be captured. If conducting a presentation with the computing equipment in the classroom, students will also be captured on video.
How can I review the recordings?
Recordings are most often published automatically to your Brightspace site about 24 hours after the lecture is recorded. If this is not the case, and your course is availing of Lecture Capture, please reach out to the CITL Support Centre.
Can I have a copy of the recording?
No, it is not possible to provide downloadable copies of the captured lectures. Lectures are automatically purged once the semester is complete.