Doorways to the Garden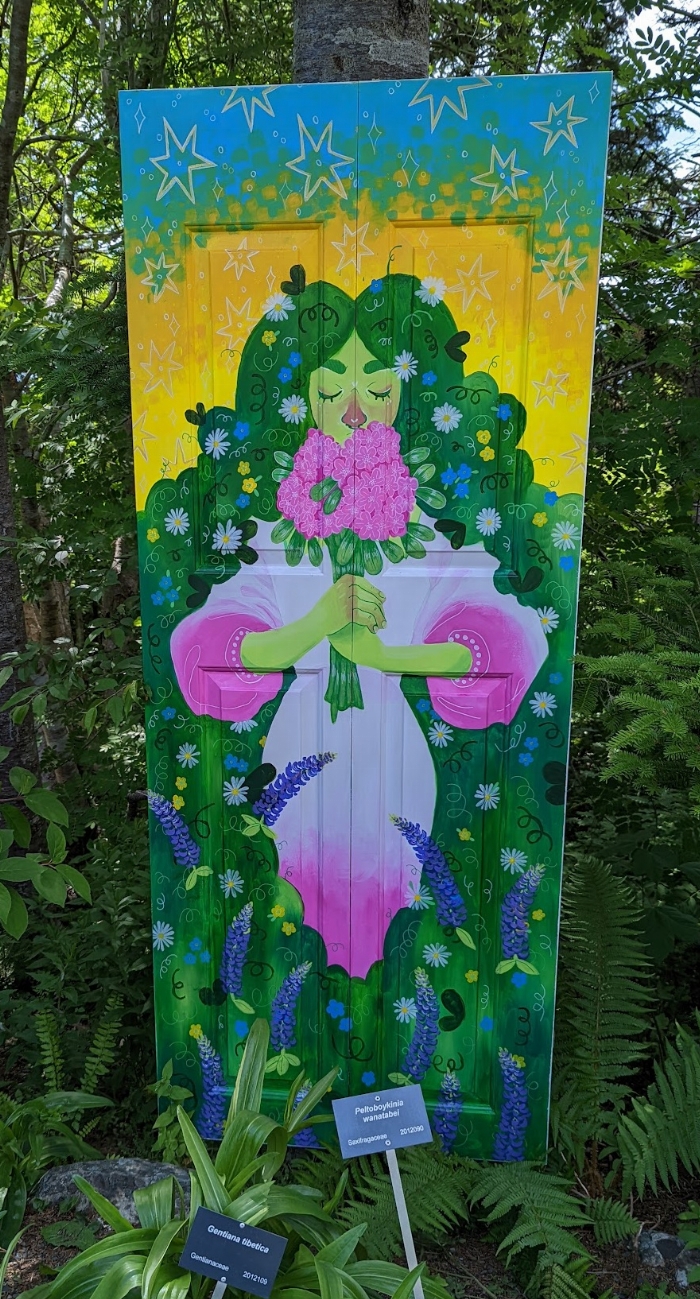 Bio:
Megan is a 21 year-old artist based in Mt. Pearl. As a post-secondary student pursuing a degree in commerce, she combined her passion for art and business by starting her own small business, "Megnality Creations," where she sells her artwork and other handmade items. While attending Mt. Pearl Senior High, she facilitated and painted several large murals that featured Newfoundland culture. She is also a member of the local artists' network "Icebergallery." Her work typically features the fantastical side of things, exploring mythology, folklore, and fictional creatures. However, she never misses an opportunity to imbue elements of home into her pieces.
Artist Statement:
This particular piece opens a doorway into a world where a Newfoundland spring is personified. Spring becomes a living, breathing being, pictured here smelling freshly cut Rhododendron, basking in the sunshine, and enveloped by a green wonderland of hair that features a variety of native Newfoundland flora. As any expressive physical feature becomes part of who we are, this communicates the message that our wild plant life is an integral part of our identity as a province. Open the doorway and join Newfoundland spring in her adventures to discover the magical world of plant life.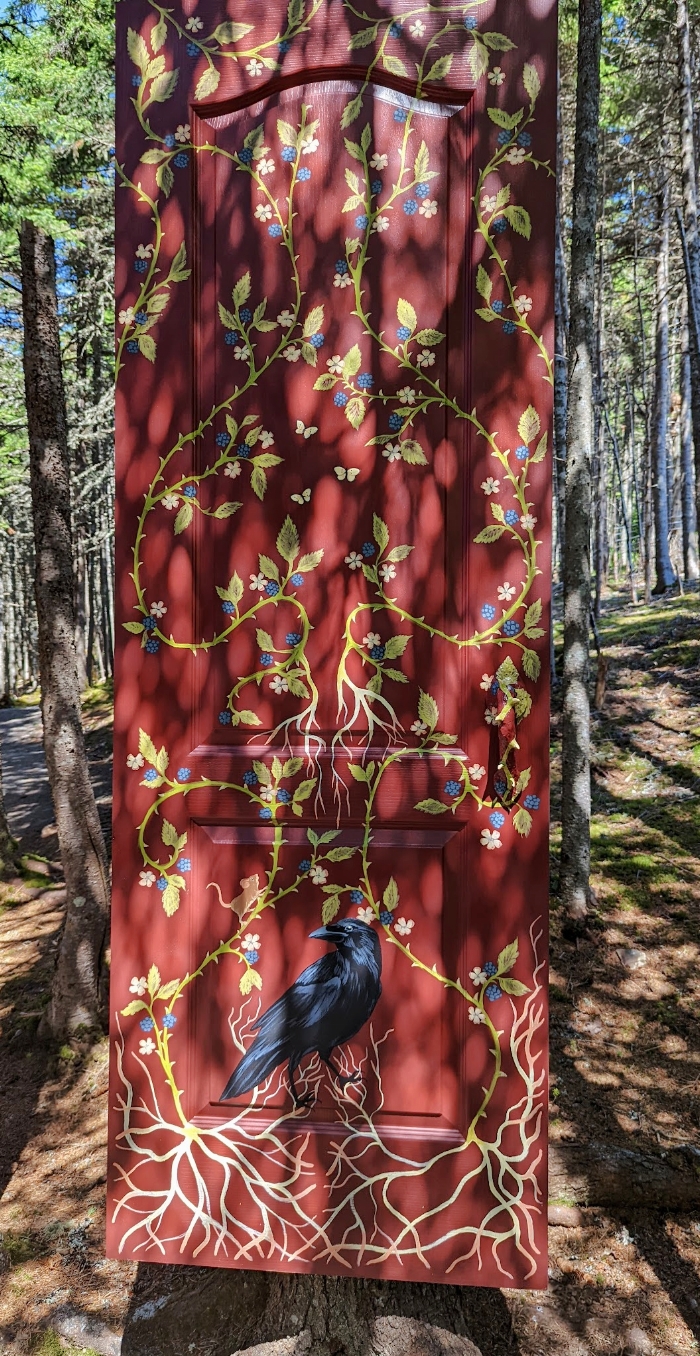 Title: Brambles, Blackberries, and Blooms
Bio:
Alison Helmer is a theatrical designer and visual artist who has been deeply and continuously influenced by her studies and experiences working on the east coast. Though born and raised in the prairies, she began her studies in Newfoundland in 2013 before completing the Scenography program at the National Theatre School of Canada in 2020. She approaches the world of design through a lens of fantasy, history, and the tradition of storytelling. She is excited by art that pushes the boundaries between conventional and experimental, and that seeks to fulfill our human search for truth, escape, and shared connection.
Artist Statement:
With my Doorway to the Garden, I intend to evoke memory, childhood wonder, and a deep connection to the land around us. With Come Home Year 2022, and the Year of the Garden at the centre of this project, I would like my door to be a reminder of the importance of cultivating and caring for our unique landscape, and of what weaves and binds us together as a community. Newfoundland's cultural traditions are synonymous with its rough and rugged landscape, and its wild and wilful weather. Despite its often unforgiving conditions, low and tangled plant life thrives on its cliff sides and deep within its forests. My door will represent the thorny brambles, sweet berries, and hidden blooms which are sought after yearly in the late summer and early autumn.
The colours within the background of my door represent the tradition and preparation of home made jams and preserves, connecting us to our families, friends, and communities. The overall form of the vines is one of symmetry, which illustrates the balance of elements needed to maintain its growth. However, within that overall symmetry are imperfections and slight variations, which imitate the natural unpredictability of the landscape and its yield. The thorny and tangled stems mirror the roughness, beauty, and fortitude of the island and its people, and the blackberries and blossoms are the sweetness that springs forth from them. The tiny mouse in the lower left hand corner is a symbol of adaptability and persistence, and the crow in the lower right hand corner represents the island's tradition of storytelling and divination. Like the thorny and tangled stems of the berries, it too holds a deeper beauty and sweetness.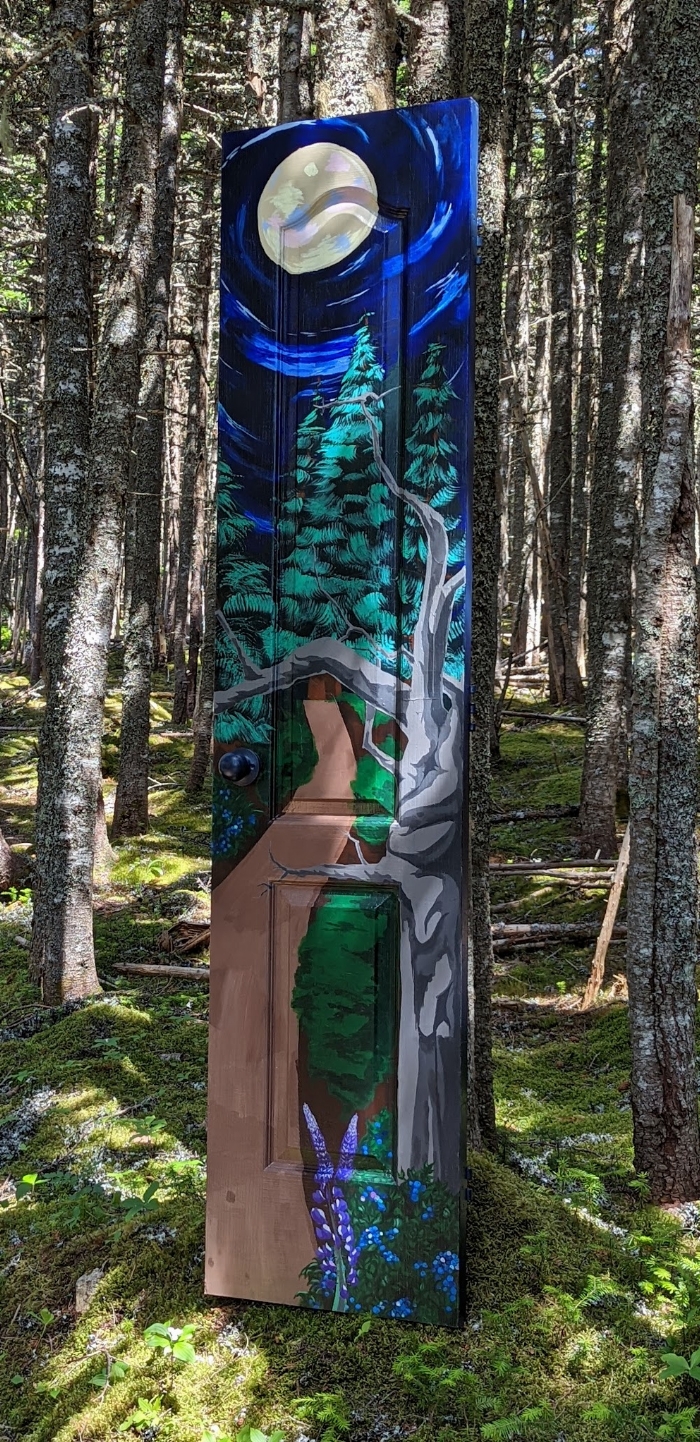 Bio:
Tansy I. Staniland is an amateur visual artist based in St. John's, NL. She is 14 years old and graduated from MacDonald Drive Junior High in June 2022. Tansy has an introspective nature and finds that drawing, painting and animating provide an outlet for communication and expression. Tansy has loved art - both experiencing others' art and working on her own - since she was a young girl. In 2021 Tansy started studying art with NL artist Emily Pitman and she is excited to be learning a wider range of techniques and styles in drawing and painting. Outside of school, art and babysitting, Tansy loves to read and listen to music. Tansy comes from a family of avid hikers and over the past number of years has hiked most of the East Coast Trail, which experience has helped to inspire her submission to the Doorways to The Garden.
Artist Statement:
The exhibit theme Doorways to the Garden made me reflect on my own experience on NL's hiking trails and attending the Echo Pond Camp. At Echo Pond, I was able to learn about and pick a wide variety of NL berries and plants. Hiking throughout the spring, summer and fall seasons you get to see plants start to flourish, flowers arrive and then berry bushes come to life with berries. There is nothing better than coming upon a patch of delicious purply-blue blue berries in the middle of a long hike and stopping for a break to eat your fill. My intention is to translate this experience into the Door. It will be a nighttime scene of a hiking trail or forest, with a starry bright sky, rich purples and blues with the moon highlighting a jewel-like selection of berry bushes beckoning for your attention.
Artist Statement:
Susy's art direction is fluid and ever-evolving. She has a background in glass-blowing, video-editing, painting and graphic design. Susy balances natural elements and processes throughout her art-process while establishing vibrant and bold final pieces. Susy often uses art to express the complexities of current social issues and she renders images in her work to express metaphoric symbolism through visually appealing compositions. Susy Randell achieved a Bachelor of Fine Arts from Memorial University (Grenfell Campus) and has also studied Design at Sheridan College in Oakville, Ontario. She completed a Bachelor of Education at Memorial University. Apart from teaching, Susy is a free-lance graphic designer and actively engages in completing personal and community-based art projects.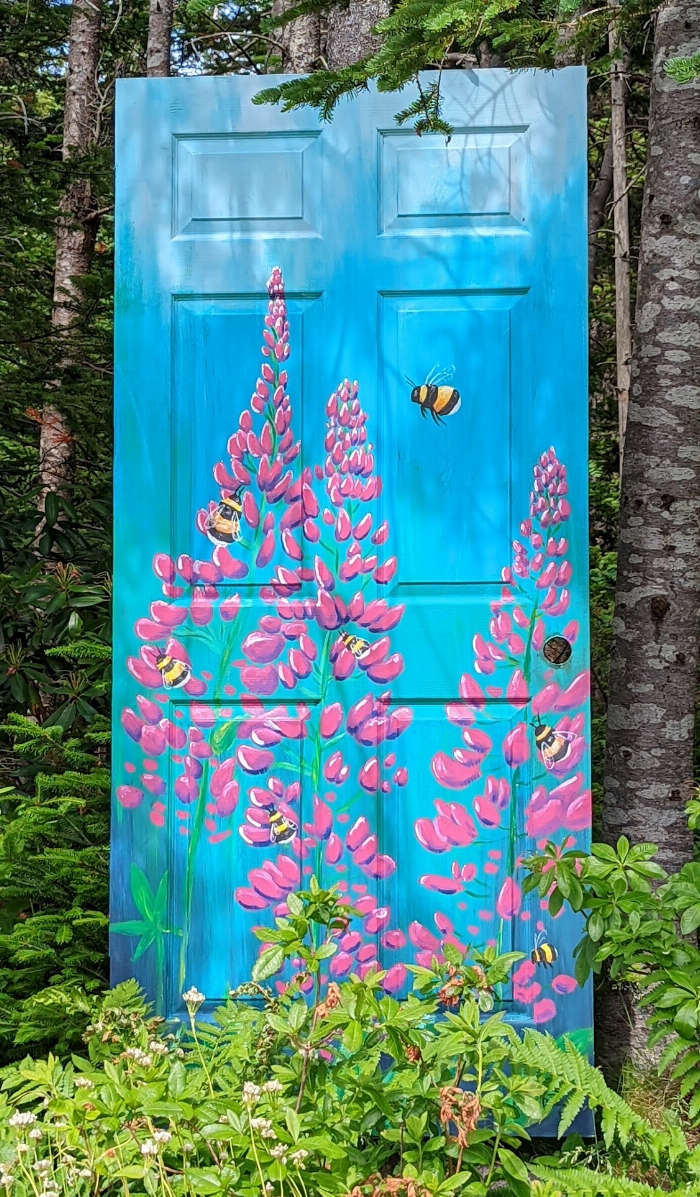 Bio:
I am Emma Dooley, a self-taught artist with a love of bees and all foliage and flora. Being located in Conception Bay South with amazing trails and even a bee farm, means inspiration is pretty much everywhere! My mother and I own Funky Junk in CBS, and we are constantly being creative. Pen and ink was my first art medium after sketching, but now I almost always work in acrylic paint or even eco-friendly furniture paint with thickening powder. I love layering to create depth and using palette knife painting techniques to add 3 dimensional elements, and love to paint on canvas, but upcycled items and furniture is always the most fun! I try to paint every day. I do it all just for me and create pieces with subjects that make me happy.
Artist Statement:
If it wasn't obvious by my bio and attached photos, I love bees. I think they are adorable but also that more people need to be aware of how important they are. I would love to do a door dedicated to bees. I would love to do an arrangement of bee loving flowers found in the garden, very bright and cheery. Then bees everywhere!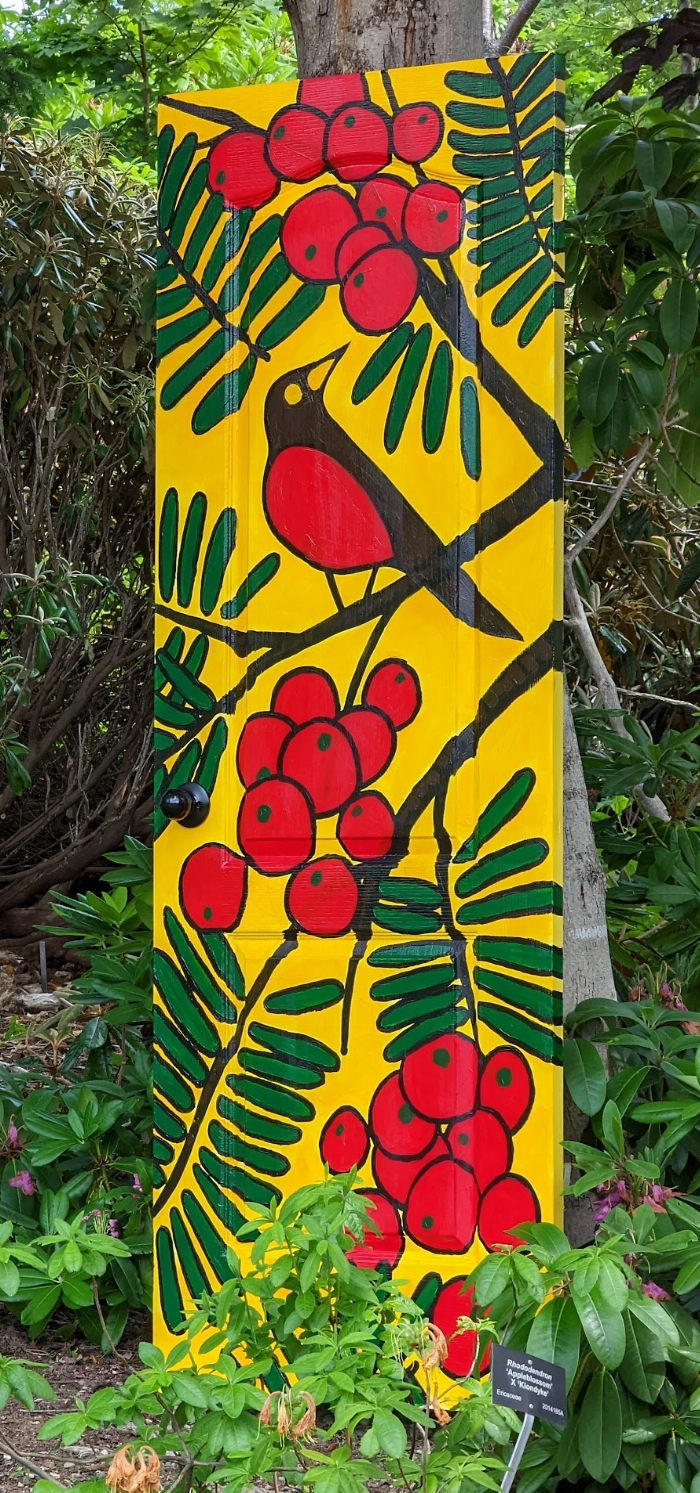 Bio:
I am a freelance graphic designer and illustrator that has helped create brand identity and promotional material for local enterprises. Born and raised in St. John's, NL, I spent my childhood recreating the things I admired from cartoon characters, comic book heroes, and all things fantastic. As my skills grew I in turn have grown a fondness for recreating the natural world through an illustrative lens. You can view such examples of my work on my Instagram, Instagram.com/EhNonyMouse.
Artist Statement:
My intent is to depict iconic plants and animals in celebration of life in its prime. The style itself will be a playful use of simple lines and colours resembling a woodcut print while having the spirit of medieval illuminated manuscripts.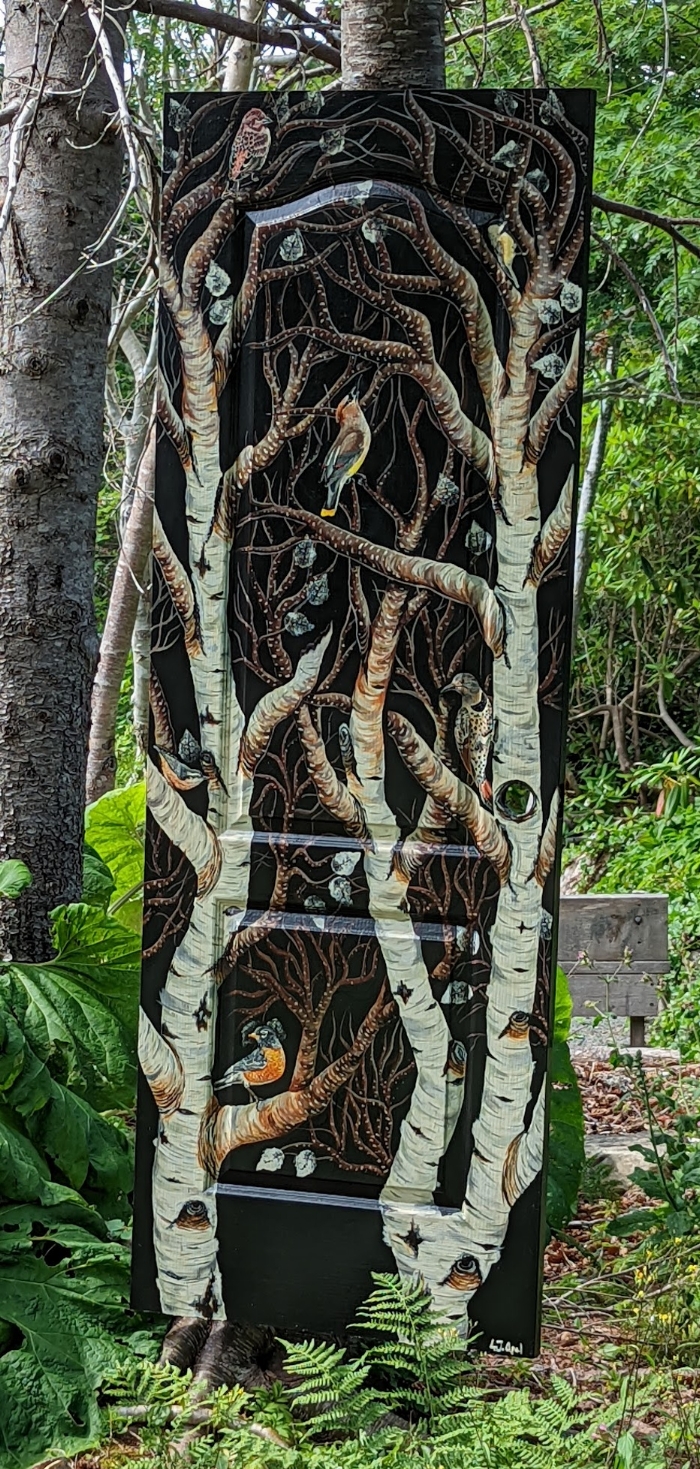 Bio:
Luca is a self-taught painter and mixed-media artist, raised in Missouri, educated in BC, and now living in St. John's. At fourteen, he began painting the birds he saw in National Geographic Magazines and found his niche. He didn't (and still doesn't) always stick to birds, but they have become the bread and butter of his artistic career for over a decade now. Luca has exhibited his work in galleries and pop-ups across British Columbia, including at the Victoria Arts Council, the Esquimalt Community Arts Hub, the Surrey Art Gallery, and the Pitt Meadows Art Gallery. He is now excited to find new opportunities (and new birds) on the east coast.
Artist Statement:
There is more to trees than the low-hanging branches we can feel, and the blanket of green that obscures the sky above us. Up in the canopy is a whole ecosystem, nourished by and living within those very trees. This piece depicts this canopy, giving trail-goers a doorway into a part of the garden they otherwise can't see up-close. It features a pair of white birch trees, as well as a few birds that call the Avalon Peninsula home. This includes a Black-Capped Chickadee, a Northern Flicker and an American Robin: Can you name the rest?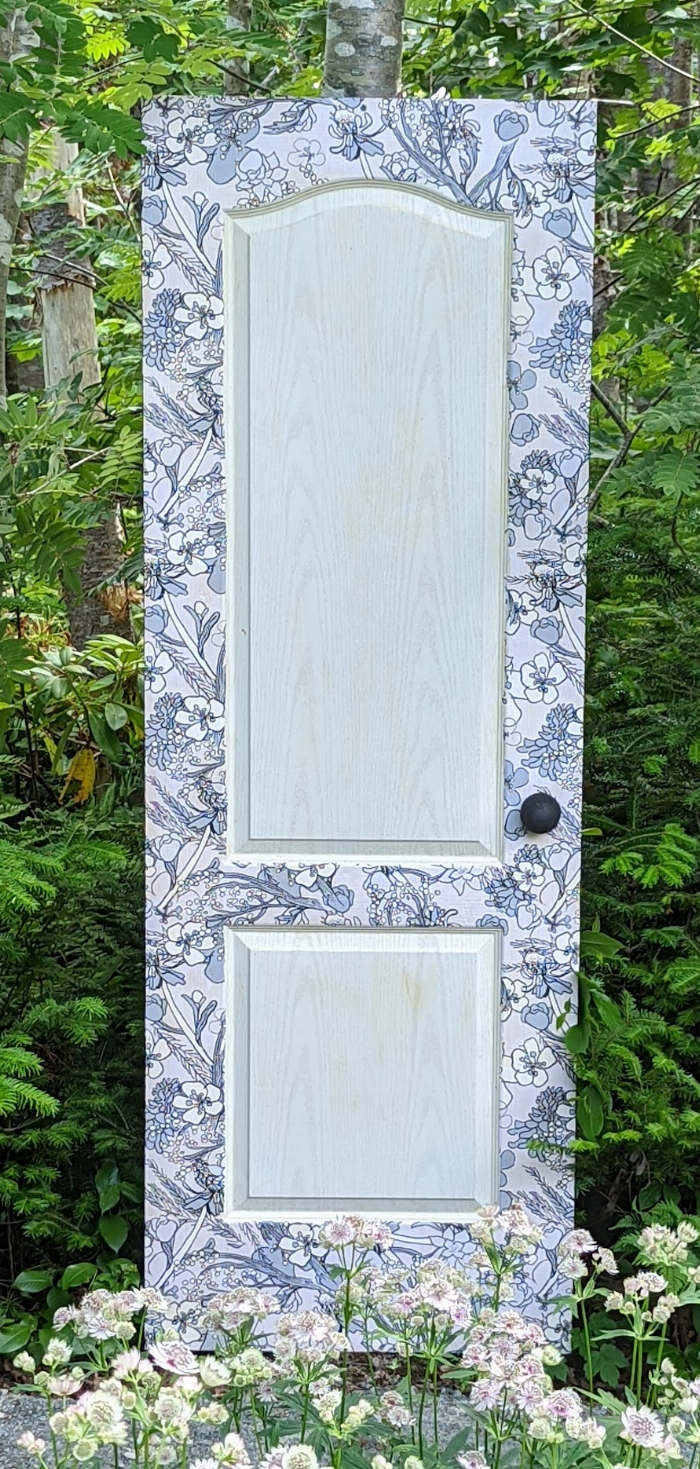 Bio:
I grew up south of Vancouver. Since high school I've lived in various towns and cities across Canada. The most "myself" I've ever felt has been in Newfoundland. I started a Visual Arts degree at Grenfell Campus in 2014 and after a few years left to do an art residency on Vancouver Island, take a journalism intensive at the First Nations University of Canada, and work a few years in the Vancouver film industry. August 2021 I moved back to Ktaqmkuk / Corner Brook. There's something magical about the land and I'm so grateful for the network of people I've come to know. Last fall I forayed into participatory installation as lead artist for CB Nuit and also resumed undergraduate studies at a slower pace. As an artist, I will always be a student, and I'm enjoying the opportunity to truly slow down for the first time in my life.
Artist Statement:
Nature is full of patterns, and for this project I thought it would be fun to make a tangly repeating pattern featuring Newfoundland flora. The physical artwork itself would incorporate flora -- it would be printed on paper (wood pulp!) and adhered to the door with wheatpaste (wheat! plant!) The border of the door would have line work drawings, a nod to botanical study illustrations, but containing the messy play and texture of plants in the wild. For the interior panels there are two options. The insides could remain blank -- acknowledging that to find out more, one must proceed beyond the door to discover more details. Or, the inner panels could continue the pattern, but only with the colour of the flora. This segregation of qualities mimics ideas of plant identification -- the art may encourage viewers to consider details of different aspects of the plants they come across. The more details one can recall the better the chance of identification!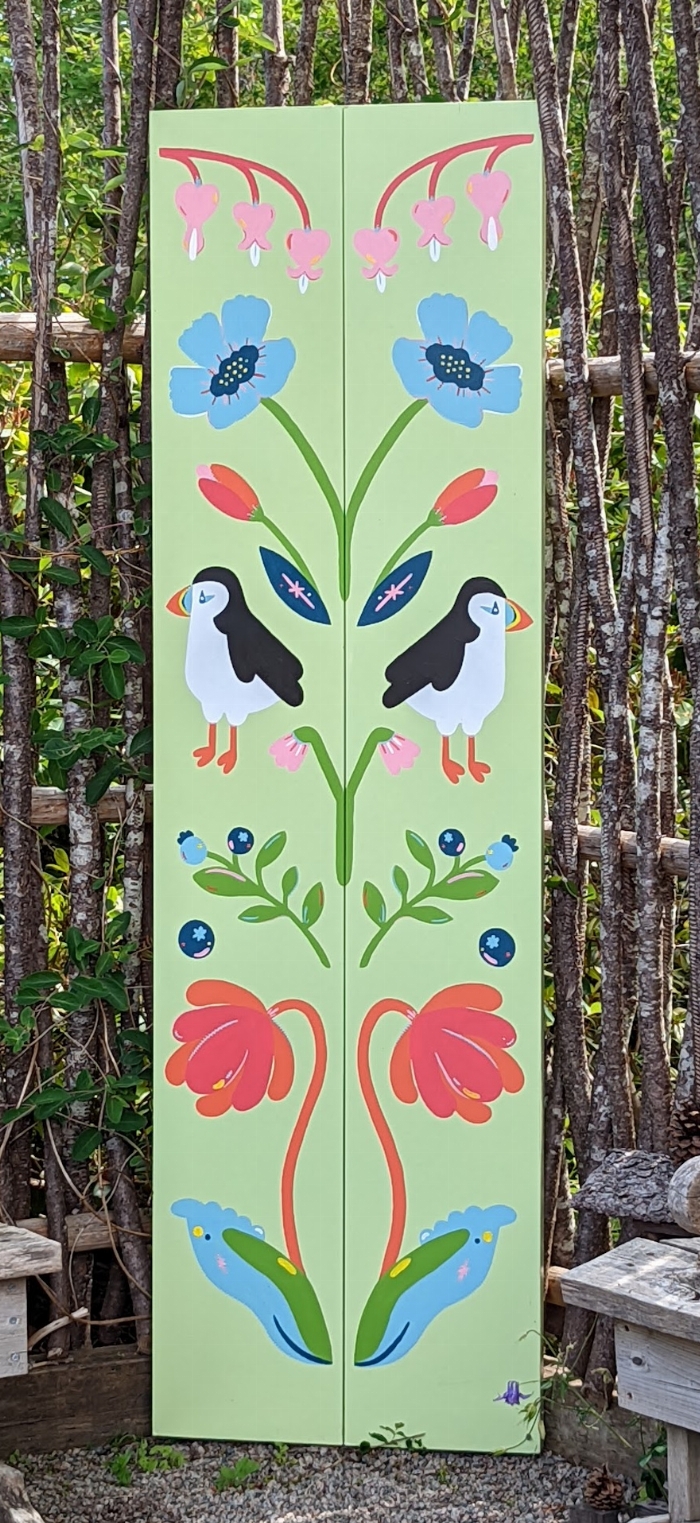 Bio:
Molly Margaret is an illustrator and creator from St. John's, Newfoundland. She received her Bachelor of Design in Illustration at OCAD University in Toronto, Canada in 2018. Her work is primarily inspired by plants and botanicals, East Coast imagery and culture, architecture, and people wearing tiny boots. Molly prioritizes creating joyous, colourful, and whimsical work for everyone to enjoy.
Artist Statement:
The doorway i am proposing aims to draw in viewers to the spectacle of New­foundlands bountiful wildlife. The proposal is folky in style and features a sy­metrical crest-like illustration showcasing just some of Newfoundlands most prominent plants and wildlife. Our provincial bird, the brave Puffin sits mirroring one another like a king or queen in a set of cards. While the Pitcher plant hangs loosely below drawing our gaze as it collects water. I am incredibly proud to be a Newfoundlander and love the opporunity of spreading that pride. The goal of my proposed door is to exemplify that pride while sharing it with those curious enough to enter!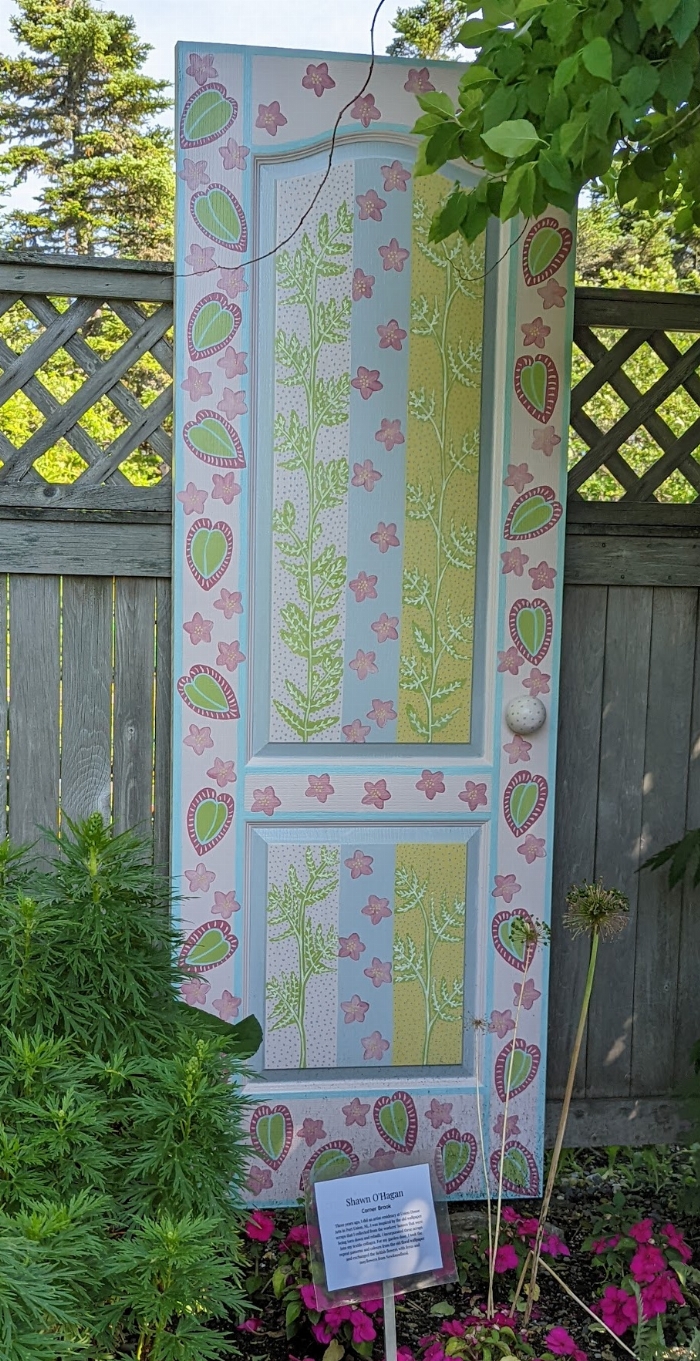 Bio:
Shawn O'Hagan has been based in Ktaqmkuk (Newfoundland) since 1975. She lives and works on the west coast of the island, dividing her time between her house in Corner Brook and her cabin in Elmastukwek (the Bay of Islands). She has a BFA from the University of Guelph, a B.Ed in Art from the University of Toronto and a MFA, with a specialization in painting, from the University of Waterloo. She has worked with many processes and materials, and for the past 15 years has concentrated on textiles. She has exhibted her work in solo and group shows, mostly in the Maritimes, and her work can be found in many collections including the Canada Council Art Bank.
Artist Statement:
Three years ago I did an artist residency at Union House Arts in Port Union, NL. I was inspired by the old wallpaper scraps that I collected from the workers' houses that were being torn down and rebuilt. I incorporated these scraps into my textile collages. For my garden door, I took the repeat patterns and colours from the old floral wallpaper and exchanged the British flowers with ferns and mayflowers from Newfoundland.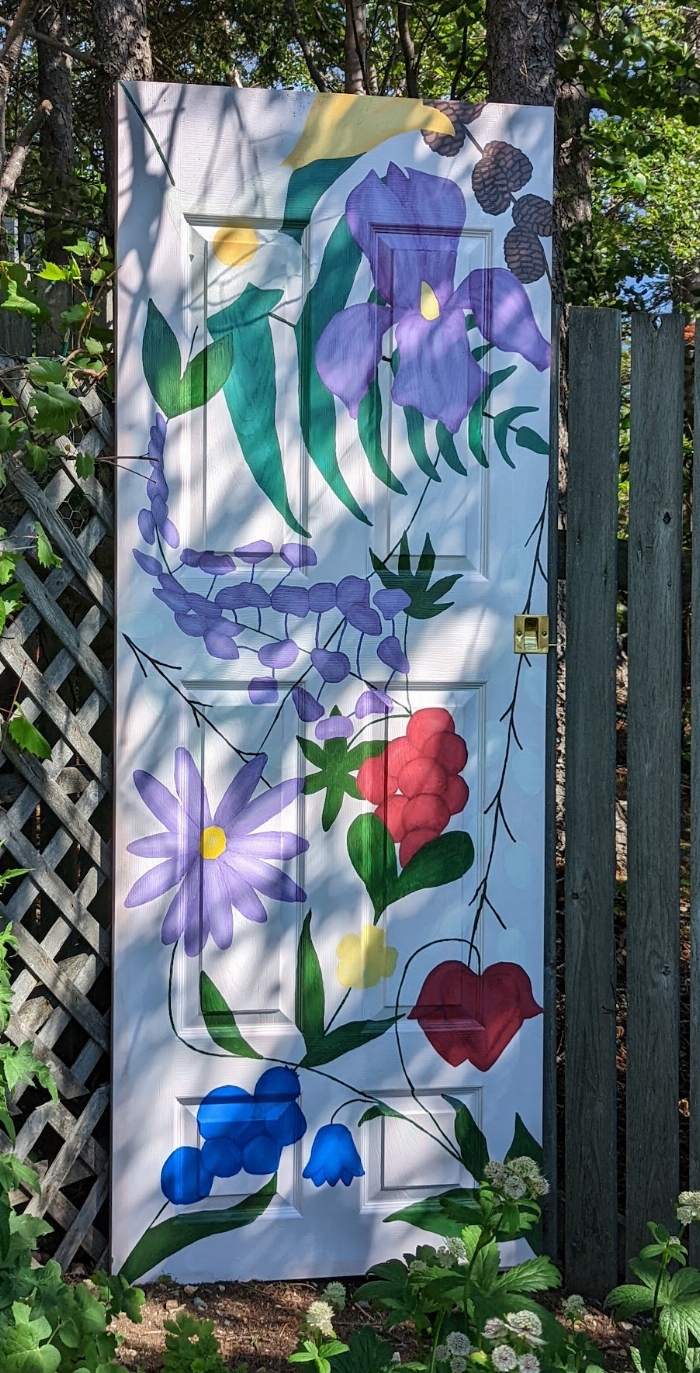 Bio:
I am a 25 year old graphic designer and artist. Creating art has always been a big aspect of my life. I like being able to share how I see the world with others through my art. I also love plants and my dog and I spend a lot of time surrounding ourselves with nature.
Artist Statement:
The plant life of Newfoundland is as unique as its culture. I aim to represent this by showing the vast diversity of plant life that is abundant here in the province. I want to show the viewers just how beautiful the plant life is in this province and help them get more engaged with nature by showing them how I see it. I want the bright colours and the different plants of the painting to get people excited for nature and become more adventurous. My painting will display various flora of Newfoundland including, but not limited to, a pitcher plant, blueberries, and a lupin. These plants will be displayed on a light pink background to help the greens of the leaves draw in the viewer's attention. I intend to use acrylic paints with a weather proof sealant on top to ensure the door will be protected from the elements.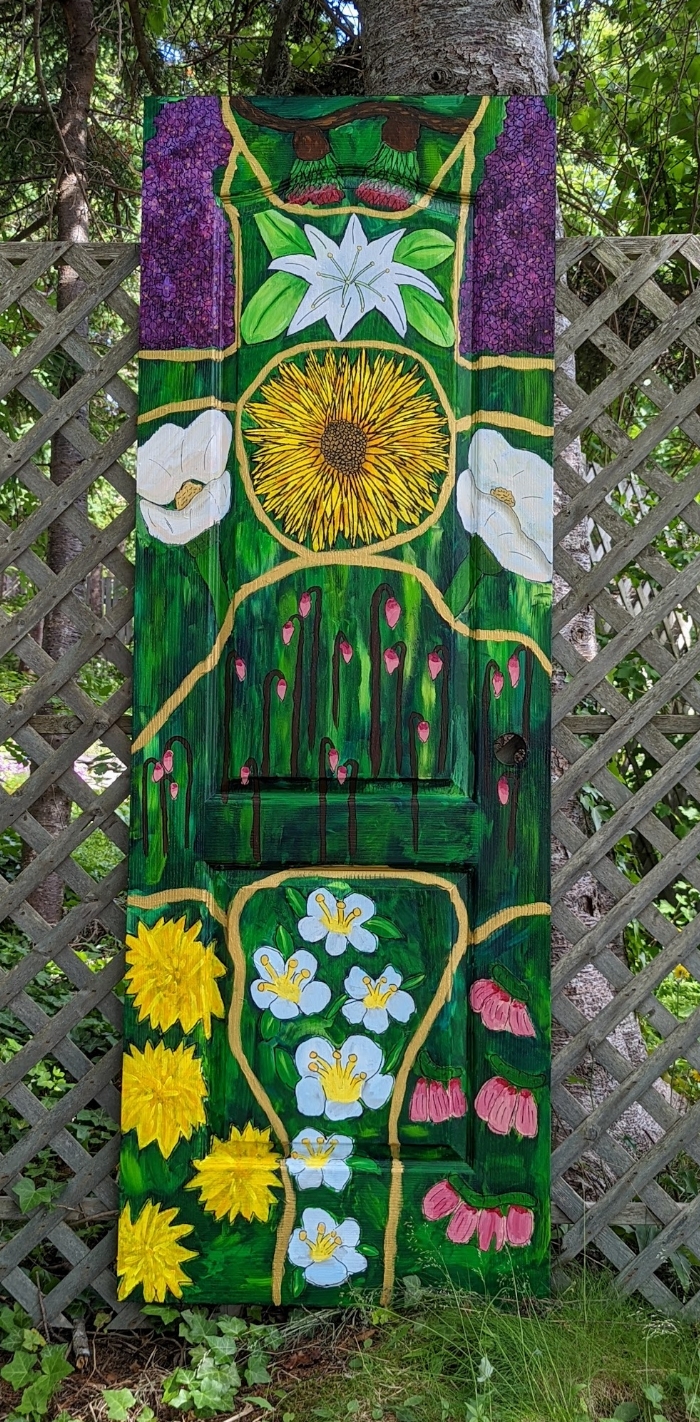 Bio:
Hayley Butler is a Visual Arts student at Memorial University Grenfell Campus in Corner Brook. Being born and raised in Conception Bay South, she has explored and learned of the many different artists and stories from the communities around which have been an influence on her art practice. With her dedication and hard work, she has poured her own experiences into her artwork which was featured in her first curated exhibition in the Arts and Culture Center in Corner Brook earlier this year. Hayley has practiced many forms of art such as traditional drawing, photography, painting with different mediums, sculpting, and even digital practices, she holds a wide range of knowledge in the arts. Now going into her second year of the Visual Arts program at Grenfell, Hayley strives to give back to her community with her art which she hopes will connect not only her stories but also those around her to bring people together to appreciate the arts as a whole.
Artist Statement:
The theme of the exhibit is adventures seeking the great wilderness of Newfoundland and Labrador's rich plant world. My idea of a stained glass look to the painting on the door, makes it feel like you are looking into the flowers of the Island. Stain glass tells a story, like in a church, they tell stories told by many in the form of art. These stories are like an adventure, telling the viewers of the many beautiful plants that live on the island. With the bright colours, the unique mosaic of shapes, with an abstract feeling, this piece connects to the theme because of the interpretation of stained glass being the window to the world of plants.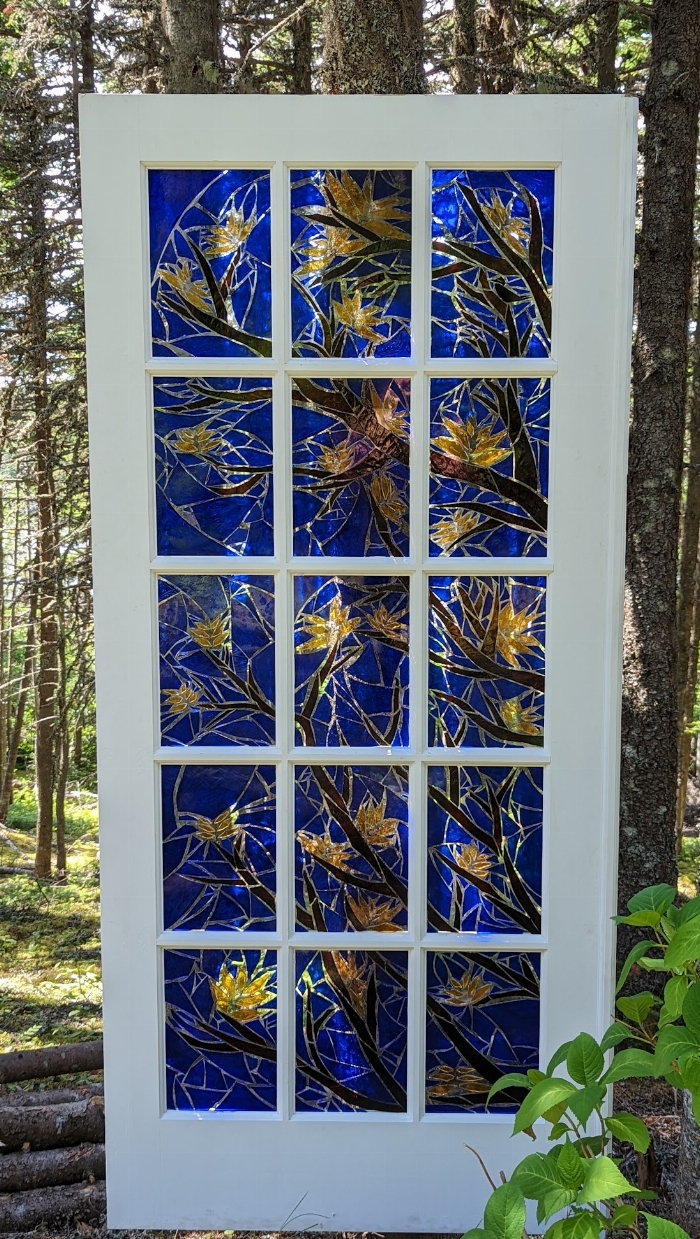 Title: The Ash Tree
Bio:
Karin Murray-Bergquist is a folklore PhD student and writer, whose artistic interests include poetry, radio plays, theatre, watercolours, and stained glass. This is the biggest stained glass piece they have yet made, and represents the ash tree, a tree that has deep roots in this island's soil, as well as being associated in Irish folklore with healing. Karin's further work can be found in various anthologies, or as part of the Practical Fantasists creative team.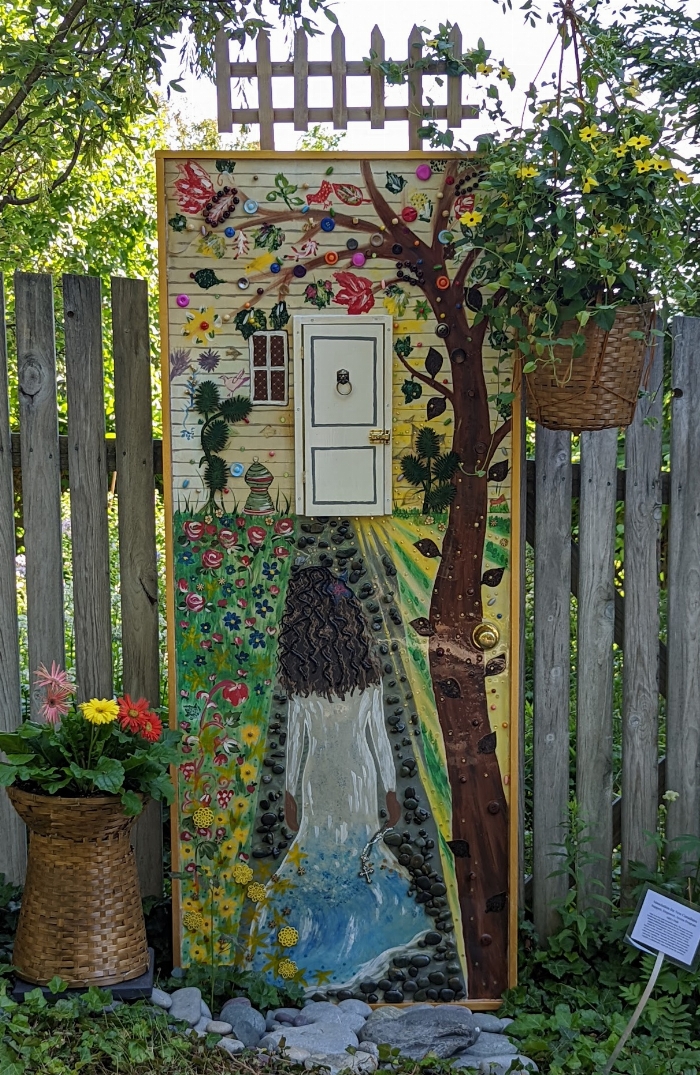 Title: Adey's Path
Bio:
Support, Empower, Access (SEA) is the first project of its kind in the province dedicated to refugee and newcomer women with lived experience of human trafficking. Building capacity within the Association for New Canadians, along with local service providers, SEA aims to support and empower trafficked women and girls. With the formation of a Peer Leadership Group (PLG), the women not only have access to a shared community, they will also inform future programming and services for peers who have lived through similar experiences. In this way, the PLG will inform the project through a survivor-led approach. The PLG meets monthly around various activities – one of which would be the collective design of a doorway for MUN Botanical's Doorways to the Garden Exhibit.
We will be using the doorway to empower vulnerable newcomer women as well as to invite symbolic support by those passing through the doorway. The SEA doorway embodies access to new horizons for the women, and it is a way to provide access to make NL a net zero human trafficking province.
Artist Statement:
"Adey's Path" is an artwork dedicated to raising awareness about the vulnerabilities of newcomer women to human trafficking, sex and labor exploitation. The artistic concept was hatched by a group of fifteen newcomer women from Eastern Europe, East and West Africa who have either survived, or been impacted by, these scourges to varying degrees.
Adey*, the woman walking toward the doorway, is on her path toward freedom. The open doorway overflowing with light represents the Support, Empower and Access Project: The Association for New Canadians' anti-human trafficking project that serves as a lighthouse for migrant and immigrant women. Adjacent to the door stands the "mosob"- the Eritrean food platter which fosters a sense of community through the ancient practice of communal eating. Through the project, the newcomer artists are creating a community amongst themselves, yet wish to convey the message that tackling human trafficking requires a collaborative approach across the province.
The bottom of Adey's dress is designed like the waves of the ocean, representing the turbulence of migration. She bears the Christian crucifix - the faith she still holds onto despite her troubles. With the clusters of the yellow Eritrean New Year flower gracing her path, Adey is reminded of the flowers of her youth that blossom zealously in the Eritrean New Year, in September. Its presence in this work symbolizes new beginnings for all survivor newcomer women. The iconic pitcher plant embodies new floral connections - paving Adey's path to her new home in Newfoundland and Labrador, with flowers unlocking the secrets to her life.
*Adey (ኣደ) the most common female first name in Eritrea.
Celebrating both the Year of the Garden, and Newfoundland and Labrador's Come Home Year, Memorial University's Botanical Garden is pleased to host their first-ever outdoor art show. Doorways to the Garden. Fourteen previously loved doors have been re-purposed as artist canvases, and will serve as entry points, ways of passage setting adventure seekers on a magical journey into the world of plants. Artists have transformed these blank canvases into visions of Newfoundland and Labrador's rich plant world
Our call for expressions of interest garnered submissions from more than 20 artists, from which 14 were selected by jury. These selected artists include representatives from the St. John's Metro area and Corner Brook, established names, and youth talent at the start of their career. Each door is unique, presenting the each artist's personal interpretation of the show's theme, in their own preferred artistic style.
Art pieces will be on display throughout the cultivated gardens, on the shores of Oxen Pond, and along the Garden's boreal forest trails from July 14-September 25.
The official opening of the exhibit will be held Thursday, July 14, from 6:00-7:00pm. The public is invited to join the artists and Garden staff for this evening of art and exploration. This will be a great opportunity to meet some of the artists and to learn more about their creations. Admission to the Garden will be free that evening, from 5:00-8:00pm.
This exhibit is produced in partnership with Habitat for Humanity Newfoundland and Labrador, who are generously providing the doors for artists, and with the Friends of the Garden, who are providing financial support.