The Garden in May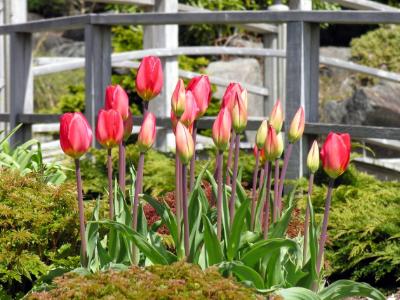 The month of May is a time of awakening for the Garden. Spring bulbs are the mainstay in most gardens but we have never grown many at the Garden. Nonetheless we still have plenty to see blooming in May.
This month the show is stolen by spring-blooming woodland plants. Trout-lily are bulbs that produce a pair of attractive brown-mottled leaves and nodding, reflexed yellow flowers not unlike a Turk's-cap lily. Anemones are another woodlander with white, pink or blue flowers. While the blooms appear like a daisy, these plants are actually related to buttercups. Both of these plants are under 30 centimeters tall.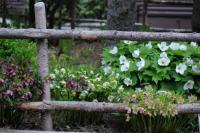 Also related to buttercups are hellebores. These are among the larger woodland plants, reaching to 60 centimeters. Throughout May they produce nodding flowers in shades of pink, red or white.

Perhaps the most colourful plants of May are the drumstick primroses. These produce spherical heads of bright lilac-purple flowers atop 30 centimeter stems. We also have them in red and white. Many other primroses bloom in May including the old-fashioned English primroses in a mix of colours and cowslips with nodding yellow flowers. Blue-eyed Mary is a wonderful groundcover for shade that produces masses of blue, forget-me-not like flowers throughout May.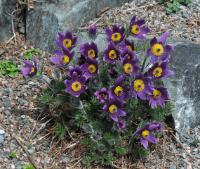 In the rock garden, May is the month for the Pulsatilla, AKA the pasqueflowers. Yet another buttercup relative, these produce open cup-shaped flowers in white and shades of pink, purple and red. The bushy cluster of yellow stamens in their centers provide a lovely contrast. Pasqueflower blossoms follow the sun, so blossoms will face east in the morning and west in the late afternoon.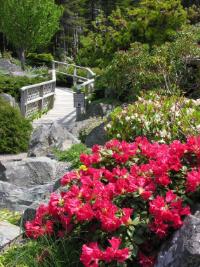 Among our extensive rhododendron collection, the early species and hybrids begin to bloom in May including the ever popular PJM series and the dwarf Rhododendron impeditum, 'Purple Gem' and 'Ramapo'. In the rock garden, May is the month for the parchment-white blossoms of Rhododendron 'Frilled Ivory' which grows alongside the fiery-red Rhododendron 'Scarlet Wonder'.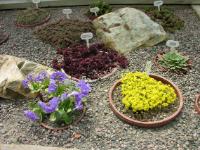 No trip to the Garden is complete without a look at our alpine house. May is a wonderful month with lots of blooms from early-flowering saxifrages, primroses, Draba and Bergenia. And the first blooms will start among the plants in the alpine troughs located next to the alpine house.

So don't think the Garden has little to offer in May. Even on May 1 we will have blooms and by the middle of the month, colour will be everywhere!