Students
Ph.D. Candidates:
Alessia Ciraolo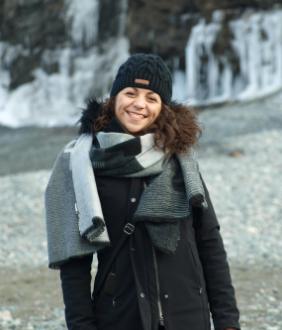 CHONe Project: Project 2.1.3 Hypoxia and cumulative impacts on seafloor ecosystem function
Project Title: Cumulative Impacts of Trawling and Hypoxia on Northwest Pacific Deep-Sea Ecosystems
Project Description: The main objective of my project is to evaluate the physical and biological forcing conditions in the benthic boundary layer of the NE Pacific Ocean and their impact on ecosystem dynamics. I hope to understand how macrofaunal diversity interacts with different O2 conditions (following its natural gradient), organic matter supply and microbial diversity in recycling organic matter and regenerating nutrients (nitrate, nitrite, ammonia, phosphate). I will achieve this by comparing macrofaunal and microbial diversity in different O2 conditions and relating them to rates of respiration and nutrient efflux. I would also like to understand how communities interact with their environment in recycling organic matter.
Contact: acciraolo@mun.ca
---
Benjamin King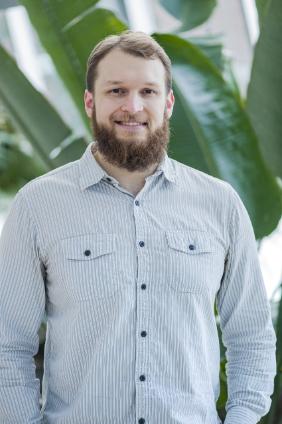 Memorial University of Newfoundland, Department of Ocean Sciences
I originally hail from the small town of Elora, Ontario. From a young age, I spent many of my summers fishing the waters of Lake Erie, where I became fascinated with fish biology and how the surrounding environment influences fish movement. I travelled east to complete my BSc (Hons) Co-op in Marine Biology with a minor in Statistics from Dalhousie University. I fell in love with the east coast during my time in Nova Scotia and I now am fortunate enough to call St. John's my home. When I'm not working on my project, you'll likely find me playing any sort of team sport around the city, hiking, cooking or taking long walks on the beach.
Ocean Frontier Institute, Module E: Ecosystem Indicators for a Changing Ocean
Project Title: Understanding how environmental fluctuation alters the spatial ecology of juvenile cod in subarctic ecosystems
Project Description: My project investigates how shifts in environmental conditions and changes in biotic community assemblages alter the spatial ecology of juvenile cod in three different subarctic regions across temporal and spatial scales. Using several acoustic telemetry arrays, I aim to quantify the dispersal and home range of juvenile Greenland cod according to changes in temperature within Nain, Labrador, the Gilbert Bay Marine Protected Area, and Newman Sound, Newfoundland. I will compare the movement estimates generated from each study site to investigate how juvenile cod movement changes across this latitudinal gradient. Additionally, using footage collected from baited camera deployments over several seasons, I will characterize juvenile Greenland cod habitat use based on substrate type and macroalgal cover. This analysis will also include a comparison of relative species abundances for biotic community assemblages across seasons and habitat types.
Contact: bgcking@mun.ca
---
Danielle Quinn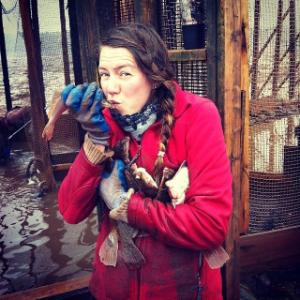 Hello! I am originally from New Brunswick, and received my BScH ('10) and MSc ('13) in Biology from Acadia University in Wolfville, NS. From 2013 - 2016, I enjoyed many hours in the field working on striped bass, skates, squid, salmon, crabs, and sturgeon as a research assistant, and helping new lab members keep their data and analyses organized and reproducible. I'm always ready to chat about pedagogy, programming, and my dogs, Mackerel and Juniper!
Project Title: The Role of Computing and Open-Source Software in Ecological Research & Marine Conservation
Project Description: When I started my Masters in 2010, I was introduced to the world of data, statistics, programming, and R, and have spent most of the last ten years developing these skills and exploring how computing and open source software is being applied to solve problems in ecology and conservation. My dissertation focuses on building accessible computational tools to address common challenges faced in conservation. This includes a web application that uses machine learning to make predictions about cryptic species identification, and an R package for quantifying shifts in ecological communities. I will also be discussing the emergence of the field of study known as ecoinformatics, the changing role of computing as a skill set in ecology, the increasing value of interdisciplinary collaborations in marine conservation, and how academic culture (across fields of study) is shaping the experiences of users and developers of open source software.
Contact: danielle.quinn@mun.ca
---
Emilie Geissinger
Memorial University of Newfoundland, Department of Ocean Sciences
I grew up in Connecticut and started studying marine ecology at Bates College, in Lewiston, Maine. After Bates, I spent time teaching high school Biology as a teaching fellow at the Noble and Greenough School, in Dedham, Massachusetts. Following my year of teaching, I spent time at the Cape Eleuthera Institute, in Eleuthera, The Bahamas as a research intern with the Flats ecology research team. Outside of research, I spend time teaching coding and data science skills to researchers as a Carpentries instructor and help run a coding group at Memorial University.
CHONe Project: The contribution of nearshore coastal zone nurseries to offshore capture fisheries.
Project Title: Overwinter survival of juvenile Atlantic cod (Gadus morhua) in coastal Newfoundland
Project Description:My project focuses on overwinter survival of juvenile Atlantic cod (Gadus morhua) in Newman Sound, NL. I use multiple methods to understand what factors influence survival in juvenile Atlantic cod (Gadus morhua). I have used experimental feeding trials, mark-recapture studies, and long-term datasets to look at the influence of temperature, size, food availability, and condition on survival over winter.
The specific project/thesis aims are:
Determine the effect of size and food availability on growth, condition, and survival of age-0 Atlantic cod


Assess overwinter survival rate and movement of age-0 Atlantic cod in Newman Sound


Determine the relationship between pre- and post-winter condition and population abundance of age-0 cod


Explore the relationship between physical oceanography and survival probability of Atlantic cod in a Newfoundland fjord
This project links with the broader CHONe goals by studying the impact winter has on coastal zone fisheries and determining juvenile contribution to offshore fisheries.
Contact: eageissinger@mun.ca
---
Marta Miatta
Memorial University of Newfoundland, Department of Ocean Sciences
I am originally from Italy, where I received my M.S. in Marine Biology in 2015, working on meiofaunal biodiversity and sedimentary trophic status in coastal systems. I have always had a strong passion for nature and the ocean and my main interests include benthic ecology, biodiversity and conservation issues related to the marine ecosystems, especially the deep-sea. My favourite part of the job are the endless days at sea collecting mud samples and exploring the ocean's wonders using ROVs. When I'm not studying or working, you're likely to find me hiking or playing with my dog, Alaska and taking pictures of the stunning Newfoundland's nature.
Project Title: Biological and environmental drivers of deep-sea benthic ecosystem functioning
Project Description: The main objectives of my project are to evaluate benthic key functions (oxygen consumption, nutrients fluxes and microbial activity) in different soft-sediment bottom habitats of the North Atlantic (Laurentian Channel AOI, Gulf of Maine) and to evaluate the relationships between ecosystem functioning and benthic diversity (biodiversity and functional diversity of macrofaunal and meiofauna) and environmental factors. The study, sponsored by CHONe (Canadian Healthy Ocean Network), aims to understand how ecosystem functioning is regulated and the role different biotic and abiotic factors play in that. Moreover, the better understanding of benthic ecological processes could be helpful in developing effective conservation strategies for the ocean and for the improvement of MPAs design and monitoring protocols.
Contact: mm5655@mun.ca
---
Salma A.A. Husaien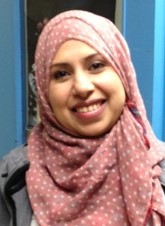 Memorial University of Newfoundland, Department of Ocean Sciences
I was born in Libya on one of the most beautiful spots on the Mediterranean coast, called Ras Al Hilal, where I found myself interested in a wide variety of topics in marine ecology and biology, which made me increasingly fond of oceanography and the marine environment. I obtained a MSc in Marine Science at the faculty of Natural Sciences, University of Omar Al-Mukhtar, El-Baida, Libya. I specialized in Environmental and Biological Studies on Juvenile Commercial Fish in the nursery habitats on the Mediterranean coast, specifically, the life history pattern of the marine species and its Lessepsian migration through the Suez Canal to the southeastern part of the Mediterranean Sea.
CHONe Project: The contribution of nearshore coastal zone nurseries to offshore capture fisheries.
Project Title: Testing the Junk-food Hypothesis on age 0-1 Atlantic Cod Gadus morhua: Effects of Fatty Acid Contents, Prey Density & Prey Size on Growth and Survival.
Project Description: My project aims to explore some of the factors affecting the growth and survival of the Atlantic Cod in Newman Sound, a small, protected fjord located in Bonavista Bay off the NE coast of Newfoundland coastal. I will try to explore some ways in which these areas could be used without causing harmful biological effects. A key element in trying to rebuild the population is to understand how food availability and nutrition behavior affect productivity. Since the junk-food hypothesis is a highly relevant factor in relation to sustaining ecosystem resilience and is an important consideration in ecosystem management, the quality of the food may also be critically important for some marine species at the juvenile stage. Because of this factor, I will suggest this hypothesis as a potential explanation for the dramatic decline of the population of Juvenile Atlantic Cod communities in Newman Sound, one of the important nursery habitats on Newfoundland coastal, and it may be possible to predict that Juvenile Atlantic Cod will be particularly sensitive to their habitats' food quality. I anticipate that this information will be used to explore ways in which such nursery areas can be maintained and, where appropriate, restored in such a way as to allow coastal communities to benefit from them.
The specific project/thesis aims are:
To explore, using this hypothesis, the factors affecting the growth and survival of Atlantic Cod in a coastal nursery habitat of Newfoundland.


To explore ways to minimize adverse effects of these factors on habitat sustainability and explore restoration options.


To provide scientific information to support effective management of Atlantic fisheries.
Through the study of potential effects on the growth and survival of juvenile Atlantic Cod and in Newfoundland coastal habitats. This research project will examine the growth and bioenergetic response of juvenile Atlantic Cod to conditions expected to affect their survival in the marine environment. This research will use an empirical approach to these hypotheses by collecting juveniles in the ocean environment using targeted seine surveys.
Contact: sh1816@mun.ca
---
M.Sc. Candidates:
Amy McAllister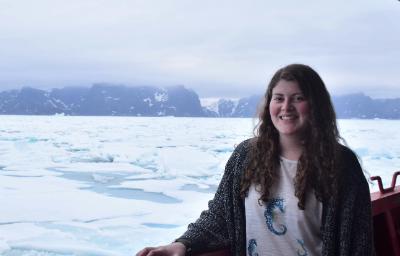 I'm from London, Ontario, which isn't too far from Lakes Erie and Huron, so I've always had much love for the Great Lakes in Canada. But as I grew up, I also became curious about Canada's coastal waters, which lead me to venture off to the East Coast, where I studied marine biology at Dalhousie University. During my time in Nova Scotia, I realized I was passionate about life in the ocean and that I wanted to keep studying it, so after finishing my undergrad I decided to pursue a master's at Memorial. I now live here in Newfoundland & Labrador, where I am happily studying the deep-sea creatures of the Labrador Sea!
Project title: Trophic ecology of the Labrador Sea: combining stable isotope and metabarcoding approaches to construct deep-sea food webs
Project description: The deep-sea makes up most of our oceans, and yet it remains virtually unexplored. The Labrador Sea is no exception, as the ecology of its depths is mostly a mystery. Since the deep-sea can be largely inaccessible, indirect methods to study its ecology are often used, including the analysis of stable isotopes from animal samples or the sequencing of environmental DNA from water samples. Neither approach is perfect on its own, but they appear to be complementary when used together. The goal of my research is to use these approaches to examine marine food webs of the Labrador Sea and explore their combined potential to investigate the trophic ecology of deep-sea habitats. Through this research, I'm hoping to add to our knowledge of the Labrador Sea and to expand our understanding of benthic and pelagic ecosystem dynamics in a globally significant downwelling area.
Contact: asmcallister@mun.ca
---
Catie Young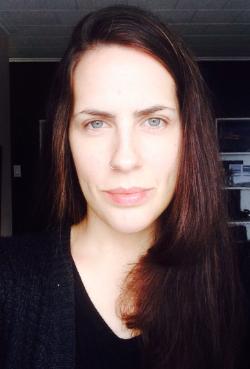 Memorial University of Newfoundland, Department of Environmental Science
Project Title: Distributional patterns of deep-sea coral and sponge in the Hatton Basin area of the Northwest Atlantic
Project Description: The main objective of my project is to describe the distributional patterns and biodiversity of deep-sea coral and sponge habitats off the northern Labrador shelf and slope. Environmental DNA (eDNA), Remotely Operated Vehicle (ROV) videos, and drop camera videos will be analyzed to determine Hatton Basin deep-sea coral and sponge distributional patterns and community structure with depth (500 m – 2500 m). Analysis will consider regional physical circulation models to investigate how currents influence distribution from coast to offshore, clarifying the biological implications of nutrient delivery. This project, as part of the ISECOLD and ATLAS projects, will help predict climate change effects on deep-sea coral and sponge ecosystems, and evaluate predictions from other coral and sponge species distribution models by providing ground-truthing for depths beyond 1500 m. Also, better understanding of coral and sponge biodiversity in a globally significant downwelling area can help predict complex ecosystem changes and overall ecosystem health. This information will help ocean managers in the implementation of MPAs and in monitoring ecosystem change and resilience.
Contact: ctyoung@mun.ca
---
Evelyn MacRobert
Memorial University of Newfoundland, Department of Biology
Having always enjoyed being around water, my gravitation to marine ecology is no surprise. I received my Bachelors of Science from the University of Guelph, majoring in Marine and Freshwater Biology. My interests include predator-prey interactions and habitat quality.
CHONe Project: 1.2.1: The contribution of nearshore coastal zone nurseries to offshore capture fisheries
Project Title: Spatial risk: Influence of piscivorous fish on selection of nursery habitat by Age-0 juvenile cod
Project Description: Juvenile fish experience a high rate of mortality and most of this mortality is due to predation. In Newfoundland Atlantic (Gadus morhua) and Greenland (G. ogac) juvenile cod settle into eelgrass beds which serve as nursery habitat, providing food and shelter from predation. I am interested in understanding the importance of eelgrass nursery habitats to the survival of juvenile cod. Specifically, I aim to
Determine the distribution of age-0 juveniles within eelgrass patches


Determine the habitat areas that hold the highest predation risk, based on where predators occur.
With this project, I hope to provide insight into how important eelgrass beds are to the growth and survival of juvenile cod.
Contact: em2610@mun.ca
---
Mary Clinton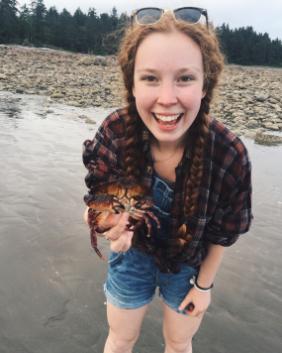 Growing up in coastal British Columbia, on the traditional territory of the Coast Salish Peoples, I have always loved and been fascinated by the ocean. In 2017, I received my BSc (Hons.) in Biology at Simon Fraser University, where I studied the impact of thermal stress on early development of intertidal seaweeds. I also spent four months at the Bamfield Marine Sciences Centre, where I discovered my passion for marine ecology. I am now excited to be living and learning in St. John's, NL. When I'm not studying or working on my project, you'll likely find me hiking, rock climbing, or tackling a good crossword!
Ocean Frontier Institute, Module E: Ecosystem Indicators for a Changing Ocean
Project Title: Ecosystem Functioning in Arctic Benthic Environments: The Roles of Food Quantity and Quality
Project Description: Anthropogenic climate change is driving unprecedented environmental change and biodiversity loss, with potential effects on how Earth's ecosystems function. These changes are particularly evident along high-latitude coastlines. For example, sea ice provides habitat for tiny ice algae that eventually sink and become food for organisms on the ocean bottom. Given the lengthening of ice-free periods due to climate change, the relative contribution of ice algae to Arctic and sub-Arctic food webs will presumably change. Determining how this shift in food quality may affect seafloor ecosystem functioning will be crucial to understanding the impact of sea ice loss on marine ecosystems.
Contact: meclinton@mun.ca
---
Rebecca Evans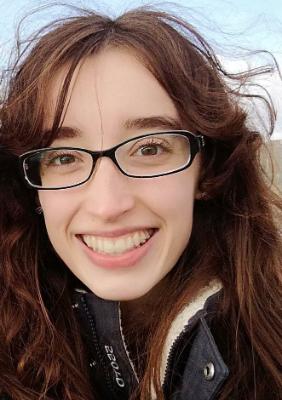 Memorial University of Newfoundland, Department of Biology
The ocean has always fascinated me — even while growing up surrounded by freshwater in Ingersoll, Ontario. Living close to the town limits, I filled my time exploring the forests and rivers around me, quickly developing a passion for the environment and its conservation in the face of climate change. This led me to an Environmental Biology Bachelor's Degree (Honours) from the University of Guelph. My passion for ocean conservation grew as I took as many aquatic courses as I could at Guelph, leading me to now happily call St. John's home as I complete a Master's Degree at Memorial. In my spare time, I can be found reading fantasy novels, cooking elaborate meals, exploring St. John's arts and culture events, and hiking in forests near the ocean.
Project Title: Food sources to the Labrador shelf sedimentary communities and the role of kelp
Project Description: Benthic ecosystems are important because they support all other organisms in the marine food web. Coastal benthic ecosystems are especially productive, and kelp forests prove important habitats. Little is known, however, of how these kelp forests will be impacted by climate change in the Arctic. My project investigates the functions and services that kelp forests provide to benthic communities along Labrador's sub-Arctic, continental shelf. I'll be mainly using isotopic analysis to determine the importance of different food sources (including kelp) in coastal benthic ecosystems, and how these differentially-important food sources affect benthic biodiversity patterns in the face of climate change. My project is part of ArcticNet's Project #101 (ArcticKelp).
Contact: rebeccaje@mun.ca
---
Ty Colvin
Memorial University of Newfoundland, Department of Biology
I was born and raised in Atikokan, a small town in Northwestern Ontario. There I grew up surrounded by lakes and rivers, which fuelled my interest in aquatic ecology. I completed my HBSc in Biology with a concentration in Biodiversity and Conservation at Lakehead University in Thunder Bay, Ontario. From there, I wanted to transition into marine ecology, which is how I found my way out to Newfoundland and St. John's.
Project Title: Ecosystem Functioning in Seagrass Sediments
Project Description: My project seeks to examine the relationships between infaunal biodiversity and ecosystem functioning processes (specifically carbon remineralization and nutrient flux rates) in seagrass ecosystems. I will be looking at the roles of seagrass habitat structure, as well as habitat disturbance by invasive green crab in shaping infaunal communities, and how this translates to changes in ecosystem functioning.
---
Lab Alumni
Graduate Student Supervision:

completed 2018 Neus Campanya i Llovet Ph.D Co-advisor
completed 2018 Emma Cooke M.Sc. Co-advisor
completed 2016 Mallory Van Wyngaarden M.Sc. Co-advisor
completed 2016 Renald Belley Ph.D. Advisor
completed 2016 Ryan Stanley Ph.D Advisor
completed 2016 Melanie Rossong Ph.D. Co-advisor
completed 2015 Dustin Schornagel MSc Co-advisor
completed 2015 Ashley Robar M.Sc. Co-advisor
completed 2013 Melanie Shapiera M.Sc. Co-advisor
completed 2013 Krista Baker Ph.D., Part time Co-advisor
completed 2013 Corey Morris Ph.D., Part time Advisor
completed 2011 Louise Copeman PhD Co-supervisor
completed 2010 Victoria Burdett-Coutts M.Sc. Co-advisor
completed 2009 Mary Ryan M.Sc. Co-advisor
completed 2009 Ryan Stanley M.Sc. Co-advisor
completed 2009 Ashlee Lillis M.Sc. Advisor
completed 2009 Kelly Carter M.Sc. Co-advisor
completed 2009 Michael Kelly M.Sc. Advisor
completed 2007 Lu Guan MSc Advisor
completed 2006 Jared Crawford Master's of Marine Studies Advisor
completed 2004 Pedro Quijon Ph.D. Advisor
completed 2003 Harshana Rajakaruna MSc Co-advisor
completed 2002 Danielle Nichols Master's of Marine Studies Advisor
completed 2001 Andrea Carew Master's of Marine Studies Co-advisor
completed 2001 Barry McCallum Master's of Marine Studies Advisor
completed 2001 Patricia Ramey M.Sc. Advisor
completed 2000 Ian Bradbury M.Sc. Advisor
completed 1999 Gina Billard Master's of Marine Studies Advisor
Postdoctoral Investigator Supervision:

2016-2018Nicolas Le Corre Co-supervisor
2016-2017 Barbara Neves Co-supervisor
2016 - 2018 Nicolas LeCorre Co-supervisor
2013 – 2015 Richard Allen Co-supervisor
2011 – 2014 Chih-Lin Wei Co-supervisor
2010-2011 Colleen Mercer-Clark Co-supervisor
2007-2008 I. Bradbury Co-supervisor
2004-2005 K. Alexandra Curtis Co-supervisor
Honours Student Supervision:
Completed 2017 Chelsea Bloom
Completed 2011 Victoria Howse
Completed 2009 Rebecca Doyle
Completed 2008 Larina Carroll (Co-supervised) Krista Boland
Completed 2007 Margaret Warren (Co-supervised) Candice St. Germain Karla Short
Completed 2006 Stephen Cole Stephen Chung Kate Gardiner
Completed 2002 Kelly Carter (Co-supervised)
Completed 2001 Krista Park
Completed 1999 Jonathon Martin Thomas Brown