About Evidence in Context Reports
Putting health research to use. In preparing 'Evidence in Context' Reports, CHRSP synthesizes findings from high-level research already conducted in the subject area, such as systematic reviews, meta-analyses and health technology assessments.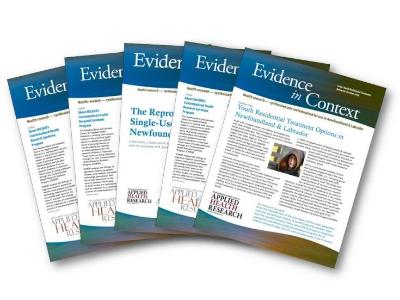 Building connections. CHRSP connects researchers, health authorities, and the government, all of whom are represented on the CHRSP project team. The approach to the synthesis varies from topic to topic, but we always begin by consulting the province's healthcare decision makers to identify topics of interest to the provincial health and community services system and that require evidence to support decision-making in the coming year. Working with our health system partners, CHRSP filters and prioritizes research topics on which a substantial body of quality research is available.
Placing evidence in context. For each topic that is selected, a team is created to gather and synthesize research findings and then contextualize the findings to the requirements, resources, and circumstances of Newfoundland and Labrador.
CHRSP provides locally relevant evidence, attuned to our provincial demographics. Our researchers also recognize the capacities and limitations of our healthcare system. CHRSP takes into account that what may work in New York City will not necessarily work here in Newfoundland and Labrador.
An external reviewer reviews the work of the project team, providing feedback to ensure validity.
Integrating Knowledge Translation. With CHRSP, knowledge users and knowledge producers work in tandem from the formulation of the research question to the dissemination of the results. Knowledge translation and exchange (KTE) happens not only at the end of the project, but also at the beginning, and throughout the research process. As a result of this approach, research results are communicated to the province's decision makers and health professionals in formats and forums designed to maximize their uptake into the local decision-making process.
Producing Relevant Reports. The first CHRSP project was carried out in 2008 and focused on the provision of dialysis services in rural and remote populations in Newfoundland and Labrador. Since that time, CHRSP has conducted a number of projects on a range of topics chosen by our health system partners.
CHRSP METHODOLOGY FOR EVIDENCE IN CONTEXT REPORTS
COMPLETED EVIDENCE IN CONTEXT REPORTS