Our People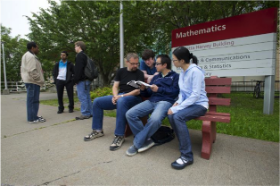 As a thriving academic unit,the Department of Mathematics and Statistics is home to 44 faculty and 6 staff, all of whom are essential to its day-to-day functioning, and provide vital contributions to its teaching and research efforts.
Every year 8,000 students pass through our doors, choosing from nearly 200 classes taught by our faculty members, most of whom are engaged in ongoing research.
Currently, 120 undergraduate students and approximately 65 graduate students are enrolled in our 22 degree programs.