Road construction and closure - Elizabeth Avenue
Aug 18th, 2023
Beginning Monday, Aug. 21, the city of St. John's will restrict a portion of Elizabeth Avenue (Newtown Road to Allandale Road/Bonaventure Avenue) to local traffic only. A detour will be in place to direct traffic along Bonaventure Avenue, Whiteway Street and Newtown Road, or Allandale Road, Prince Philip Drive and Westerland Road. The detour map is available here. Local traffic will not be able to turn left onto Elizabeth Avenue from Bonaventure Avenue. This is to facilitate the City's Elizabeth Avenue Shared Use Path and Road Improvements project that began earlier in August.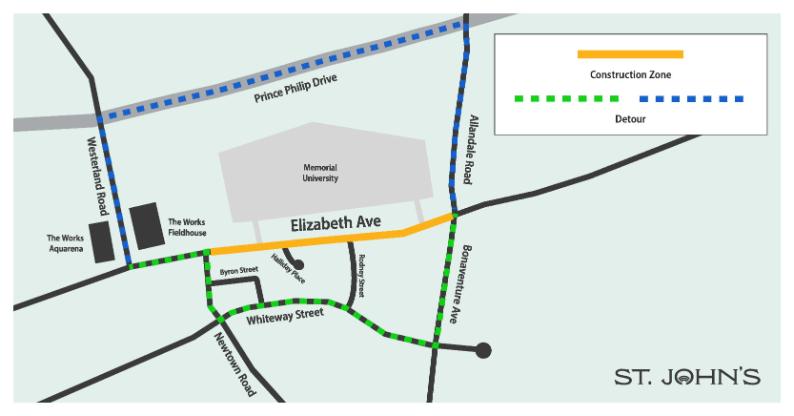 University traffic is considered local traffic, but due to anticipated slowdowns caused by lane reductions, the area should be avoided as much as possible, and motorists should consider alternate routes to access campus.
Motorists can use alternate entrances to campus at Allandale Road near the Arts and Culture Centre, Westerland Road near the Education building or Livyers Loop off Prince Philip Drive. Russell Road is closed until approximately the end of October.
Sidewalks along Elizabeth Avenue will be maintained on one side of the street throughout construction. A pedestrian access point frequently used by the Memorial community at the end of Pinebud Place onto Elizabeth Avenue is in the active City of St. John's construction zone and is completely closed to pedestrians. Individuals will not be able to leave this pathway to access Elizabeth Avenue. Users should follow the sidewalks along the vehicle detour routes and cross at Rodney or Bonaventure.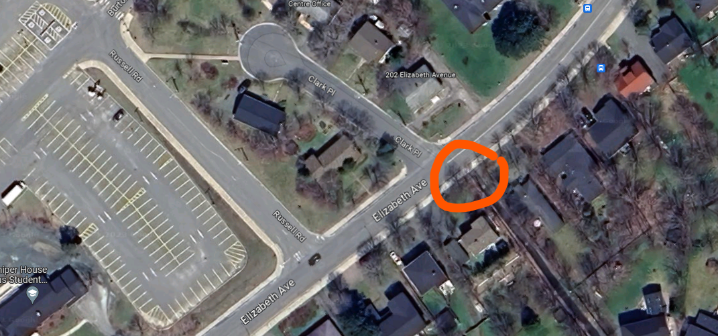 Pedestrians are strongly encouraged to consider routes to avoid Elizabeth Avenue and only use designated sidewalks, crosswalks and walking paths. Watch for heavy construction equipment and remain alert and attentive in this area at all times. Please follow any sidewalk closures and detours.
Individuals who normally get dropped off or picked up on the south side of campus, may want to consider alternate campus drop off/pick up points to avoid the construction area.
Metrobus is sharing construction impacts to bus services through the service bulletins section on their website.
For the duration of this work, motorists should use extra caution, watch for construction workers and flags persons and follow all signage. Please drive with caution and at slow speeds. Anticipate detours and delays.
The university is sharing information directly with residents in campus housing about impacts of this work, but of particular note is safety consideration for our families with young children in Burton's Pond apartments. The university is urging extra caution in this area.
Other road closures, detours and changes may be required as the project moves forward, and information will be shared as it is available. If you would like to stay informed on the project, please visit https://www.engagestjohns.ca/elizabeth-avenue-shared-use-path-and-road-improvements. This is an interactive webpage that provides updates on the project schedule, allows users to ask questions and review questions posted by others. The City of St. John's apologizes for any inconvenience. For more details or to report an issue, contact Access St. John's by calling 311 or (709) 754-CITY (2489), via the app 311 St. John's, or by email access@stjohns.ca. You can also report any safety concerns in MUN Safe or urgent matters to CEP at 709-864-4600.