Bi-Annual Graduate Conference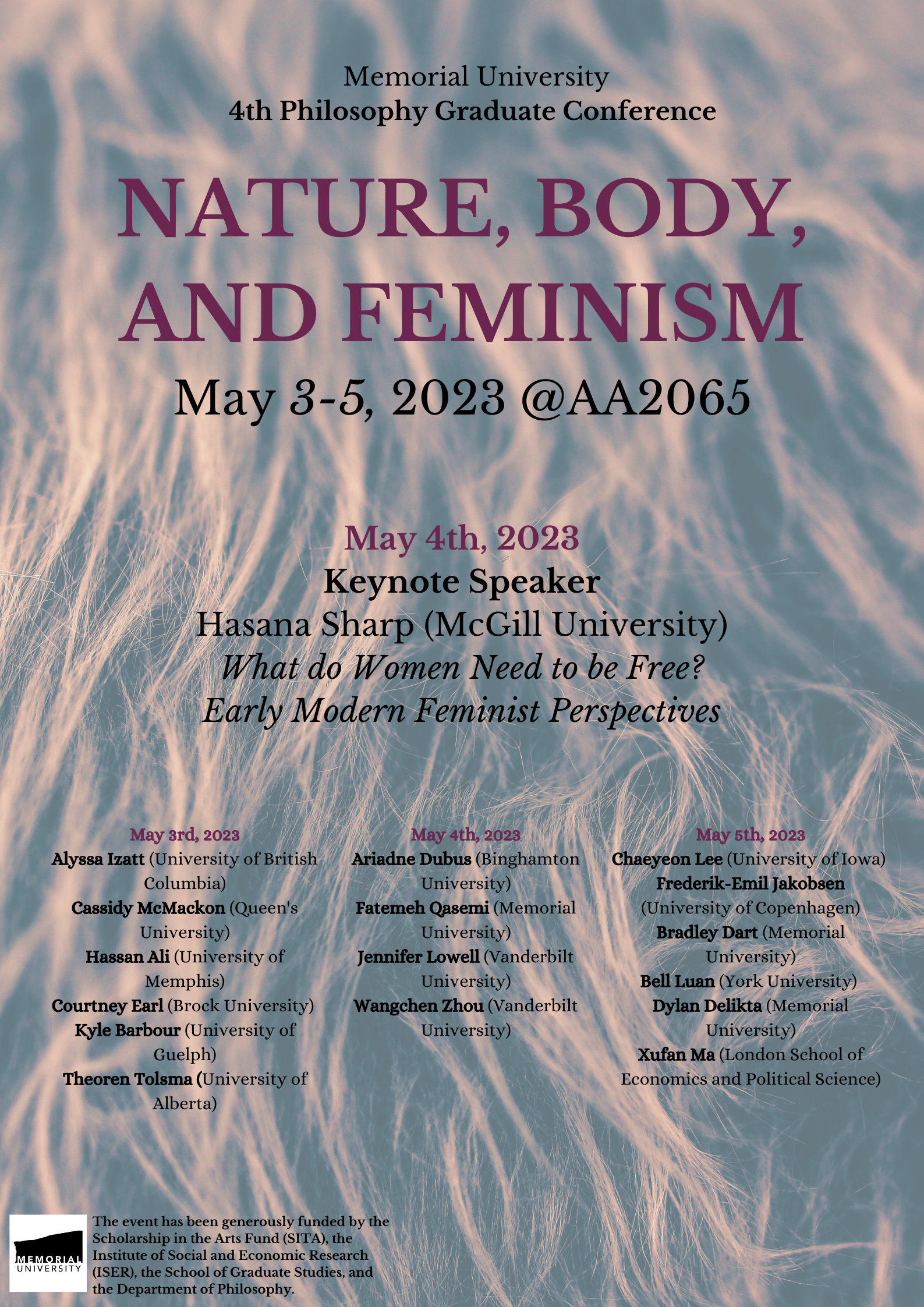 The Inaugural Memorial University Graduate Conference in Philosophy was hosted in 2013 and has been held bi-annually since. The topics and keynote speakers of previous events were:
Evil, Guilt, and Forgiveness; Dr. Gaëlle Fiasse (McGill University); May 1-3, 2020 (Cancelled due to the pandemic)
Politics, Bodies, and the Earth; Dr. John Russon (University of Guelph); March 8-10, 2018
Metaphysics Today; Dr. Marc De Kesel (Saint Paul University); April 22-23, 2016
Nature, Freedom, and Reason; Dr. Iain Hamilton Grant (University of the West of England); June 5-7, 2013
In 2023, The Department of Philosophy will be hosting its 4th Graduate Conference on Nature, Body, and Feminism on May 3-5. The conference will be in hybrid modality, and the in-person portion will take place at AA2065, Memorial University, St. John's, NL. The conference will feature a keynote address by Hasana Sharp (McGill University) on May 4th.
Registration for the conference is free, and all are welcome. For in-person registration, please visit the Kiefte Room (AA3068) between 10-10:30 AM on Wednesday, May 3rd, and Thursday, May 4th. For online registration, please fill out the Registration Form to receive the Webex links for the conference.
The event has been organized by Philosophy PhD students Aysu Aggul, Ilgin Aksoy, and Bryan Heystee. The event has been generously funded by the Scholarship in the Arts Fund (SITA), the School of Graduate Studies,The Institute of Social and Economic Research (ISER), and the Department of Philosophy.
Any questions or concerns may be directed to mungradconference@gmail.com.
Conference program:
Note that all times are in Newfoundland Daylight Time (UTC/GMT -2:30 hours).
Wednesday 3.5.2023
10:00-10:30 Registration @Kiefte Room (AA3068)
10:30-11:00 Opening Remarks
11:00-12:30 Session 1: Body & Feminism
Alyssa Izatt, University of British Columbia
Transformative Experience and Elective Sterilization (Online)
Cassidy McMackon, Queen's University
Rethinking Pregnancy and Abortion Narratives: Using Narrative Deliberative Processes to Reimagine Abortion Ethics (In-person)
12:30-13:30 Lunch @Kiefte Room (AA3068)
13:30-15:00 Session 2: Body & Feminism
Hassan Ali, University of Memphis
Teleological Temporality and Vaginal Biopolitics in Hereditary Sex Construction (Online)
Courtney Earl, Brock University
Challenging Historical Narratives of Progression Within the Trans Community (Online)
15:00-15:30 Coffee Break @Kiefte Room (AA3068)
15:30-17:00 Session 3: Phenomenology & Nature
Kyle Barbour, University of Guelph
Does Nature Appear? On the Insufficiency of a Heideggerian Phenomenology of Nature (In-person)
Theoren Tolsma, University of Alberta
What Radical Reflection Can Do for Critical Phenomenology (In-person)
Thursday 4.5.2023
10:00-10:30 Registration @Kiefte Room (AA3068)
10:30-12:00 Session 4: Oppression, Flourishment & Feminism
Ariadne Dubus, Binghamton University
Why the Oppressed Can Flourish, Too (Online)
Fatemeh Qasemi, Memorial University
How Restrictions Help Women Flourish Their Agency: A Hegelian Perspective (In-person)
12:00-13:00 Lunch @Kiefte Room (AA3068)
13:00-14:30 Session 5: Early Modern & Feminism
Jennifer Lowell, Vanderbilt University
Conway's Metaphysics as Normative, Necessarily Embodied, and Inclusive of Disability (Online)
Wangchen Zhou, Vanderbilt University
The Capricious Nature in Margaret Cavendish's Philosophy and Its Resources for Feminist New Materialisms (Online)
14:30-15:00 Coffee Break @Kiefte Room (AA3068)
15:00-16:30 Keynote Speech
Hasana Sharp, McGill University
What do Women Need to be Free? Early Modern Feminist Perspectives
19:00-21:00 Reception @Toslow (108 Duckworth St)
Friday 5.5.2023
10:00-11:30 Session 6: Politics & Body
Chaeyeon Lee, University of Iowa
A Rawlsian Distributive Justice and Reproductive Justice (Online)
Frederik-Emil Friis Jakobsen, University of Copenhagen and the European Graduate School
"Every Part of the Universe is Body" - Desire, Power, Rebellion, and the Human Body as the Central Political Concept in the Philosophy of Thomas Hobbes (Online)
11:30-12:30 Lunch @Kiefte Room (AA3068)
12:30-14:00 Session 7: Analysis & Body
Bradley Dart, Memorial University
Definition, Analyticity, and Progress in Science: A Case Study of the Kilogram (In-person)
Bell Luan, York University
Conceptual Dynamite: An Argument for Thoughtful Language in Conceptual Engineering (In-person)
14:00-14:30 Coffee Break @Kiefte Room (AA3068)
14:30-16:00 Session 8: Gender & Body
Dylan Delikta, Memorial University
Rancière and Le Guin: Aesthetic Heterotopy at the Wall between Silence and Speech (In-person)
Xufan Ma, London School of Economics and Political Science
Reading Li Xiaojiang: The Politics of Sexual Difference (Online)
16:00-16:30 Closing Remarks
Saturday 6.5.2023
9:00-12:00 Optional hike