Winter/Spring 2019
Winter/Spring 2019: Highlights
Congratulations, graduates!

Congratulations to our undergraduate philosophy students who convocated recently (May 28th)! We are so proud of each and every one of you and wish you every success after your degree, whether in grad school, jobs, or other exciting adventures. Two successes among others: Alex Morgan graduated with the University Medal of Excellence in Philosophy and the Whiteley English Prize(having won the Good Fellowship in Philosophy previously as well). And Kristen Lewis graduated with the University Medal of Excellence in Religious Studies (part of her Joint Honours with Philosophy for which she was awarded the Good Fellowship earlier this year) as well as the Faculty of Humanities and Social Sciences George Storey Medal. Congratulations Kristen and Alex! And to our other outstanding undergrads, honours, majors, minors, including many award/medal winners, whether majors, honours, minors: Congratulations to Callum, Clay, Emily, Grant, Lesley, Patrick, Spencer, Sarah, William, and many others! You made our Department a great place in which to do philosophy, and we will miss you. (the Kiefte Room will miss you)

And to our graduate students who received their M.A.s in Philosophy at this spring convocation: Benni, Chris, Phoebe, Sarah, Stefan, Thomas, congratulations! We are so proud of you and all you have accomplished: You wrote excellent theses, you presented papers and published articles, you argued philosophically in the classroom and outside, all while being research and teaching assistants, holding down other jobs, and mentoring younger students and each other. Some of you are going on to your doctorates, some of you are starting other exciting activities or jobs, all of you made philosophy in this Department a lively and welcoming "commons of the mind."
Philosophy in the Spring: An Awards and Achievements Celebration (April 30th)honouring our students and their achievements and inaugurating what we hope to be a new annual award, the Peter Harris Essay Prizes in Metaphysics and Medieval Philosophy, in the honour of one of the Department's most loved and respected philosophers, Dr. Peter Harris. More news coming soon on the celebration, including pictures.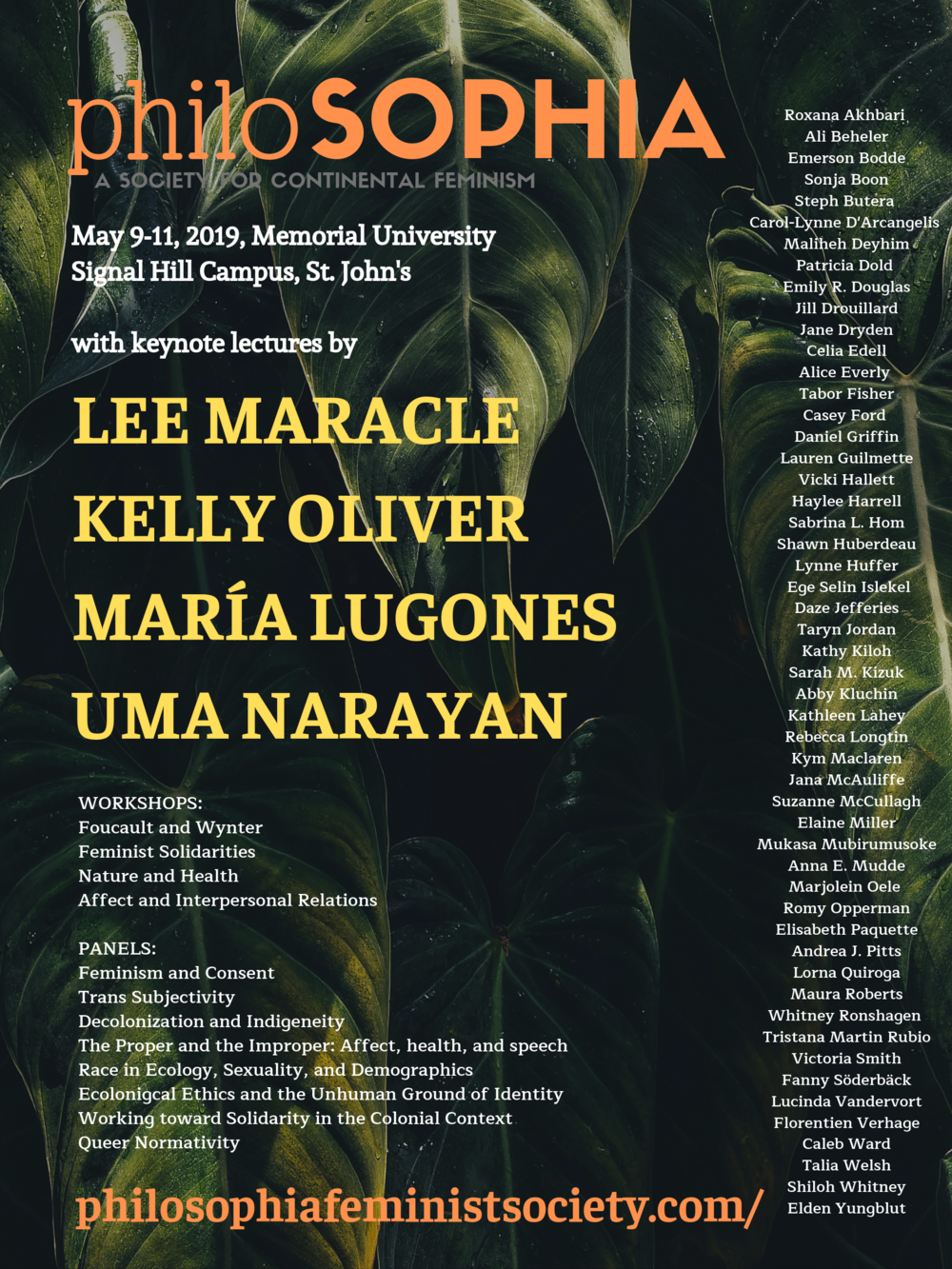 More philosophy in the Spring: Our second big May event: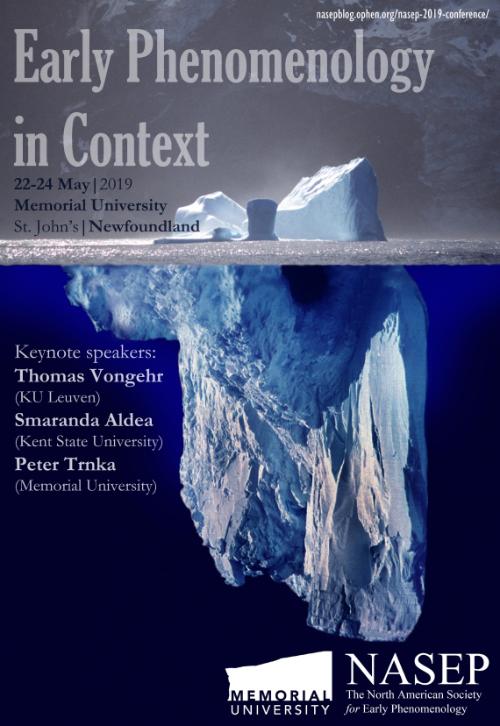 WINTER SEMESTER 2019: Highlights of a busy and exciting term!
Speaker: Dr. Andrew Loman (Department of English)
"Lower Broadway: Fall, 1843" A reading by Dr. Andrew Loman.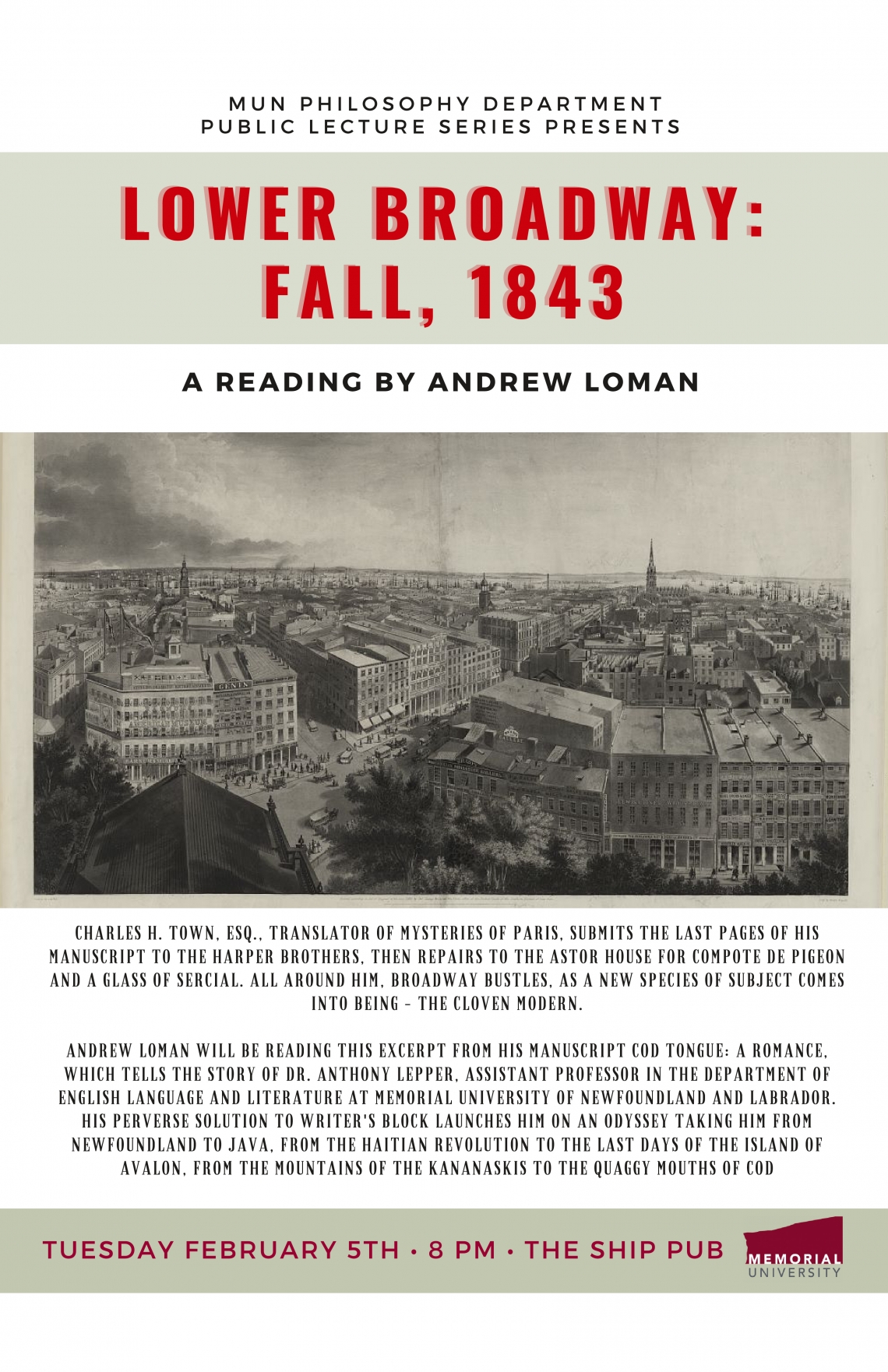 The Philosophy Public Lecture Series Continues, Tuesday, March 5, 2019, 8pm at the Ship Pub:
Speaker: Dr. Luke Roman (Department of Classics)
"Greco-Roman Voyages: The Modernity of the Classics" Prefaced by some Painfully Personal Autobiographical Personal Reflections
The Classics are OLD. Or are they??? Prepare yourself for some reality-rearranging thoughts from Luke Roman, who is right now adding the penultimate punctuation marks to a highly polished public lecture that will be fully completed by March 5. It will include brief (but significant) mention of Jane Austen, the island of Sicily, and the experience of childhood in the 70's.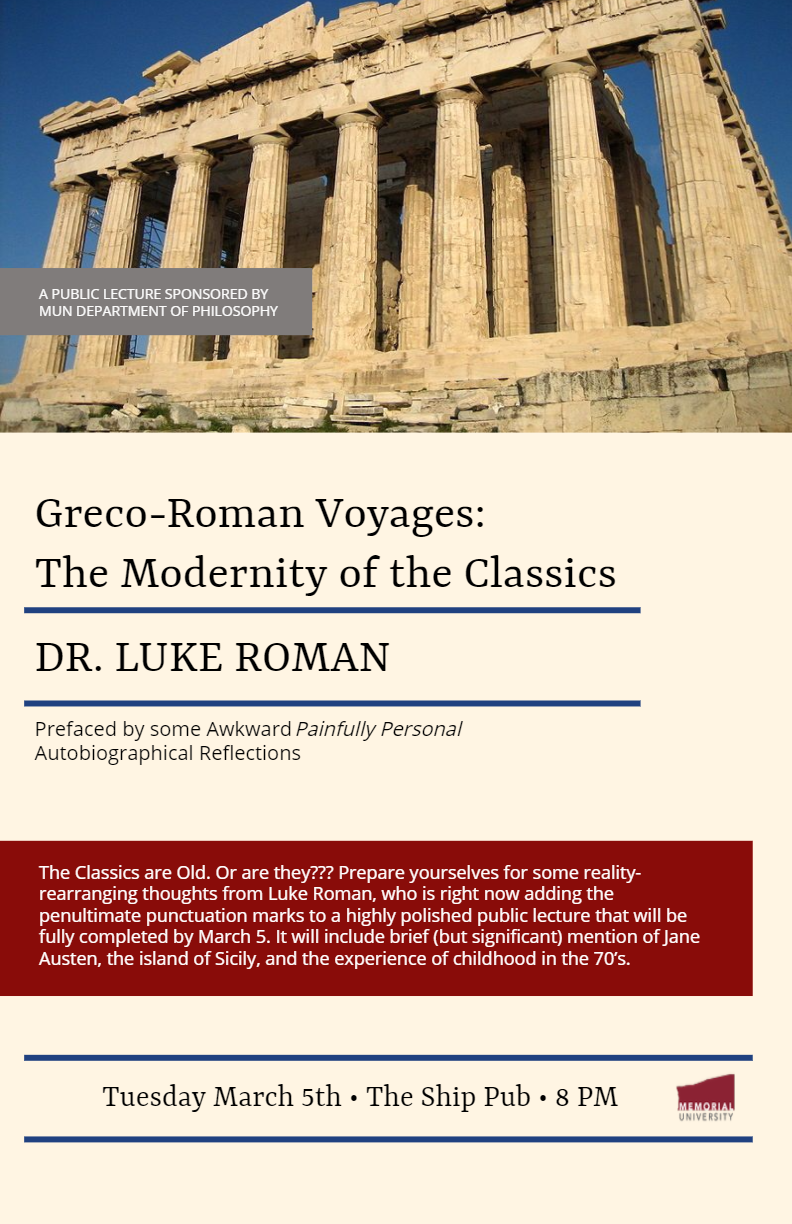 The Philosophy Public Lecture Series Concludes for the term: Speaker: Dr. Jennifer Selby (Department of Religious Studies)
"Sexular Sensibilities": How Fears of Religious Traditionalism Index Narrow Possibilities of Sexuality in Contemporary Secular France.Tuesday, April 9, 2019, 8pm at the Ship Pub.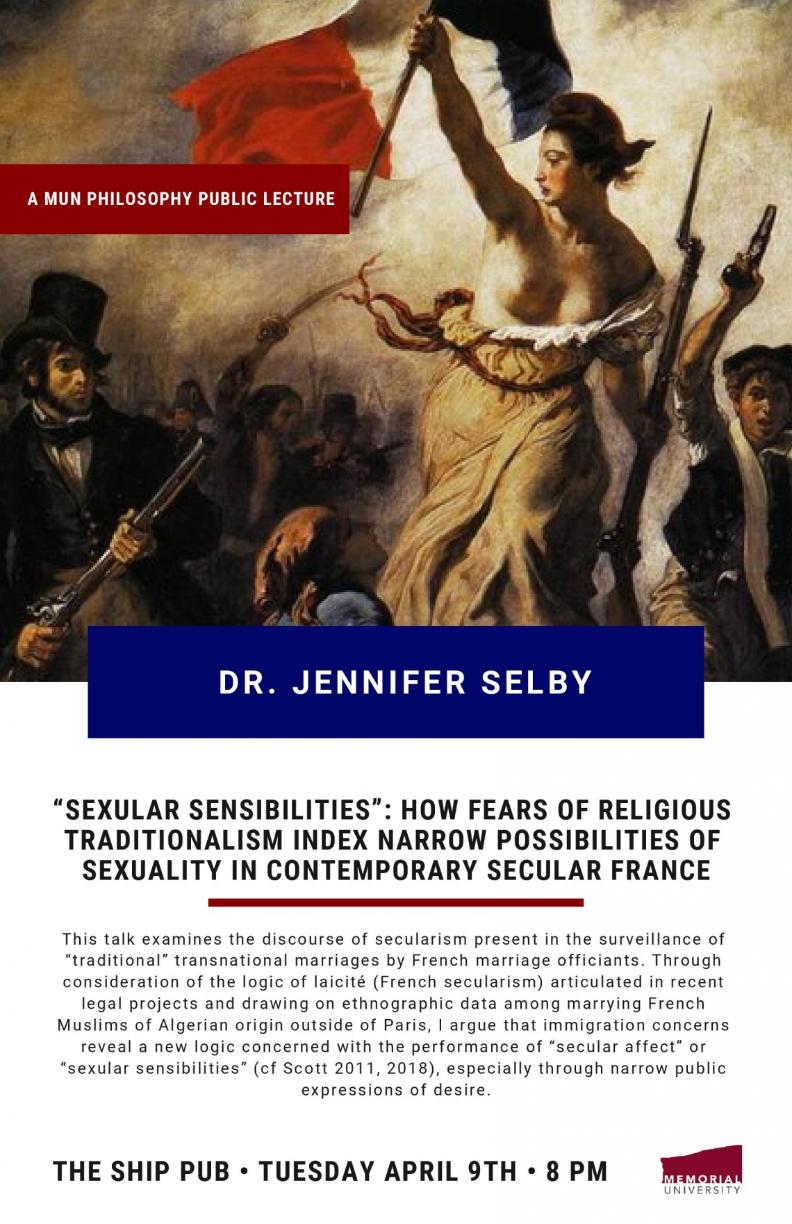 The Philosophy Winter Colloquium Series 2019 concluded on Tuesday, April 2, 2019 after a full year of stimulating talks--thanks to the presenters for great papers! and, of course, thanks to an engaged and appreciative audience for their presence, their attentiveness, and their thoughtful questions and comments.

Jockey Club, our weekly discussion group including faculty, students, and friends of philosophy, concluded for the term with the usual exciting discussion; please contact the Department if you want to be added to the Jockey list and stay tuned for summer plans. Many thanks to David Tracey, PhD candidate, for his organizing Jockey throughout the year (for the past couple of years)
The Philosophy Department Mixer, organized by the Undergraduate Philosophy Society: thanks to Kristen, Amy, Emily, Riley and the other members of the society!