MUN Folklore and Language Publications
RECENTLY PUBLISHED
The publications programme is mandated to publish significant works on folkloristics, especially those relevant to Canada, particularly Newfoundland & Labrador, which will promote folklore as a discipline to an academic and popular audience.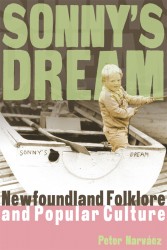 Sonny's Dream: Essays on Newfoundland Folklore and Popular Culture by Peter Narváez. With an introduction by Neil V. Rosenberg. 2012. xxi, 314pp. pbk. ($34.95).
The Folk-Lore of Newfoundland and Labrador: Essays by the Reverned Arthur C. Waghorne from The Evening Herald 1892-1893. Edited by Paul Smith and Cory Thorne. 2010. xiv, 55. pbk. ($9.95).
Old Time Songs and Poetry of Newfoundland (1940). 2008. xxii, 81pp. pbk. ($12.97).
[A reprint of Gerald S. Doyle's seventy-year-old classic songbook, with a new introduction by Anna Kearney Guigné.]

Bean Blossom to Bannerman, Odyssey of a Folklorist. A Festschrift in Honour of Neil V. Rosenberg. 2005. xi, 532 pp. pbk. ($45.00).
[Twenty-six articles by Neil's colleagues, friends, and former students, edited by Martin Lovelace, Peter Narváez and Diane Tye.]

Ballads and Sea Songs of Newfoundland. Collected and edited by Elisabeth Bristol Greenleaf. Music recorded in the field by Grace Yarrow Mansfield. 2004. xxxii + xliv, 395 pp. pbk. ($45.00).
[A facsimile of the 1933 edition with the foreword to the 1968 edition by MacEdward Leach and a new foreword by Neil V. Rosenberg and Anna Kearney Guigné.] - Out of Print

Folklore: An Emerging Discipline. Selected Essays of Herbert Halpert. 2002. xxi, 398 pp. pbk. ($24.95).
[A selection of Herbert Halpert's previously published essays on folklore, written over more than fifty years.]

Little Jack and other Newfoundland Folktales. 2002. xiii, 245 pp. pbk. ($24.95).
[A selection of narratives from Herbert Halpert and J.D.A. Widdowson's Folktales of Newfoundland (1996), re-transcribed by John Widdowson for a general audience.]

Some Superstitions and Traditions of Newfoundland: A Collection of Superstitions, Traditions, Folk-Lore, Ghost Stories etc., etc. by P.J. Kinsella. 1998. v, 54 pp. pbk. ($6.95).
[A reprint of the 1919 first published collection of Newfoundland folklore, with an introduction by Pat Byrne.]

Devine's Folklore of Newfoundland in Old Words, Phrases and Expressions, Their Origin and Meaning. 1997. vi, 81 pp. pbk. ($8.95).
[A reprint of the 1937 edition with an introduction by Philip Hiscock.]

Bibliography of British Folklore. 1996. (2 vols.) Vol. 1, Bibliography, xv, 456 pp. Vol. 2. Subject Index, vi, 26 pp. pbk. ($29.95).
[A wide-ranging reference work comprising an alphabetical listing of British and Irish material, with an introduction by J.D.A. Widdowson.]

PREVIOUSLY PUBLISHED

Gerald Thomas. The Tall Tale and Philippe D'Alcripe. An Analysis of the Tall Tale Genre with Particular Reference to Philippe D'Alcripe's La Nouvelle Fabrique des Excellents Traits de Vérité, together with an Annotated Translation of the Work. 1977. xv, 259 pp. pbk. ($8.20).
[This study of a sixteenth-century French collection includes a discussion of the tall tale in France and America and its relationships with other folklore genres.]

Gerald Thomas. Songs Sung by French Newfoundlanders, A Catalogue of the Holdings of the Memorial University of Newfoundland Folklore and Language Archive. 1978. ix, 93 pp. pbk. ($5.00).
[Lists 180 songs in 283 variants collected in francophone communities on Newfoundland's Port-au-Port peninsula (1971-1978). Provides Index of Titles, First Lines, and Index of Singers with Repertoires by Titles and First Lines.]

Herbert Halpert, ed. A Folklore Sampler From the Maritimes. With a Bibliographical Essay on the Folktale in English. 1982. xix, 272 pp. pbk. ($10.05).
[An annotated collection of folklore from the Canadian Maritimes; includes bibliographical essays on the folktale in English, childlore, and proverbs.]

Kenneth S. Goldstein and Neil V. Rosenberg, eds. Folklore Studies in Honour of Herbert Halpert—A Festschrift. 1980. ix, 395 pp. pbk. ($11.95).
[Twenty-six essays on folklore topics from Canada, Britain and the United States by friends, colleagues and former students of Dr. Herbert Halpert.]

Kenneth S. Goldstein, ed. Canadian Folklore Perspectives. 1978. vii, 68 pp. pbk. ($5.00).
[Papers on the public perception of folklore and political aspects of its study in Canada.]

Alison Feder and Bernice Schrank, eds. Literature and Folk Culture: Ireland and Newfoundland. 1977. ix, 182 pp. pbk. ($6.99).
[Papers on aspects of the vernacular and literary cultures.]

Michael Taft. A Regional Discography of Newfoundland and Labrador. 1904-1972. 1975. xxx, 102 pp. pbk. ($5.00).
[Lists commercial recordings featuring Newfoundland performers and a wide range of privately produced discs. Documents the selective adoption by Newfoundlanders of mainland popular music styles.]

Paul Mercer. Newfoundland Songs and Ballads in Print 1842-1974: A Title and First-Line Index. 1979. xv, 343 pp. pbk. ($10.05).
[Lists by title and first line all published texts of Newfoundland folksongs. Cross-referenced to Child, Laws, and Taft.]


PLEASE SEND ORDERS TO:

Department of Folklore
Memorial University of Newfoundland
St. John's, NL, Canada A1B 3X8
Phone: (709) 864-8402; FAX: (709) 864-4718
Email: folklore@mun.ca