Graduate Studies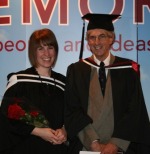 The Department of Folklore offers master's and doctoral degrees in folklore. Students from a variety of backgrounds in the humanities and social sciences are invited to apply. You may do so through the School of Graduate Studies. We advise you to submit your application no later than the 15th of January, although later submissions may be considered.
www.mun.ca/become/graduate/apply
Entry to the graduate program is limited and competitive. An undergraduate record with a 75% overall average is normally the minimum requirement for consideration for entry to the MA program. For entry to the PhD program a master's degree in Folklore, or its equivalent, is required, with an average of at least 80%.





















Fall 2012 Convocation. Newly minted MAs Michelle Hollett and Saeedeh Sadighjamali. Others graduating with a MA in Folklore were Crystal Braye, Barbara Graveniese, Amanda-Mari Hillyard, Heather King, Alison McEvoy, and Sandi Stewart.