Earth Sciences All Years Reunion Celebration
Sep 25th, 2014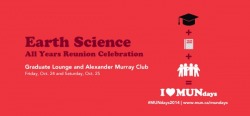 Earth Sciences All Years Reunion Celebration
Earth Sciences All Years Reunion Celebration
Oct. 24 and 25
Calling all Earth Science alumni!

The Department of Earth Science is inviting 60 years of graduates back to Memorial as a part of its Reunion celebrations happening during MUNdays 2014. Celebrations will kick off Friday night with a get together on campus in the Alexander Murray Club and Graduate Lounge. It's all about old friends, food, laughter and memories which is sure to make it a rockin' good time - plus we want you to bring along your guitars for a little jam session!

Saturday requires you to dust off those hiking boots and rock hammers! We have a couple of great field trips lined up. You'll have the opportunity to explore ancient Neoproterozoic glacial rocks or Avalonian volcano-plutonic terrane. Bring along a brown bag lunch and really feel like a student again! Following the field trips, we've planned a meet and greet with current students, where you will have the opportunity chat, network and share experiences.
And the Saturday fun doesn't need to stop there. Get your tickets for Super TSC Night at the Breezeway featuring Shanneyganock, Barry Canning, Mick Davis, DJ Slim Macho and host Matt Wright.

Dig out your old photos, dust off your hiking boots and get ready to connect with your old classmates!

For more details and to register, visit here.

Looking for more, check out what else is happening during MUNdays 2014 celebrations. We have something for everyone!

See you next month!