Earth Sciences
Welcome to the Department of Earth Sciences!
Events
News
Memorial researchers, including those in the Faculty of Science, have secured nearly $8 million in competitive funding for research projects ranging from childhood amnesia to ocean biodiversity to renewable energy systems.
The Natural Sciences and Engineering Research Council (NSERC) announced the results of its 2022 Discovery Research Programs competition on June 23.
In total, NSERC is investing $7,900,226 at Memorial.
Dr. Luke Beranek and former MSc student Alex Hutter were awarded the Medal of Merit from the Canadian Society of Petroleum Geologists for the best paper related Canadian Petroleum Geology for 2021.
Dr. Kim Welford was recently awarded The Dean of Science Distinguished Emerging Scholar Award, which was established in 2021.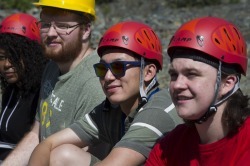 Memorial University has one of the largest and most diverse Earth Science departments in Canada. With 21 faculty members, 10 staff members, and leading-edge teaching and research facilities, the department is able to offer high quality undergraduate and graduate degree programs. Graduates of Memorial's Earth Sciences department have gone on to careers in academia, government, and the private sector.