Earth Sciences
Welcome to the Department of Earth Sciences!
Events
News
An expert panel, which included Earth Sciences professor Dr. Sue Ziegler, has released its report assessing the extent to which nature-based climate solutions can help Canada meet its greenhouse gas (GHG) emission reduction targets.
President Vianne Timmons honoured the exceptional and exemplary at the 2022 President's Awards on Wednesday, Nov. 30.
Winners from the Faculty of Science include Dr. Joshua Rash, Psychology, President's Award for Outstanding Research; Dr. Kurt Gamperl, Ocean Sciences and Dr. Duncan McIlroy, Earth Sciences/Bonne Bay Aquarium and Research Station, University Research Professor; Dr. David Churchill, Computer Science, President's Award for Outstanding Teaching (Faculty) and Dr. Rick Goulding, Physics and Physical Oceanography and Yellow Martin, Psychology, President's Award for Exemplary Employees - Champion of Service.
Breakthroughs in everything from improvements to prosthetic hands to the identification of emerging environmental pollutants.
Six of the seven Research Tools and Instruments (RTI) grants provided by the Natural Sciences and Engineering Council (NSERC) through its 2022 Discovery Research Programs Competition to researchers at Memorial were in the Faculty of Science.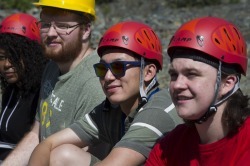 Memorial University has one of the largest and most diverse Earth Science departments in Canada. With 21 faculty members, 10 staff members, and leading-edge teaching and research facilities, the department is able to offer high quality undergraduate and graduate degree programs. Graduates of Memorial's Earth Sciences department have gone on to careers in academia, government, and the private sector.