Earth Sciences
Welcome to the Department of Earth Sciences!
Events
News
MUN Earth Sciences M.Sc. graduate Sherri Dunsworth shares PDAC award for 2021. Many MUN EASC B.Sc. graduates also worked on this project.
Dr. Lukas Kohl, a recent graduate under the supervision of Dr. Susan Ziegler, is principal author on a recent paper published in the journal Global Change Biology. Read more about it here in the Gazette.
Memorial University has developed general technology standards for remote/online learning across Memorial's campuses in fall 2020.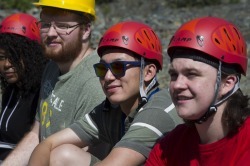 Memorial University has one of the largest and most diverse Earth Science departments in Canada. With 21 faculty members, 10 staff members, and leading-edge teaching and research facilities, the department is able to offer high quality undergraduate and graduate degree programs. Graduates of Memorial's Earth Sciences department have gone on to careers in academia, government, and the private sector.