Soufflets et archets
Également disponible en anglais sous le titre Bellows and Bows.
Soufflets et archets : Enregistrements historiques de musique traditionelle pour violon et accordéon du Canada (2014). Ce coffret composé d'un livre et deux CD constitue le tour d'horizon sonore le plus complet de musique pour violon et accordéon de toutes les provinces et territoires du Canada.
Parmi les joyaux de cette collection figurent:
55 violoneux et 22 acordéonistes de toutes les provinces et régions du Canada
Pistes audios rares, épuisées et inédites
Des enregistrements officieux réalisés dans les légendaires salles d'échauffement des Maritimes
Un des premiers enregistrements commerciaux réalisés au Québec par Arthur Joseph Boulay
Le plus ancien enregistrement connu (1940) de la « Gigue de la rivière Rouge »
Une performance exceptionnelle du légendaire King Ganam
Un orchestre de mariage ukrainien
Un enregistrement datant du milieu du 20ème siècle de tautirut (un "violon" inuit inventé dans le Nord canadien)
Sherry Johnson (championne de step dancing, violoneuse, jurée de concours et ethnomusicologue) a dirigé ce projet d'ampleur nationale et coordonné la sélection des enregistrements en collaboration avec le Centre de Recherche Music, Media and Place de l'Université Memorial.
---
---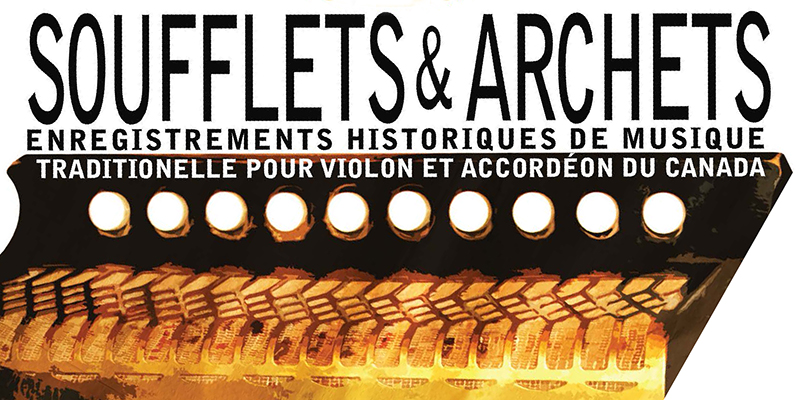 Exemples de pistes

Le Brandy des Vaillaincourt
Louis « Pitou » Boudreault

Grand Valley Breakdown
Al Cherny, Clifford « Lucky » Ambeault et Earl Mitton

Iqsaakik/Sialaanqujaqsiut
Simeonie Keenainak

Ridin' Old Paint and Leadin' Old Ball
King Ganam
---
Vous pourriez aussi aimer : Mentioned in Song | Newfoundland and Labrador Folklore | Mentioned in Song