Bellows and Bows
Also available in French under the title Soufflets et archets.
Bellows and Bows: Historic Recordings of Traditional Fiddle and Accordion Music from across Canada (2012) is a wide-ranging audio survey that includes examples from every Canadian province and territory.
This two-CD set features historically significant tracks from archival and personal collections, as well as early commercial recordings. The accompanying 160-page book explores the social and historical contexts of the music.
Bellows and Bows showcases the virtuosity and creativity of the unsung heroes of fiddle and accordion music in Canada, past and present.
---
---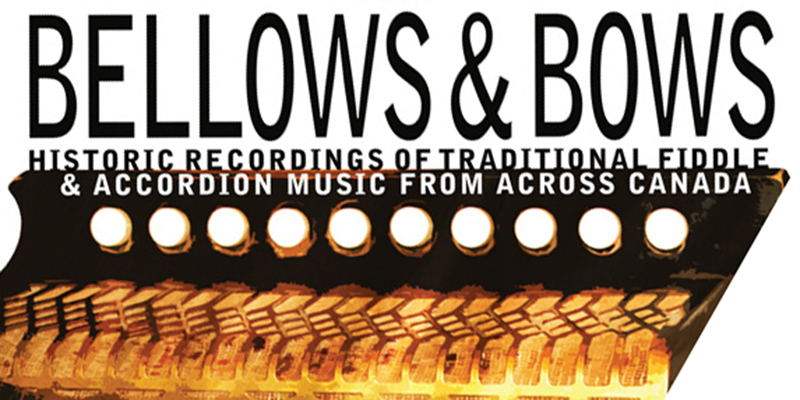 Sample Tracks

Le Brandy des Vaillaincourt
Louis "Pitou" Boudreault

Grand Valley Breakdown
Al Cherny, Clifford "Lucky" Ambeault, and Earl Mitton

Iqsaakik/Sialaanqujaqsiut
Simeonie Keenainak

Ridin' Old Paint and Leadin' Old Ball
King Ganam
---
Praise for Bellows and Bows
"An admirable introduction to the wealth of traditional instrumental music that Canada has to offer."

—Journal of Folklore Research Reviews
"With its breadth of coverage, the anthology would be a great library addition for anyone interested in traditional music."

—American Music
"A very important supplement for active folk music scholars . . . [and] a useful starting point for those just beginning to explore these vibrant musical traditions."

—Yearbook for Traditional Music
---
Learn More
Bellows and Bows is produced by Dr. Sherry Johnson for the Back on Track series.

---
You may also like: Mentioned in Song | Newfoundland and Labrador Folklore | Mentioned in Song