Ryan's Fancy: What a Time! Vol. 2
Ryan's Fancy: What a Time! Vol. 2 (2017) features 22 digitized and remastered recordings of songs from the vast repertoire of renowned Irish-Newfoundland band Ryan's Fancy.
From 1971–1983, Ryan's Fancy (Fergus O'Byrne, Dermot O'Reilly, and Denis Ryan) released thirteen albums, starred in several acclaimed CBC television productions, and gave countless live performances.
The group laid the foundation for a new generation of traditional musicians and brought Newfoundland music to national and international audiences.
---
---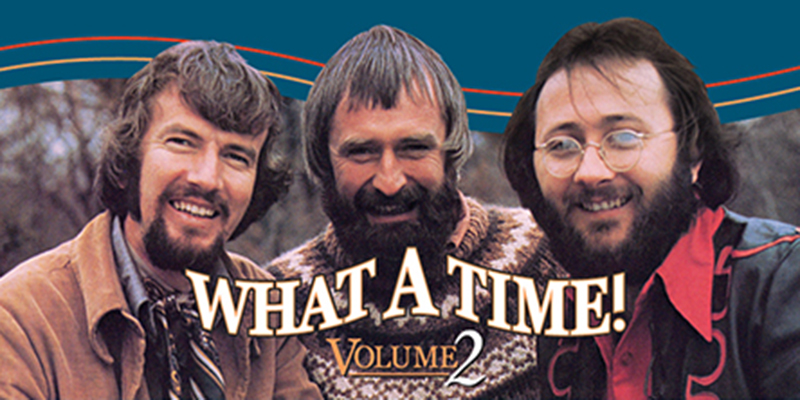 Sample Tracks

Farewell to Carlingford

Where the Mulcair River Flows

The Gallant Forty-Twa
---
Praise for What a Time! Vol. 2
"The Irish, English, Scottish, and Newfoundland traditional and contemporary folk songs performed by Ryan's Fancy became part of the cultural fabric of [Atlantic Canada] in the 1970s and 1980s. This CD not only helps preserve that legacy, but also introduces the group to a new generation of traditional music fans."

—MUSICultures (read the full review)
---
Learn More
Read a feature article about this project in the Memorial University Gazette.
What a Time! Vol. 2 is a coproduction of MMaP and SingSong Inc. It is a follow-up to What a Time! A Forty Year Celebration (2011), a two-CD set released to mark Ryan's Fancy's fortieth anniversary.
---
You may also like: Saturday Night Jamboree | Work Work Work