Phenomenology in Ethnomusicology 2018: The St. John's Conference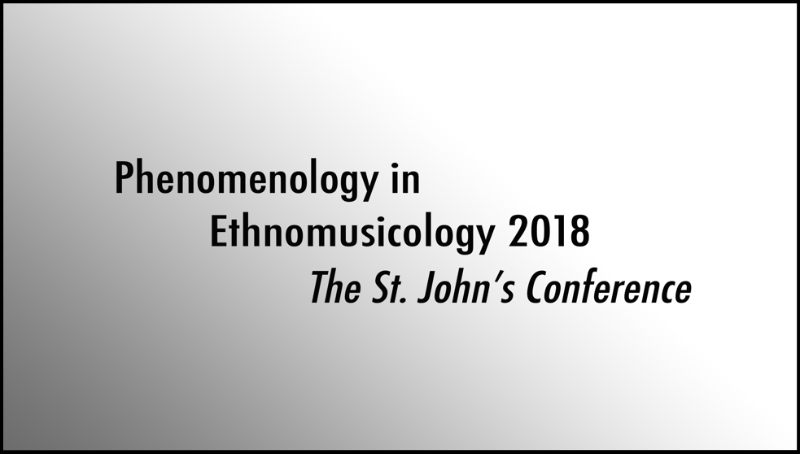 June 5-7, 2018
Click here for the conference program, which includes abstracts of each paper and links to videos of each presentation. In the program, click on the presenter's name to see their video. A playlist on the MMaP YouTube channel with all of the videos from the conference can be found here.
The Research Centre for the Study of Music, Media, and Place at Memorial University of Newfoundland is pleased to announce a conference on phenomenological approaches in ethnomusicology. Bringing together leading scholars from North America, Europe, and Australia, the conference will present cutting edge research on music and culture that draws on ideas from the phenomenological tradition of continental European philosophy. The participants will explore key issues in contemporary music research, including the nature of musical time, voice and vocality, sound and the intersensory nature of musical experience, self-consciousness and involvement in music performance, embodiment and disembodiment, musical worldmaking, the ontology of the musical text, research methodologies, the hermeneutics of improvisation, the dynamics of social interaction in performance events, and phenomenological approaches to the sacred, the sublime, gender and sexuality, and sound ecology. Drawing on the broad range of scholarship in the phenomenological movement—classical and contemporary, within philosophy and beyond—the conference will chart the way to new perspectives on music and social life.
Presenters at the conference include: Stephen Amico (University of Bergen), Ritwik Banerji (University of California, Berkeley), Martin Daughtry (New York University), Paul Humphries (Loyola Marymount University), Deborah Justice (Syracuse University), Deborah Kapchan (New York University), Inderjit N. Kaur (University of California, Santa Cruz), Andrew McGuiness (University of Sydney), Matthew Rahaim (University of Minnesota), Roger Savage (University of California, Los Angeles), Charles Sharp (California State University, Fullerton), Helena Simonett (Lucerne University), Jeff Todd Titon (Brown University), David VanerHamm (University of North Carolina), and Katherine Galloway Young (San Francisco State University). Conference organizer: Harris M. Berger (Memorial University of Newfoundland).
All talks are free and open to the public; however, non-presenting participants are asked to register by emailing the Centre at mmap@mun.ca. A fee of $25CAD per day will apply to non-presenters wishing to join the conference group for meals. (The fee will be waived for students and faculty in Memorial's ethnomusicology graduate program.)
The Centre would like to acknowledge the support of the Canada Research Chairs Program, the Office of the President at Memorial University of Newfoundland, the Memorial University Conference Fund, and the Memorial University School of Music.