Ceremonial logo
Memorial University Ceremonial Mark
The Memorial University ceremonial mark is a registered trademark and may not be modified in any way without written permission from the Division of Marketing & Communications.
The ceremonial coat of arms wordmark combines the university's traditonal coat of arms, designed in 1949 by alumnus Robert Horwood, and a wordmark adopted in 1995 that uses a modern rendering of traditional serif type.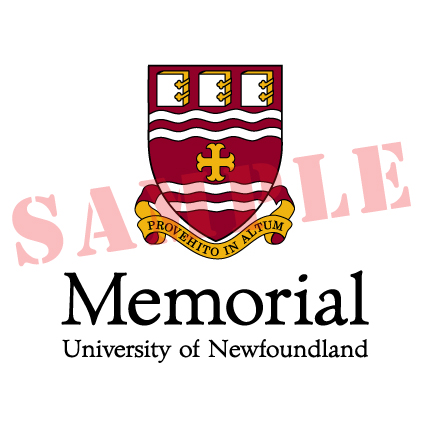 The mark may be used for high profile ceremonial events such as convocation, or on documents such as degree certificates and other achievement certificates, official transcripts, Remembrance Day activities and for other special uses such as ceremonial greetings from the Senate, the Board of Regents, or the President's Office.
Other circumstances may warrant using the mark. Permission for use other than listed above may be requested from the Division of Marketing & Communications.
The ceremonial mark is not to be altered in any way other than re-sizing. As the marks are to be used for ceremonial purposes only, it is important that they be reproduced in colour. High resolution files are available pending a request and approval of the intended usage.
Symbolism of the Arms
The arms of Memorial University have as their central element a cross moline, which is a fitting symbol for an institution dedicated to the memory of soldiers of Newfoundland who died during the Great Wars. The cross is the supreme symbol of sacrifice and its anchor-shaped ends signify the hope that springs from devotion to a good cause. The wavy bars above and below allude to the maritime setting of the university, while the three books in the upper part of the shield are a reference to its educational role.
The motto Provehito in Altum (Launch forth into the deep) captures the spirit of the adventure of learning and urges students to extend the frontiers of knowledge.
Claret and white, derived from the cross of St. George, were the colors of the Royal Newfoundland Regiment during the First World War. Red is a symbol of courage and sacrifice, white is the colour of purity, and gold is associated with nobleness and magnanimity. While paying tribute to the bravery of the soldiers of Newfoundland, these colors remind all that courage tempered with mercy can be enlisted in the service of pure and noble causes.
Excerpted from the program of the Ceremony for the Presentation of the Coat of Arms to Memorial University of Newfoundland. Friday, September 18, 1992.