Dr. Philip Hiscock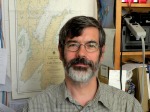 Dr. Philip Hiscock
Education Building, Rm 4053
Department of Folklore
Memorial University of Newfoundland
St. John's, NL
A1B 3X8
Phone: 709-864-8778
Email: philip@mun.ca


Dr. Philip Hiscock specializes in the folklore of Newfoundland and Labrador with active interests in language, folksong, the relationships between folklore and popular culture, and the evolution of custom. For two decades he was Archivist of the MUN Folklore and Language Archive and retains an active interest in field research, archival organization,and conservation. A managing member of the English Language Research Centre, for the past several years he has been working with colleagues to produce an on-line interactive dialect atlas of Newfoundland and Labrador (funded in 2011-12 by a grant from the SSHRC). Courses he teaches include regional ones (on Newfoundland and Labrador), and topical ones on language, play, archiving, fieldwork, and the genres of folklore. Recent theses supervised by him include the topics of "Alternative" music in St. John's, intentional community living in Winnipeg, and a post-Moratorium fishermen's choir in Newfoundland.