News and Events
Folklore PhD Wins Memorial's 2023 Three Minute Thesis Competition
Congrautlations to Folklore PhD candidate Israt Lipa for winning Memorial University's 2023 Three Minute Thesis (3MT) competition! Israt researches the sociocultural perspectives on traffic accidents in Bangladesh.
The Three Minute Thesis (3MT) is an internationally recognized competition for thesis-based graduate students in which participants present their research and its wider impact in three minutes or less.
---
The Folklore of Theatre
Like the travellers portrayed in Broadway's Come from Away, international student Alina Sergachov was warmly welcomed by the people of Gander, N.L.
But unlike those who unexpectedly found themselves in Central Newfoundland 17 years ago, Ms. Sergachov was very prepared for her visit. The folklore graduate student — and self-confessed theatre geek — recently received the Helen Creighton grant for research projects related to the Atlantic Canada region.
---
Paul Smith and Philip Hiscock Retirement Party
On Friday, September 8, 2017, Dr. Paul Smith and Dr. Philip Hiscock retired from the Folklore Department after numerous years of service. Congratulations on your retirement!
Gerald Pocius Retirement Party
On Monday, June 20, 2016, Gerald (Jerry) Pocius retired from the Folklore Department after 39 years of service. Congratulations on your retirement!
Martin Lovelace Retirement Party
On Tuesday, March 23, 2016, Martin Lovelace retired from the Folklore Department after 35 years of service. Congratulations on your retirement!
Sharon Cochrane Retirement Party
On Friday, January 22, 2016, Sharon Cochrane retired from Memorial University, she had been working at MUN for over 42 years. Congratulations on your retirement!
---
Looking Back: Games we played. Traditional Games and Pastimes in Newfoundland and Labrador
In February 2015, a group of graduate students from Dr. Jillian Gould's Public Folklore class met with a group of senior volunteers at the MacMorran Community Centre in St. John's. Over three weeks, the group got to know each other, shared many laughs, stories, songs, and games.
This booklet presents portraits, interview excerpts, and stories from the recording sessions with the senior volunteers.
---
What's your master plan?
M.A. student Joey Donnelly desribes his experience living, studying, and researching in St. John's.
---
For he's a jolly good Fellow
Dr. Gerald Pocius of the Department of Folklore was named a Fellow of the American Folklore Society at a ceremony in Providence, Rhode Island.
---
Dr. Margaret Bennett (M.A. Folklore 1975) Awarded Honorary Doctorate
One of the first of Herbert Halpert's students to gain the degree of M.A. in Folklore at Memorial has been awarded the degree of Doctor of Music (Honoris Causa) by the Royal Scottish Academy of Music and Drama, Glasgow (July 6th, 2010). The award recognizes her outstanding achievements as folklore scholar, singer, and storyteller. After Memorial she earned a Ph.D in Ethnology at the School of Scottish Studies, and she is the author of eight books and many articles, in addition to maintaining an international performing career.

During a recent visit to the department she presented MUNFLA with copies of three of her latest works: the DVD Guthan is Cuimhne: Voices & Memories. 150 Years of Québec Hebridean Connections, the CD Cèilidh Fàilteachaidh on Talamh Ùr, Newfoundland Homecoming Cèilidh, and what is perhaps the first folklore study to examine change in tradition across four generations of a single family, the CDs and booklet Dìleab Ailein: The Legacy of Allan MacArthur. Newfoundland Traditions Across Four Generations. The work shows the warmth of Margaret's continuing relationship with the MacArthur family of the Codroy Valley, where her apprenticeship as a folklorist began in the late 1960s.

The Department of Folklore congratulates Margaret on her continuing contributions to folklore studies in Scotland and Newfoundland!
---
Lifetime Achievement Award - Peter Narvaez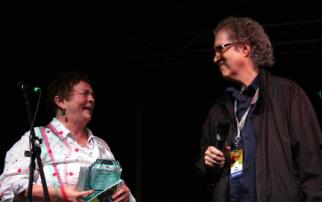 The 2010 Lifetime Achievement Award was presented to Peter Narváez by Folk Arts Society President Anita Best on the evening of Sunday, August 8, during the 34th Annual Newfoundland and Labrador Folk Festival in Bannerman Park.
Since making Newfoundland his home some 35 years ago, Peter has been instrumental in furthering the appreciation of local music, folk belief and culture, both professionally and personally. He is a teacher, researcher, writer and editor who holds a doctorate in Folklore and American Studies from Indiana University, and who has lent his considerable talents to the Folklore Department at Memorial University for more than three decades now. A past president of the Folklore Studies Association of Canada and the Association for the Study of Canadian Radio and Television, and a former member of the Folk Arts Society's Board of Directors, Peter is a highly-respected community volunteer who is always ready to lend a hand to local organizations and events.
Peter is best known as an accomplished acoustic blues musician and singer/songwriter. His most recent album, Some Good Blues, earned him nominations for "Blues Artist of the Year" from both MusicNL and the ECMAs. Peter's guitar and harmonica playing is second to none and has kept him in incredible musical company over his 50-year performing career. He is currently working on two new recordings.
In addition to his impressive professional accomplishements, Peter is known as a patient, kind and generous individual, with an incredible enthusiasm for music and life. The Newfoundland and Labrador Folk Arts Society is proud to be able to honour Peter's outstanding contributions to the provincial folk arts community through his research, writing and performance.
---
Remembering Dr. Peter Narváez (1942-2011)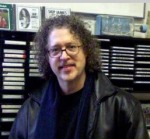 The Folklore Department was saddened to learn of the passing of Dr. Peter Narváez on November 11, 2011. Dr. Narváez was a faculty member for nearly thirty years (1974-1995), was a past Director of the Memorial University Folklore and Language Archive, and held the position of Honorary Research Professor at the time of his death. He was cross appointed to the School of Music and was a founder and an active supporter of the Ethnomusicology graduate program.
A folklorist, ethnomusicologist and musician with research interests in vernacular music, traditional song, blues, jazz, African-American folklore, Newfoundland folklore, popular culture, folklore and media, folk custom and belief, and occupational folklife, Dr. Narváez published many articles in a wide variety of folklore and behavioral science journals. He edited three major collections of essays: Media Sense: The Folklore-Popular Culture Continuum (with Martin Laba,1986); The Good People: New Fairylore Essays (1991, 1997); and Of Corpse: Death and Humor in Folklore and Popular Culture (2003). A collection of his revised essays is soon to be published by the Department of Folklore.
Dr. Narváez was a past president of both the Folklore Studies Association of Canada and the Association for the Study of Canadian Radio and Television. He served as audio-visual editor for Ethnologies, as well as sound recordings review editor for the Journal of American Folklore. In 2002, with Pauline Greenhill, he edited a special Canadian issue of that periodical.
In 2006 Dr. Narváez was awarded the Marius Barbeau Medal from the Folklore Studies Association of Canada (FSAC)/L'Association canadienne d'ethnologie et de folklore (ACEF), a lifetime achievement award in recognition of his contributions to Canadian folklore studies. Additionally, a special issue of the Association's journal, Ethnologies (30.2, 2008), was edited in honour of his work by Pauline Greenhill, Diane Tye, and Holly Everett, and contributed to by former students and colleagues.
Beyond his scholarship, Dr. Narváez was recognized as an outstanding blues musician and composer. In 2003 his CD of original blues, Some Good Blues, earned him nominations for "blues artist of the year" from the Music Industry Association of Newfoundland and Labrador (MIA) and the East Coast Music Awards (ECMA).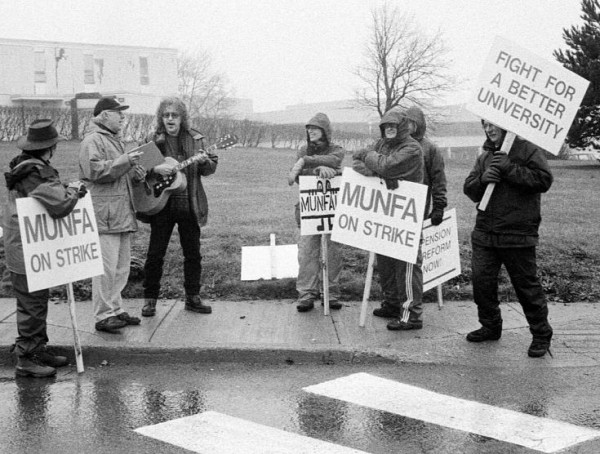 Dr. Narváez performing on the picket line during the MUNFA strike, Fall 2000. (Photo: Philip Hiscock)
Related Links: