Eastern Newfoundland Science & Technology Fair Awards
Apr 20th, 2018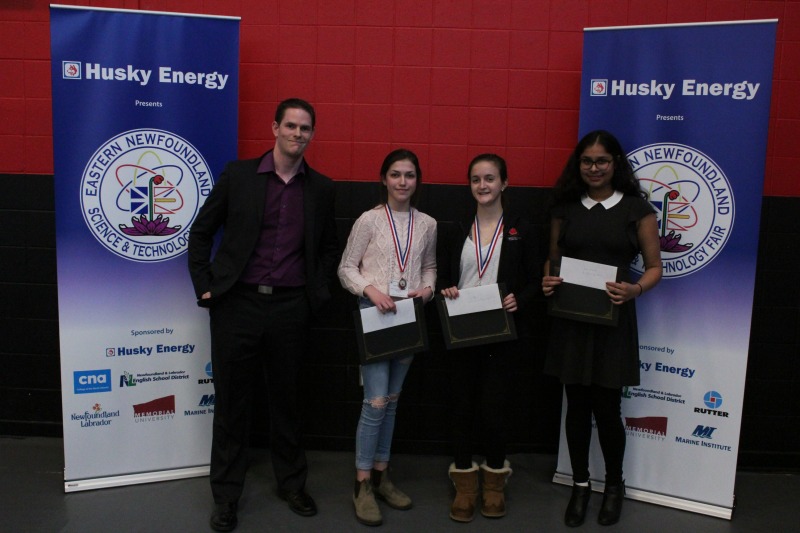 Eastern Newfoundland Science & Technology Fair Awards
The Eastern Newfoundland Science & Technology Fair was held on April 13 and 14. The Psychology Award, sponsored by the Psychology Department and the Association of Psychologists of Newfoundland and Labrador, was awarded to the following students.
Junior: Leila McCrate (MacDonald Drive Junior High School): "A Study of the Effects of Screen Time of Grade 7 Students" A survey-based investigation into the effects of screen-time on outcomes (e.g., self-report sleep, distractibility, enjoyment in life) in a sample of 145 (out of a 240 possible) grade 7 student population.
Intermediate: Livi Allen (Lakecrest): Intertwined Senses: "Synesthetic Qualities Evident in a Non-Synesthetic Population from Text and Auditory Stimuli" A series of 2-studies conducted over a 3-year span that evaluated the synesthetic association between letters, words, and sounds in a sample of non-synesthetic high school students.
Senior: Oishi Hawlader (Gonzaga High School ): "Sensory Effects of Dichoptic Saccadic Adaptation" An investigation into the effect of saccadic training at inducing strabismus in normal individuals and correcting strabismus in a case study with strabismus. This was done in collaboration with researchers at MIT and the results have been published in a manuscript in IEEE.
Thank you to Josh Rash, Francis Bambico, Nadine Yildiz (MUN) and Diana Brooks (APNL) for judging the award and to all the people that donated towards the prize money. And an extra special thank you to Drs. Gerard Martin and Anne Storey for their generous contribution to this prize.