Matt and Maud Foster Bursary established
May 15th, 2015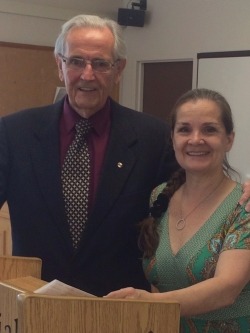 Matt and Maud Foster Bursary established
On Friday, May 15, 2015 the School of Human Kinetics and Recreation had the opportunity to recognize the establishment of the Matt and Maud Foster Bursary. This will be an annual bursary for a varsity soccer player.
Dr. Matthew Foster is a former director of the school. In attendance at the event was Dr. Heather Foster, daughter of the bursary's namesakes as well as many friends of the late couple and their family.
Dr. John Hewson, linguistics professor at Memorial and soccer team mate and lifelong friend of Dr. Matthew Foster addressed the guests.