Vanessa Foote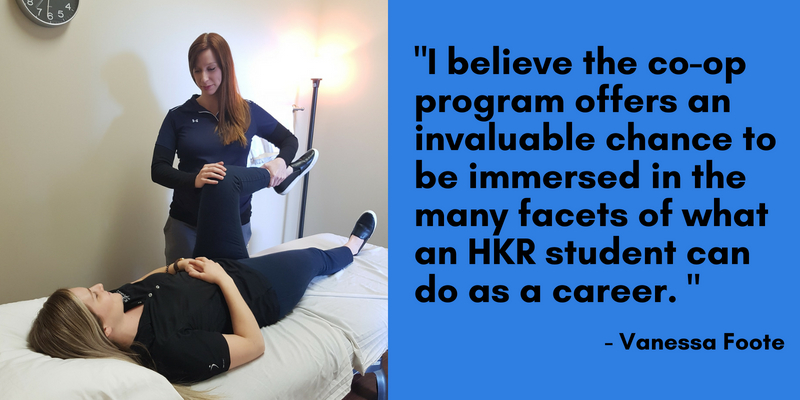 Bachelor of Kinesiology (Honours) 2010
Masters of Science (Physiotherapy) 2012
Currently a physiotherapist with Proactive Wellness and Prevention
Since graduating I have had the privilege of guest lecturing in the HKR 2000 class, supervising a multitude of co-op students in the clinic as well as being named one of the Newfoundland and Labrador Physiotherapy Association's Spotlight Physiotherapists in 2017.
Currently I am working at Proactive Wellness and Prevention as a Clinical Coordinator and Physiotherapist. Being a physiotherapist, the part of my day that excites me the most is when I hear from a client that they were able to complete a task that they could not previously complete. Wheather that is something as simple as lifting their arm in a new painfree range of motion that they could not have done previously or something as complicated as learning to walk again after a motor vehicle accident. Each new accomplishment is as exciting for me as it is for my client because it means that they can have a more complete and fulfilled quality of life.
Being a Memorial University student taught me many skills which I use daily in my life and career. Academically, It helped me learn how to be a critical thinker which helps me navigate difficult complex situations daily in my career. Personally, it helped mold my perspective on global issues and my interests.
The biggest advice that I would give a student studying in the field of Human Kinetics and Recreation would be to complete the co-op program. An HKR degree has so many applications and can open so many doors. I believe the co-op program offers an invaluable chance to be immersed in the many facets of what an HKR student can do as a career. This gives students a first hand knowledge of if this career is for you or not. In addition, being in a workplace environment teaches you so many invaluable skills which you will use throughout not only your Memorial University career but your life. The co-op program offers you a chance to work on your communication skills, interviewing skills, interpersonal skills, professionalism, problem solving and the oppertunity to practically apply the theory you learn in the classroom.
My plans for the immediate future involve becoming a mother as I am expecting my first child in June. Professionally, I am looking forward to continuing to work with Proactive Wellness and Prevention in the future. I am excited to be part of a team that is continually expanding and changing how healthcare is thought about and offered in Newfoundland and Labrador. I look forward to seeing what exciting opportunities the future holds as they continue to grow across Canada. I am inspired by being part of a company that cares so much about the community and has proven themselves as forward thinkers and leaders in the industry.