Have a happy, healthy Halloween
Oct 26th, 2015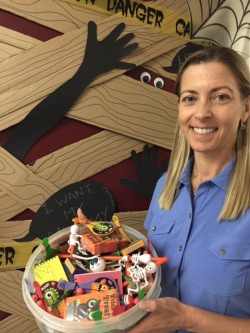 Have a happy, healthy Halloween
Each year, Halloween celebrations continue to gain popularity especially with children and youth. There are endless costumes, parties, games, activities and trick or treating – all in the name of good, scary fun!
Even the faculty and staff at Memorial's School of Human Kinetics and Recreation (HKR) are getting into the spirit with their doors decorated with skeletons, zombies, ghosts and goblins.
It's all very exciting. Often though, the finale of the festivities is an overindulgence in candy, sugar and chocolate. This is a concern for Dr. Michelle Kilborn, assistant professor in HKR who specializes in child and youth health promotion.
"Halloween is one of my favorite times of the year; however, lately I've been questioning my own way of celebrating this holiday and how I can participate in the festivities in a way that promotes wellness for children and youth?"
At the top of her list of easy suggestions families might consider are:
Non-edible treats. It's not just about the sugar and treats, but an understanding of the food allergies and sensitivities among children and youth in our communities. There are a variety of affordable alternatives including small toys, puzzles, pencils and glow sticks.

Encourage parents to walk around the neighbourhood instead of following in the car. If you want to give older children some independence, follow at a distance, but still participate in the walk. (Don't forget reflective clothing and flashlights to ensure you're seen).

Reduce the sugary treats at school and community Halloween parties and also include some physical activities like dancing or monster relays. You may also consider healthier snacks that might include Halloween themed fruit and vegetable trays, bottles of water or yogurt.
Dr. Kilborn and her colleagues' recent research on Healthy Active Living for children and youth in Newfoundland supports a wellness-focused, holistic and inclusive approach—encouraging a healthy active living culture within our communities. You can find further information about this study on the School of Human Kinetics & Recreation website.