Curriculum scholar leads international panel
Jun 12th, 2015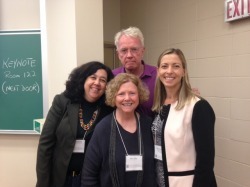 Curriculum scholar leads international panel
The 'Power of the Possible' in Seemingly Impossible Times: Celebrating and Honoring the Legacy of Maxine Greene
Michelle Kilborn brought together several prominent international curriculum scholars at the International Association for the Advancement of Curriculum Studies (IAACS) Conference in Ottawa on May 25-29, to pay tribute to Maxine Greene, one of the most significant educational philosophers of our time.
On the first anniversary of Dr. Greene's passing, Dr. Kilborn joined William Pinar, Janet Miller and Elizabeth Macedo to highlight how Dr. Greene has influenced their own work and how she continues to encourage awareness and imagination as they move into the future as curriculum theorists.
Dr. Kilborn, an assistant professor with the School of Human Kinetics and Recreation, cross-appointed to the Faculty of Education, is a curriculum scholar focused on holistic and wellness-focused understandings of curriculum and pedagogy. Dr. Pinar is a renowned curriculum theorist at the University of British Columbia and is the author of many award-winning books, including What is Curriculum Theory?, winner of the AERA Outstanding Book Award. Dr. Miller is a professor of English Education who worked along side Dr. Greene for over 40 years at Columbia University's Teachers College. Dr. Macedo is a curriculum scholar at the Universidade do Estado do Rio de Janeiro in Brazil and the current president of IAACS.
Pictured: (front L-R) Elizabeth Macedo, Janet Miller, Michelle Kilborn; Back – William Pinar
Dr. Greene began her academic career at New York University (NYU) with a focus on the history and philosophy of education. She completed her doctoral degree at NYU in 1955 and became the only female voice among a male-dominated field of education philosophers. Her interdisciplinary work in the arts, aesthetics, literature, existential philosophy, social justice and freedom continued at Teachers College, Columbia University. She has published dozens of articles, essays, monographs and book chapters, and has delivered hundreds of speeches and lectures worldwide. She has authored seven books, including Teacher As Stranger,Landscapes of Learning, Releasing the Imagination, and Dialectic of Freedom.
Dr. Greene was 'philosopher-in-residence' at the Lincoln Centre Institute for the Arts in Education since 1976 where she continued to conduct workshops until she passed away at the age of 96. She also founded the Maxine Greene Foundation for Social Imagination, the Arts, and Education which advocates for creating and appreciating work that promotes "fresh social visions, that move people to perceive alternative possibilities for the making of humane communities" (Maxine Greene Foundation). Up until a month before her passing, Dr. Greene continued to speak throughout the United States and host "educational salons" in her home to discuss philosophy, contemporary literature, art, imagination and other education topics of contemporary interest.
Dr. Greene's educational vision has prompted philosophizing by many different scholars across disciplines and countries. Her spirit and words will continue to help awaken individuals and communities to the power of the possible, to 'what is not yet.' Her scholarship has touched many fields and communities of practice, and this was very apparent as audience members considered the words and experiences of the panelists who come from different countries, backgrounds and generations. Whether it is the stories from professors who have worked alongside Dr. Greene for forty years, an emerging scholar who has just recently been introduced to Dr. Greene or international curriculum theorists who bring translated text to enrich curriculum conversations in other countries, the panelists wanted to evoke a sense of the legacy that Dr. Greene has made to curriculum studies and beyond.
Dr. Greene has inspired many to ponder, question, wonder, become conscious of their choices and using imagination, reconsider the underlying principles that guide what they think, how they teach and why they do what they do. Her scholarship is far reaching, touching individuals and communities from physical education to the arts, northern and southern hemispheres, emerging and experienced scholars, beginning and veteran teachers, and students, families and their communities. To hear how Dr. Greene's wisdom has been taken up in various intellectual traditions, languages and topographies not only pays tribute to a brilliant scholar but brings forth thought-provoking perspectives about how we reconsider our tasks as international curriculum scholars and reminds us about the 'power of the possible' in seemingly impossible times.
The IAACS was established to support a worldwide – but not uniform – field of curriculum studies. This organization provides support for scholarly conversations within and across national and regional borders about the content, context and process of education, the organizational and intellectual center of which is the curriculum. IAACS holds their conference every three years in different locations around the world. Since its inception IAACS and its respective conference have migrated and inhabited several different continents and countries including China in 2003, Finland in 2006, South Africa in 2009, Brazil in 2012 and Ottawa in 2015.