Coach of the year
Feb 26th, 2014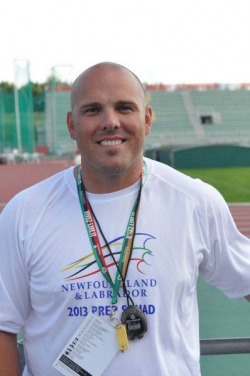 Coach of the year
Coach Halliday's athletes set 24 new provincial records, four of which were previously held by him - that's the most records for a coach in a single season in provincial track and field history.
Among his accomplishments, Doug coached 14 athletes to provincial gold medals and six more to silver; 11 more to gold and four to silver at the Atlantic championships and another to gold at the Hershey North American Championship.
He was also instrumental in the development and delivery of the provincial Hershey track and field championship, hosting 900 athletes and was Newfoundland and Labrador's sprint coach for the Canada Games.
Doug, who's is the program coordinator at the Pearlgate Track and Field Club, says he was surprised and honored to be nominated and to receive this award.

"The award to me is more a reflection of the dedication, and hard work that every one of my athletes put into achieving their best results throughout the year. I truly just love going out every day and coaching the sport that when I was an athlete gave so much to me. Being able to go out and have a positive effect on young athletes as both athletes, and people is the most rewarding part."