The Graduate Commons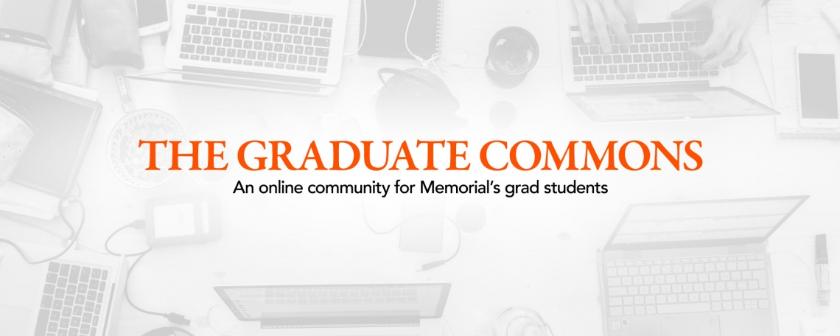 The Graduate Commons is an online community for graduate students enrolled in Memorial University of Newfoundland. It was developed by the School of Graduate Studies in collaboration with the Internationalization office, Marine Institute, and the Grenfell Campus. The Graduate Commons enables networking opportunities and offers resources for you to be successful in your degree programs. There is no need to register or sign up – you automatically have access to the Graduate Commons in Brightspace if you are admitted to and are enrolled in a graduate program at Memorial University.
Key aspects and benefits of the Graduate Commons include:
Profiles: Through the directory, graduate students are able to connect with peers in: their courses, programs, faculties/schools, and across campuses.


Discussion Forum: The discussion forum is a safe space for graduate students to ask questions, provide advice, and share knowledge and experiences with other students.


Toolboxes: The toolboxes consist of carefully curated resources that are meant to help you in all aspects of your program, including: writing, finances, wellness, and career planning.
If you have any questions or concerns about the Graduate Commons, please don't hesitate to contact SGS at sgs@mun.ca.
The following tips are intended to help you quickly get started and accustomed to the main features of the Graduate Commons:
Logging in for the first time: You can access the Graduate Commons by visiting online.mun.ca and logging in with your MUN login credentials. If you are a registered graduate student, you'll have access to the Graduate Commons shell immediately. Once you login, you should see the Graduate Commons under the "My Courses" widget. Please consider "pinning" the Graduate Commons so it appears at the top of your course list and among your current semester courses.


Creating a profile: Although it is optional, we encourage all grad students to upload a photo and complete their Brightspace profile to help enhance the sense of community in the Graduate Commons. To do this, click on your name in the minibar at the top of page, select "About Me," and upload your photo and fill in the text fields of your choosing.


Using the discussion forum: The Graduate Commons' discussion forum is an excellent way for graduate students to ask/answer questions, offer advice, and share experiences with their peers. The forum is divided into two topics – general discussion, and career planning and job search. To create an original message or thread, first click on the appropriate topic, then click on "Start a New Thread," and enter your subject and message. Click the "Reply" link to respond to a particular post. CITL offers these helpful tips for using the discussion forum. Please note that posts cannot be deleted. Email sgs@mun.ca if you wish to have your post removed.


Using the toolboxes: You can access a comprehensive collection of resources for graduate students by clicking on "Toolboxes". The resources are organized by category (e.g., writing, finances, wellness, etc.), and you can click on the category link to view the resources that have been added. The breadcrumb will allow you to quickly navigate backwards, and the arrows at the top and bottom of the page will also help move back and forth between resources.


Turning notifications on/off: Brightspace allows you to set notifications for the Graduate Commons so you get automatic alerts to your email or mobile device regarding changes and updates. To do this, click on your name in the minibar at the top of the page, select "Notifications," enter your email address and/or mobile number, and adjust your notification preferences (e.g., new discussion post). You can also receive a daily or weekly of activities on the Graduate Commons.
If you have any trouble accessing or using the features in the Graduate Commons, please don't hesitate to contact the CITL Support Centre.
The Graduate Commons is intended to be an open and space for Memorial University graduate students to share knowledge and information and we welcome you to the graduate studies community. To ensure the best possible experience for all members, we have established some basic guidelines for participation.
Respect other members of the community: Please be respectful when communicating with others and posting in the discussion forum, particularly new members. Defamatory, abusive, threatening, and offensive content are prohibited. The student code of conduct also applies to online forums. Please familiarize yourself with Memorial's Student Code of Conduct.


Be mindful of intellectual property: When posting content that is not your own, please ensure you either have permission to use or it is properly attributed to the content creator.


Do not use or mention personal information: When posting content, please write as generally as possible and do not share anyone's personal information (e.g., your MUN student number) to protect your privacy and the privacy of others.