Sarah Martin
Associate Professor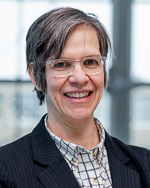 SN 2046
Department of Political Science, Science Building
Memorial University of Newfoundland
St. John's, NL A1B 3X9 Canada
Telephone: (709) 864-8181
Email: sarahjmartin[at]mun[dot]ca
---
Academics
BA Hons, MA with Distinction (Carleton); PhD (University of Waterloo)
---
Areas for Student Research Supervision
Food politics
Environmental politics
Finance and financialization
Global political economy/political economy
---
Bio
Dr. Martin specializes in the global political economy of food and agriculture, and her research explores questions about the governance of food and agriculture at the local and global scale. Her work as a cook, chef and meat cutter in a variety of settings from institutional cafeterias to high-end restaurants to remote logging camps has led to a particular interest in how food politics is practiced in the everyday, and the tensions found within the global political economy. Past research has explored food sovereignty movements, the political economy of foodservice corporations, and the interaction between finance and agriculture. She is currently researching the dynamics of food, feed and fuel in relation to environmental politics and agri-aquacultures.
---
Selected Publications
2023 "'Finprint' technopolitics and the corporatisation of global food governance", Sarah J. Martin and Charles Mather. Area. https://doi.org/10.1111/area.12907
2023 "Financing energy futures: The contested assetization of pipelines in Canada", Amy Janzwood, Kate J. Neville and Sarah J. Martin. Review of International Political Economy. https://doi.org/10.1080/09692290.2022.2161111
2022 "How War in Ukraine Impacts Food Insecurity in Canada" The Independent. https://theindependent.ca/commentary/analysis/how-war-in-ukraine-impacts-food-insecurity-in-canada/ July 18.
2022 "In the name of protein", Julie Guthman, Michaelanne Butler, Sarah J. Martin, Charles Mather, Charlotte Biltekoff. NatureFood. 3: 391–393.
2022 "Slow Justice: A Framework for Tracing Diffusion and Legacies of Resistance", Kate J. Neville and Sarah J. Martin. Social Movement Studies 2 (2): 190-210.
2021 "'Landing' salmon aquaculture: Ecologies, infrastructures and the promise of sustainability", Sarah J. Martin, Charlie Mather, Christine Knott, and Dean Bavington. Geoforum. 123: 47-55.
2020 Green Meat?: Sustaining Eaters, Animals, and the Planet Ryan Katz-Rosene and Sarah J. Martin. McGill-Queens University Press.
2020 "Storing value: the infrastructural ecologies of commodity storage", Daniel Banoub and Sarah J. Martin. Environment and Planning D: Society and Space. 38 (6): 1101–19.
2020 "The Political Economy of Distillers' Grains and the Frictions of Consumption" Environmental Politics 29 (2): 297–316.
2020 "Thinking outside the crisis: Throwing off our (food) chains" The Independent.
2017 "Putting Food Sovereignty to Work in Canada", Sarah J. Martin and Peter Andrée. Journal of Civil Society, 12 (4): 374-391.
2017 "Meat", Ryan Katz-Rosene and Sarah J. Martin. I-PEEL (International Political Economy of the Everyday) http://i-peel.org/homepage/meat/
2015 "The state of time in this financial moment: Financialization in the food system", Canadian Food Studies, 2 (2): 287-293.
2015 "Finance for Agriculture or Agriculture for Finance?", Sarah J. Martin and Jennifer Clapp). Journal of Agrarian Change 15 (4): 549–59.
2013 "In Conversation with Robert Cox: Historical Change, the Occupy Movement and Frozen Social Forces". Global Social Policy 13 (2): 216–225.