Kelly Blidook
Associate Professor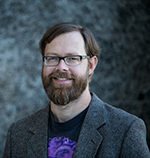 SN 2042
Department of Political Science, Science Building
Memorial University of Newfoundland
St. John's, NL A1B 3X9 Canada
Telephone: (709) 864-8184
Email: kblidook[at]mun[dot]ca
---
Academics
BA (Trinity Western); MA (Simon Fraser); PhD (McGill)
---
Areas for Student Research Supervision
Political and legislative behaviour
Political institutions
Political representation
Public opinion
---
Examples of Recent Courses Taught
1000 Intro to Politics and Government
2800 Intro to Canadian Government & Politics
3010 Empirical Methods
6010 Political Science Methods
6700 Canadian Politics
---
Selected Publications
Books
Representation in Action: Canadian MPs in the Constituencies. With Royce Koop and Heather Bastedo. (2018). UBC Press.
(https://www.ubcpress.ca/representation-in-action)
Constituency Influence in Parliament: Countering the Centre. (2012). UBC Press.
(https://www.ubcpress.ca/constituency-influence-in-parliament)
Selected Articles, Reports, Chapters
"Observing Representation: Participant Observation with Elected Officials." With Royce Koop. (Forthcoming). SAGE Research Methods Cases – Politics and International Relations.
"Party Policy Positions in Newfoundland and Labrador: Expert Survey Results in the Buildup to the 2011 Provincial Election." With Matthew Kerby. (2014) American Review of Canadian Studies, 44 (4): 400-414.
"Democratic Responsiveness in the House of Commons." Chapter in Canadian Democracy from the Ground Up. Elisabeth Gidengil and Heather Bastedo, eds. UBC Press (2014).
"It's Not You, It's Me: Determinants of Voluntary Legislative Turnover in Canada." With Matthew Kerby. (2011) Legislative Studies Quarterly, 36 (4): 621–643.
"Exploring the role of 'legislators' in Canada: Do Members of Parliament influence policy?" (2010) Journal of Legislative Studies, 16 (1): 32-56.
"Constituency Influence in Parliament". Co-authored with Stuart Soroka and Erin Penner. (2009) Canadian Journal of Political Science, 42 (3): 563-591.
Textbook
Canadian Politics: Critical Approaches (8th ed). With Christopher Cochrane & Rand Dyck. (2016). Nelson.
(http://www.nelson.com/catalogue/productOverview.do?Ntt=canadian+politics||1912623434159383091011884267881162818399&N=197&Ntk=nelson%7C%7CP_EPI&Ntx=mode+matchallpartial)