Christina Doonan
Associate Professor & Undergraduate Program Director (Political Science & Law and Society)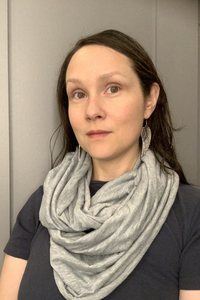 SN 2043
Department of Political Science, Science Building
Memorial University of Newfoundland
St. John's, NL A1B 3X9 Canada
Telephone: (709) 864-7413
Email: cdoonan[at]mun[dot]ca
---
Academics
BA Hons, MA (Carleton University); PhD (Rutgers University)
---
Areas for Student Research Supervision
Political theory
Human rights
Humanitarianism
Gender and politics
Politics of health
Ethics of Care
Law and society
---
Examples of Recently Courses Taught
POSC 2100: Political Theory
LWSO 3300: Understanding Human Rights
POSC 3140: Feminist Political Theory
GNDR 3007: Theories of Care
---
Bio
Dr. Doonan studies political theory and has interests in women and politics, human rights, politics of health, critiques of humanitarianism, and caring labour. Her most recent work addresses the politics of gender and health in the contexts of breast cancer and infant feeding. She has also published on the gendered assumptions and outcomes of U.S. domestic and foreign policy, specifically the U.S. President's Emergency Plan for AIDS Relief (PEPFAR) and the Trafficking Victims Protection Act. She is jointly-appointed to the department of Gender Studies.
---
Select Publications
Refereed Journal Articles
Doonan, C. (2022). There's No Formula for a Good Mother: Shame and Estranged Maternal Labour. Feminist Theory, 14647001211042488.
Doonan, C. (2021). Disabling the Body Politic. Disability Studies Quarterly, 41.3.
Doonan, C. (2018). She's Married, She's Faithful, She's Dying: Politicizing the President's Emergency Plan for AIDS Relief. Politics & Gender, 14.3, 1-27.
Doonan, C. (2018). Rights for Whom? Linking Baby's Right To Eat With Economic, Social, And Cultural Rights For Women. Canadian Food Studies / La Revue Canadienne Des études Sur L'alimentation, 5.1, 8-18.
Doonan, C. (2016). A House Divided: Humanitarianism and Anti-immigration Within US Anti-trafficking Legislation. Feminist Legal Studies, 24.3, 273-293.
Doonan, C., Temple Newhook, J., L.A. Allwood-Newhook, A. Drover, L. Twells, and K. Chan (2018). Communication, Relationships, and Priorities: Parental and Provider Experiences of Infant Feeding Support on the Northeast Avalon. Journal of the Motherhood Initiative, 9(2), 11-24.

Book chapter
Doonan, C. (2017). "Breastfeeding in the House of Assembly," in The Democracy Cookbook: Recipes to Renew Governance in Newfoundland and Labrador, Eds. Alex Marland and Lisa Moore, ISER Books. 204-207.


Op-ed
Is it Me? How Women Professors Experience Gender Bias Found in CEQs. MUN Gazette, 7 May, 2018.