Contact Information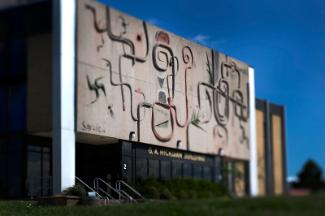 Mailing Address
Folklore and Language Archive
Department of Folklore, Rm. ED4038
G.A. Hickman Building
323 Prince Philip Drive
Memorial University
St. John's, NL, Canada, A1B 3X8
Telephone: (709) 864-8401
Fax: (709) 864-4718
Email: munfla@mun.ca

---
Hours of Operation*

(effective September 14, 2022)
Hours
Monday
Tuesday
Wednesday
Thursday
Friday
10 a.m. to 12 p.m.
Open
Open

CLOSED TO

THE PUBLIC

Open
Open
12 p.m. to 1 p.m.
CLOSED FOR LUNCH
CLOSED FOR LUNCH
1 p.m. to 4 p.m.
Open
Open
Open
Open
Please call (709) 864-8401 or email munfla@mun.ca to book a research appointment or archival tour.
* MUNFLA will close for administrative holidays.

---
COVID 19 Guidelines
To view Memorial's latest guidance regarding Covid-19 protocols, please visit: https://www.mun.ca/covid19/
In keeping with these latest protocols, the use of masks is still strongly recommended.
Research appointments remain encouraged by calling the Archive's main line at (709) 864-8401 or emailing munfla@mun.ca.
We thank you in advance for your continued cooperation and understanding.