Contact Information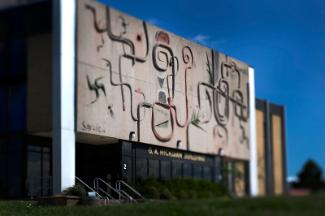 Mailing Address
Folklore and Language Archive
Department of Folklore, Rm. ED4038
G.A. Hickman Building
323 Prince Philip Drive
Memorial University
St. John's, NL, Canada, A1B 3X8
Telephone: (709) 864-8401
Fax: (709) 864-4718
Email: munfla@mun.ca
Social Media: Follow us on X (Twitter) | Follow us on Facebook
---
PLEASE NOTE: The Fall 2023 semester at MUNFLA will be a little unusual to start as we are currently undergoing a couple of small scale, yet disruptive, renovation/reorganization projects. As a result, the Reading Room will be closed until mid-late October. This will impact our ability to serve researchers and conduct class tours. Singular researchers may still be able to be accommodated, but research appointments will be required until operations return to normal.
---
Hours of Operation*
(effective September 14, 2022)
Hours
Monday
Tuesday
Wednesday
Thursday
Friday
10 a.m. to 12 p.m.
Open
Open

CLOSED TO

THE PUBLIC

Open
Open
12 p.m. to 1 p.m.
CLOSED FOR LUNCH
CLOSED FOR LUNCH
1 p.m. to 4 p.m.
Open
Open
Open
Open
Please call (709) 864-8401 or email munfla@mun.ca to book a research appointment or archival tour.
* MUNFLA will close for administrative holidays.

---
COVID 19 Guidelines
To view Memorial's latest guidance regarding Covid-19 protocols, please visit: https://www.mun.ca/covid19/
In keeping with these latest protocols, the use of masks is still strongly recommended.
Research appointments remain encouraged by calling the Archive's main line at (709) 864-8401 or emailing munfla@mun.ca.
We thank you in advance for your continued cooperation and understanding.