Sociology Graduate Student Recruitment: Six Fully Funded Positions
Dec 10th, 2015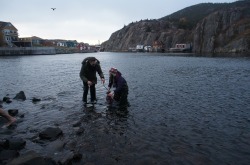 Sociology Graduate Student Recruitment: Six Fully Funded Positions
Memorial University's Department of Sociology offers a thesis and non-thesis program leading to a Master of Arts degree in Sociology, and full or part time study for a Doctor of Philosophy (Ph.D.) in Sociology. Applicants are invited to submit applications now with a deadline of February 1, 2016.
In addition to partially funded open positions on any topic, there are six fully funded positions on faculty projects:
Two MA & Two PhD Positions in Oil Tourism
Dr. Mark Stoddart, mstoddart@mun.ca
This research adopts an international comparative approach to studying the connections and tensions between offshore oil and nature-oriented tourism as pathways for social-ecological development at sites across the North Atlantic: Newfoundland and Labrador, Scotland, Norway, Denmark and Iceland. This research will help us understand how the "oil-tourism interface" is shaped through the interaction of governments, the oil industry, the tourism industry, social movements, and the media.
One MA & One PhD Position in Participatory Citizen Science on Marine Plastics
Dr. Max Liboiron, mliboiron@mun.ca
This project investigates methodologies that are appropriate to researching and acting in environments that are affected by permanent pollution. Our main case is marine plastics, a largely invisible but permanent pollution problem emblematic of the Anthropocene. While the project will look at a variety of methodologies based in action, activism, and making change during research, we will focus on participatory citizen science in particular.
http://civiclaboratory.nl/2015/07/21/participatory-citizen-science-on-marine-plastics/
Contact specific faculty if you are interested in the fully funded positions. Frequently asked questions about applying for a sociology Masters degree are here, and for a PhD, the FAQ is here.