Faculty Research on Degrowth & Discards
Aug 24th, 2015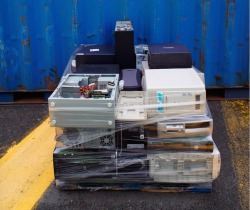 Faculty Research on Degrowth & Discards
Sociology's Max Liboiron and Geography's Josh Lepawsky are contributing editors to a special issue of Society & Space's Open Forum on Discards, Diverse Economies, and Degrowth.
Why do new economic imaginaries need to take up waste as a central issue? What do novel, non-capitalist economies mean for concepts and materialities of waste?
Since the last economic recession, discussions about how to reimagine ecologically and socially just economies have proliferated. A recent conversation at the 2015 American Association of Geographers Conference in Chicago focused on the role of waste, pollution, and other discarded materials that pose fundamental problems for economic production in these imaginaries. We are pleased to announce a series of short, open-source publications on Society and Space Open Forum that look at the intersection of discards, diverse economies, and degrowth. They will query how different regimes of value and circulation can redefine waste, and how the material agencies of waste will shape future economies.