History
Signaling the Way
Learn more about Memorial University's new public engagement and innovation facility, located on iconic Signal Hill in St. John's, Newfoundland and Labrador.
---
The Purchase
In 2013 Memorial University purchased the former Battery Hotel located on Signal Hill, overlooking St. John's Harbour. The hotel was a landmark property with a long history within the cultural life of the province and has been the site of countless weddings, holiday parties, and holiday photographs. Memorial's decision to purchase the site marked a whole new era for the building.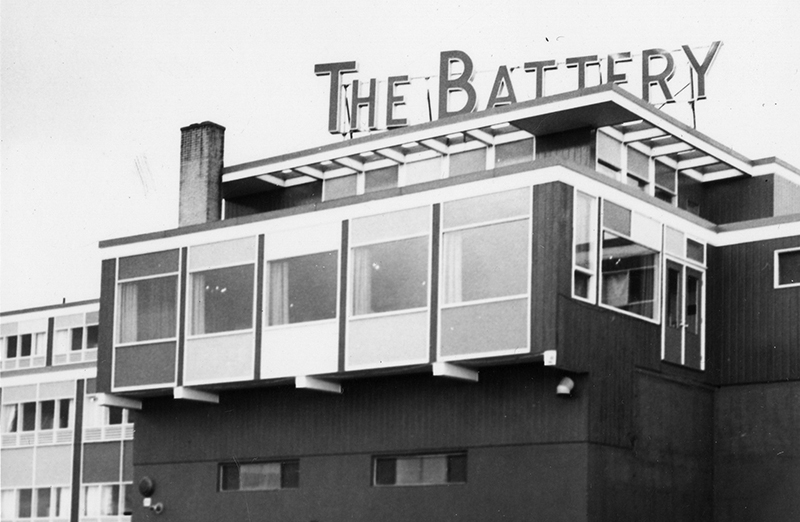 The old Battery Hotel, 1968 [City of St. John's Archives, 2018]
---
The Public Consultation
The first steps in the transformation of the space from hotel to university campus were to conduct a property-use planning exercise to complete a number of necessary upkeep and maintenance jobs, and undertake a province-wide public consultation to ask the Memorial community and its public partners how they envisioned the new building.
A conceptual design of the Signal Hill Campus was developed to provide a jumping off point for the consultation – a vision for the space as a public engagement hub to facilitate university-community collaboration, while also accommodating several university organizations already deeply engaged in working with the public, as well as much-needed independent living space for graduate students.
From May until June 2014, sessions were held in locations across the province, including St. John's, Happy Valley–Goose Bay, Corner Brook and online. You can read the results of the public consultation here.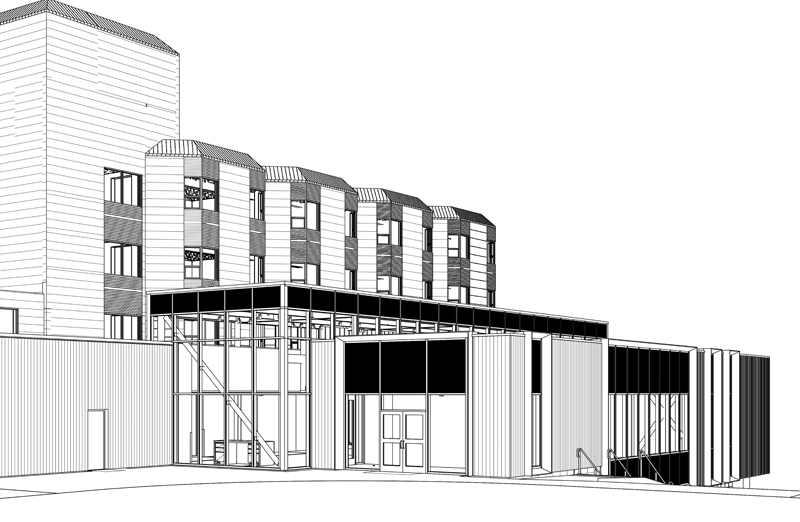 Design drawing of the new upper entrance area [MUN, 2018]
---
Graduate Student Accommodations
In July 2015 Memorial officially opened the application process for graduate students interested in independent living apartments in the building. The rooms, 87 in all, are located in the Harbour Wing and Tower areas of the building.
The accommodations are open to registered graduate students of Memorial University including the Marine Institute. All rooms are single occupancy, with a private washroom. The kitchen and lounge facilities on each floor are common areas shared between about 15 students. Since the opening of the accommodations, there has been a waiting list every September. For more information, see Memorial's Student Residences website.
---
Renovation of the Main Space
Between 2015 and 2018 significant renovations (and demolition) were undertaken on the facility, including the removal of the oldest segment of the building, siding and window replacements, and a major gutting and redevelopment of the inside of the main space of the facility.
---
Tenant Unit Move-in and Offical Opening
With construction completed in September 2018, Memorial University moved in to the new Signal Hill site over summer 2018, including the Harris Centre, the Gardiner Centre, Genesis and the Office of Public Engagement. Along with them, the conference centre and building program staff, MUN's Pensioners Association and Business & Arts NL also took up residency in the newly renovated building.