Harris Centre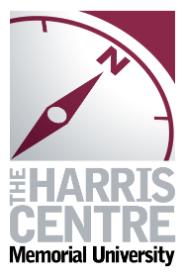 Memorial University's hub for public policy and regional development.
---
Named in honour of Memorial University scholar and former president, Dr. Leslie Harris, the Harris Centre of Regional Policy and Development, helps diverse groups and individuals to connect with the research resources of Memorial University through teaching, research, and outreach initiatives.
The Harris Centre links Memorial researchers with groups all over Newfoundland and Labrador, supporting active community engagement throughout the research process.
Working with all units at Memorial, we build connections, encourage informed debate and support collaboration, enhancing the University and the Province through mutually beneficial partnerships. We assist with Public Policy Forums, Regional Workshops, Vital Signs, Rural Routes Podcasts, RAnLab, and Regional Population Projections.
Contact
Phone: +1.709.864.3143
Fax: +1.709.864.3734
E-mail: harriscentre@mun.ca
https://www.mun.ca/harriscentre/