Spaces
---
The Emera Innovation Exchange Conference Centre offers a variety of distinct convening spaces for every occasion. Whether you are planning a conference for a few hundred guests, a panel discussion of a few dozen or a board meeting with ten, the EIX Conference Centre has a suitable space for your needs!
While all venues feature full AV connectivity, each individual space has additional features for more specialized uses. Please find more details in the descriptions below.
You can find a general map of the available rental spaces here.
---
Conference Hall
Bring a unique perspective to your next event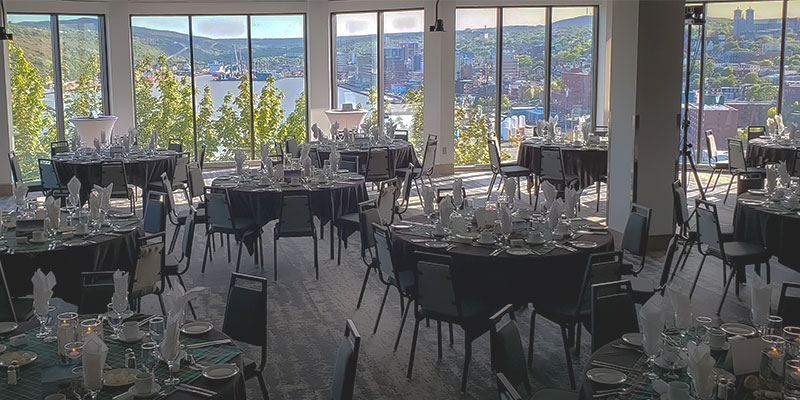 The main conference hall (5000 sq.ft.) can comfortably host gatherings of various sizes with a spectacular view over the city of St. John's and its harbour. It features the latest in AV technology, is optimized for webcasting and can be fully configured to the needs of your event.
It can be divided into three separate rooms by two sets of movable walls, creating more intimate spaces for smaller events.
EIX Main Conference Hall
---
Johnson Insurance Atrium
Get creative in this versatile event space
The Johnson Insurance Atrium is a multifunctional event space that can be utilized for any occasion. Spread over two levels, the atrium has an open feel with plenty of natural light and amazing views of the city of St. John's.
The seated staircase connecting both levels is a great location for public events, presentations, announcements, film screenings or just a casual chat. A large video-wall mounted in the staircase and two monitors on the lower atrium level provide added AV capabilities.
---
YAFFLE Connect
Casual lecture & activity space



Yaffle Connect is the ultimate barrier-free dialogue and connecting space where the public and the university intersect. Yaffle Connect provides a physical manifestation for the Yaffle application, Memorial's online connecting tool. Leveraging the objectives of Yaffle to connect real-world problems with the university, college, and publicly held expertise that can solve those problems, this space can be used for meet-ups, small dialogues, hackathons, co-working sessions and more.
Yaffle Connect provides access to the tool and its library resources via fixed kiosks, screens and public Wi-Fi access. It features comfortable and flexible seating for in person collaboration and discussion as well as space for informed, moderated dialogue and debate.
---
Meeting Rooms
Casual or formal, private or public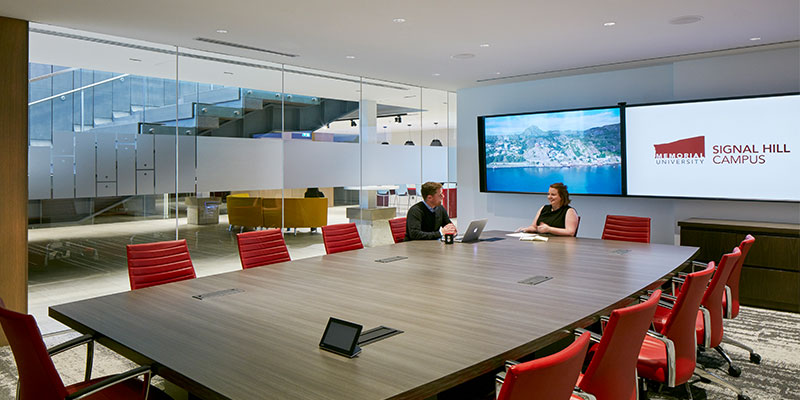 There are eight meeting rooms accessible from the lower level of the Johnson Insurance Atrium which can be utilized for anything from board meetings to small workshops and seminars.
One room comes with a fixed boardroom style setup, while the setup of the seven others can be fully customized.
Each room features fully integrated AV systems with the Solstice (TM) Wireless Presentation System for ease of use and interactivity as well as video and phone conferencing capabilities.
---
Dining Room
Time for a break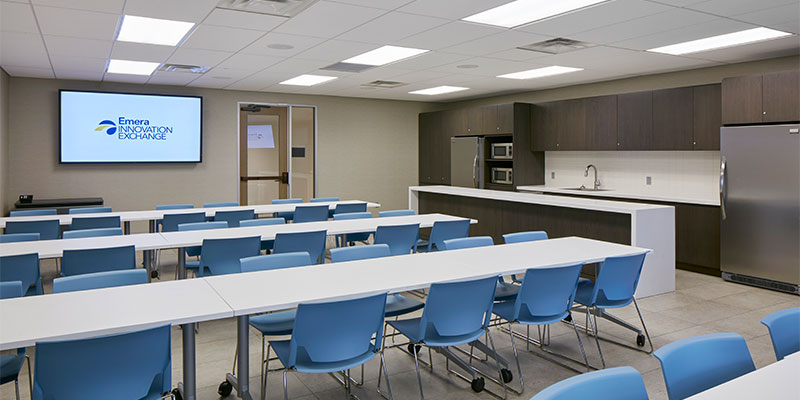 For events that require a private space for lunches or small dinner receptions, the dining room is the perfect location. Whether casual or formal, the room is fully customizable.
A kitchen island provides space for buffets, but can also be used for other purposes such as classroom space. A wall-mounted 66" screen provides AV capabilities.