The Main Presenter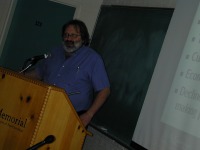 The Opportunity
Through its "Memorial Presents" series, the Harris Centre provides a platform where a Memorial University faculty member, staff member or student may communicate the results of his or her research to the broader public. The Harris Centre undertakes all the tasks required in creating the public platform, including promoting the event ahead of time, hosting and moderating the session, and archiving it on the Centre's website. The public platform consists of:
A lecture to a live audience, including a question-and-answer session.
Where possible, this lecture is also broadcast "live" on the House of Assembly channel (on cable television) throughout Newfoundland and Labrador and simultaneously webcast on the Internet.
If the session has been broadcast, DVDs are produced for dissemination to appropriate groups and individuals.
Sessions which have been broadcast are subsequently up-loaded to the Harris Centre's website, from where they can be downloaded to be viewed "on demand".
The Newfoundland Quarterly has agreed to publish up to four articles per year based on "Memorial Presents" sessions.
The Harris Centre will pay the costs of panelists' travel, if required.
The Responsibilities of the Main Presenter
The primary task of the main presenter is to convey in the language of the educated layperson a topic relating to public policy. As such, the presentation should eschew technical language, acronyms and specialized jargon, and should set the stage for the informed debate to follow.
The main presenter is asked to:
Provide a title for the presentation, as well as a 50-word synopsis to be used to promote the session.
Prepare a 30-minute presentation to be delivered to a live audience. If PowerPoint slides are required, the presenter will be provided with the Harris Centre's standard PowerPoint template.
Participate in the question-and-answer session following the presentations.
Attend a one-hour "dress rehearsal" with the three panelists about one week before the "Memorial Presents" session takes place.
Provide the Harris Centre with a recent, 300-dpi head-and-shoulders photo in electronic format.
Provide the Harris Centre with a 200-word biography which outlines for the audience the presenter's qualifications and experience dealing with the issue to be discussed.
If selected for publication, provide the "Newfoundland Quarterly" with a 1,200-word article.
Participate in media interviews before and after the event, if the topic proves to be of interest to the media.
If you are interested in becoming a main presenter for a "Memorial Presents" session, or if you would like to recommend a Memorial University faculty member, staff member or student as a main presenter, please e-mail us.