The Atlantic Accord: A New-Found Vision?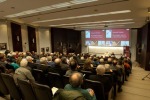 Thursday February 11, 2010
7:30-9:30pm
EN-2006, S.J. Carew Building, Memorial University
Check out the poster and program here.
Presenters:
Richard Cullen, a visiting professor from the Faculty of Law at the University of Hong Kong made a historical and comparative analysis and his perspective will highlight the notaly different political and economic outcomes for similar agreements in other jursidictions.
Wade Locke, a professor of Economics at Memorial University looked at the benefits the Accord has brought to the province, and investigated deeper into how we should now allocate revenues among debt repayment, infrastructure development and service provision. Click here to see Dr. Locke's Power Point Presentation and notes.
---