It was a whale of a day!
May 17th, 2022
On Saturday, May 14, 2022, the public had its first open invitation to visit the Core Science Facility, and see its famous blue whale. The Whale of a Day event treated attendees to numerous booths celebrating Memorial's ongoing dedication to world oceans research, teaching and learning. Science departments, Grenfell campus, Bonne Bay Marine Station, Marine Institute, Ocean Sciences Centre, and student robotics (just to name a few) all joined the fun.
Facilities Management was there showcasing its management of the design, building and maintenance of the Core Science Facility with a hand-crafted wooden model commissioned by the architect prior to deciding on final design of the building. A screen showed the stop-motion build of the Core Science Facility, the raising of the whale, the opening and closing of the operable facade and interesting facts and trivia about the building itself.
Trivia: How many light fixtures are in the Core Science Facility? Is it: A.) 1,250; B.) 2,700; C.) 4,550; D.) 6,300.

Answer: D.) 6,300
A second screen celebrated Facilities Management as a department, explaining who we are and what we do. Each shop and section was featured and highlighted for its contributions to continued maintenance and design of the university. Interesting facts and trivia for the department were also included.
Trivia: How many keys are cut by Facilities management each year?

Answer: Facilities Management Locksmith Shop cuts an average of 3,500 keys for the St. John's region each year.
This was Facilities Management's first public event and it looks forward to showcasing the important work its employees do for the university in the future. Associate Vice-President (Facilities), Grant Vivian, noted after the event that "[Facilities Management] has so much to be proud of in all we do - this was a great opportunity to share some of the amazing things we do with the community we support".
Besides acting as exhibitors, Facilities Management employees played a key role in Whale of a Day by providing moving, cleaning, and maintenance support before and after the event. Alumni Engagement, who organized the day, praised the maintenance team for their fast and professional work to get the area cleared and ready for exhibitors, and then back to usual again for Monday morning.
A big thank you goes to "Whale Day" booth organizers and volunteers: Kristin Hanlon, Andrew Alexander, Sarah Button, Terry Clarke, Andrea Hunniford, Leah McBreairty, Kirk Saunders, Michael Smitherman, and Grant Vivian. Special thanks also go to Patrick Furey for printing the signage for the event. Further thanks go out to the operations and maintenance teams at the Core Science Facility who worked directly with event organizers to make the event a huge success.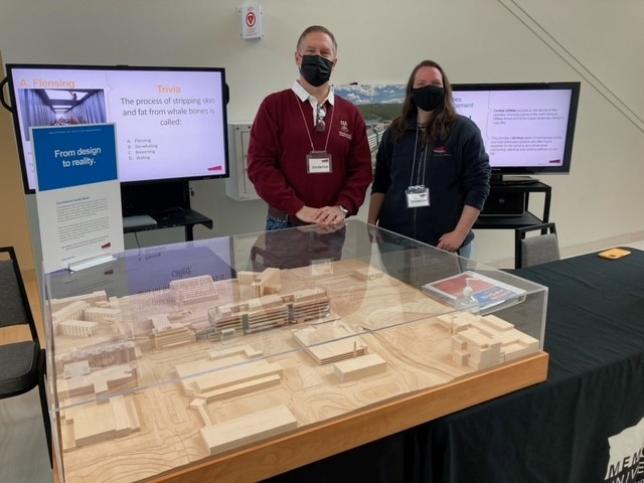 Kirk Saunders and Andrea Hunniford at "A Whale of a Day".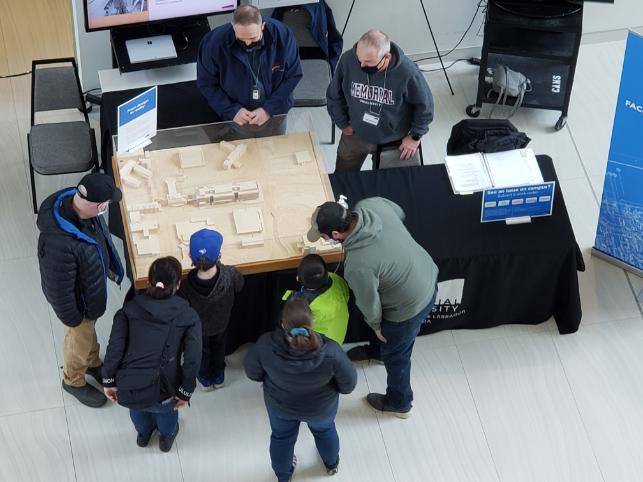 Grant Vivian and Terry Clarke at "A Whale of a Day" showcasing the CSF model.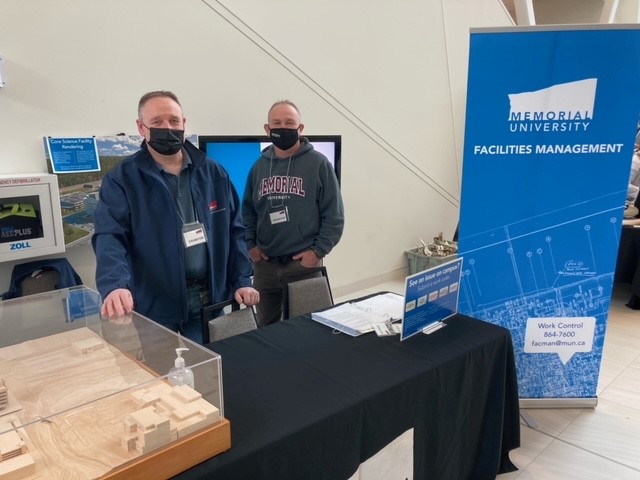 Grant Vivian and Terry Clarke at "A Whale of a Day".