Dr. John William Shirokoff (in memoriam)
By Dr. Syed Imtiaz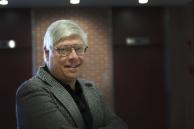 Professor John Shirokoff, one of the founding faculty members of process engineering at Memorial University, passed away on Jan. 9, 2020.
Dr. Shirokoff was born in Jonquière, Quebec. He grew up in Kingston, O.N. where he received his doctorate at Queen's University. Prior to joining Memorial he worked at King Fahd University of Petroleum and Mineral (KFUPM) in Saudi Arabia for 10 years and at the University of Illinois.

He arrived at Memorial in 2001, and over the past 20 years he became known as a dedicated teacher, mentor and researcher.

Professor Shirokoff made significant research contributions in the areas of materials science, corrosion and asphaltene characterization. He was especially known in the scientific community for his work in asphaltene characterization, for which he received the Prince Mohammad bin Fahd bin Abdulaziz Al-Saud Prize for Scientific Excellence.

More recently, Dr. Shirokoff's research focused on corrosion of materials. He was collaborating with major industrial partners, including Bombardier and Suncor.

Wildfires cause so much devastation on our planet. The recent wildfires in Australia is one example. Dr. Shirokoff was collaborating with Bombardier to find ways to improve the properties of metals in contact with saline water to allow water bombers to scoop water from the ocean.

Dr. Shirokoff was a firm believer of experimental research. He dedicated his life to conducting experiments and meticulously generating data in laboratories, which will serve the scientific communities for decades to come.

His research was recognized with awards and major research grants including Byron Dawe Best Poster Award at NECEC, Research and Development Corporation (RDC): Ocean Industries Research Award, Industry Research and Innovation Fund (IRIF) Newfoundland Award, Canadian Foundation for Innovation (CFI)-New Opportunities Fund, CFI-Leading Edge Fund, Atlantic Innovation Fund (AIF), Atlantic Canada Opportunities Fund (ACOA), and Natural Science and Engineering Research Council (NSERC) Operating Grant.

In addition to his research that had an impact on humanity, Dr. Shirokoff was a rare and amazing, polite personality who took the time to talk to the people around him. Colleagues, staff, students and friends alike will remember him for different reasons, but everyone will remember him as someone who always had something interesting to say and often with a twinkle in his eye.

"He was one of the rare professors in the university who would not hesitate to talk any time of the day, regardless of his busy schedule," said long-time colleague Prof. George Mann.

"He always looked for the amusing side," said colleague Dr. Theo Norvell.

"He was a person with kind, big heart. He always had a smile on his face when he talked to people," said colleague Dr. Yahui Zhang.

To his students, he will be remembered as kind and passionate and someone who wanted them to the best they could be.

"I never walked past his office door without saying hello and having a nice chat to start my day," said former graduate student Cleverson Esene.

"He was the kindest and most caring supervisor I've ever had," said former student Landan Khaksar. "He always supported me and never ever made me sad. I already miss him and our long talks about economic issues and politics."

"Dr. Shirokoff was the best and kindest professor in the engineering department," said student Turar Tanirbergenov. "He was truly an amazing person with whom I enjoyed talking with for hours. He made international students feel like at home."

Dr. Shirokoff loved his profession and took great pride as a professional engineer. He taught professionalism in engineering with passion and maintained his professional engineer status in Alberta-APEGGA, Newfoundland-PEGNL, and Ontario-PEO.

Dr. Shirokoff's web profile can be viewed here.

Rest in peace, Dr. Shirokoff.