Undergraduate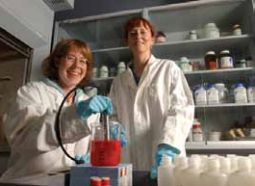 Memorial University's Faculty of Engineering and Applied Science is the only university in Canada to offer this unique program. While other Canadian universities offer a chemical engineering program, which focuses on the processing of chemicals, process engineering places emphasis on the processing rather than the chemicals. It focuses on the processing of petrochemical, oil, gas, minerals, food and any other materials used to obtain valuable products.
Process engineering is a diversified discipline designed to satisfy the needs of various processing industries, including oil and gas and mineral processing. It encompasses new development, design, safety and environment, optimization and operation of sustainable process for human needs.
As a process engineer, you will process biological, chemical and physical substances to modify their nature and properties, while working with a composition of mixtures to produce useful products such as petrochemicals, gasoline, diesel, metals and alloys. This requires a thorough knowledge of materials, as well as an ability to apply this knowledge, in an economical and sustainable way, to engineering development.
The bachelor of engineering major in process engineering is taught by a multi-disciplinary team of faculty members with expertise in metallurgical processes, geological engineering, electro-mechanical engineering, environmental engineering, safety and risk engineering and oil and gas engineering. It is designed to provide students with a specialization in the area of minerals and metals processing and downstream oil and gas processing.
To view the program requirements for the Process Engineering Program, visit the university calendar.