MUNFLA Past News and Events Archive
Below you will find MUNFLA's past news and events archive.
For current news and events, please visit this page.
---
Folklore 50th Anniversary Celebration (2018-2019)
The 2018-2019 academic year marked the 50th anniversary of the creation of the Department of Folklore and the Folklore and Language Archive (MUNFLA). We created this page to share photos and memories of events held throughout the course of the year; if you have a story, a photograph, or a memory to pass along, please email us!
Current PhD (Folklore) candidate Ehsan Mohammadi, with editing assistance from the HSS Film Unit's Derek Norman, created the above video to help celebrate and commemorate the 50th Anniversary of the Department of Folklore and MUNFLA. The video features current Department Head, Dr. Holly Everett, and music by the late Dr. Peter Narvaez; permission to use "Vitamin C" was granted by Dr. Everett. We hope you enjoy!
---
Food, Stories and Songs of This Place: Celebrating 50 Years of Folklore Education in Newfoundland and Labrador (June 2019)
Details regarding this event can be found here.
Event memories: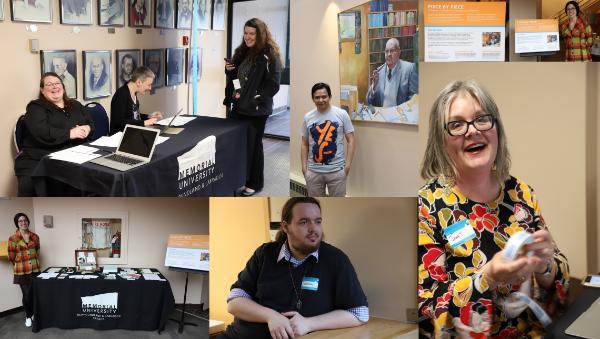 Some of our fabulous volunteers and committee members: (Top, L-R): Donna Norvey, Joy Fraser (both seated), Mohammad Ainul Haque, Janet Harron. (Bottom, L-R): Shannon Bateman and Matthew Liberty.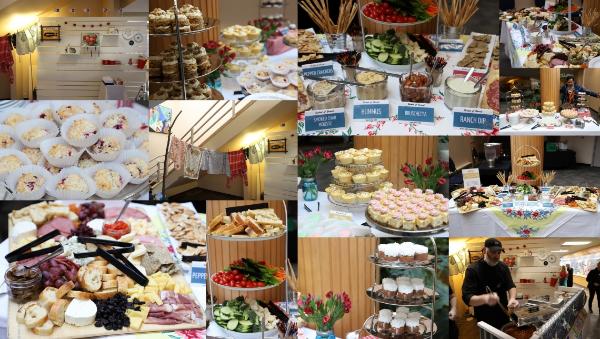 A delicious spread was put on by Rocket Bakery!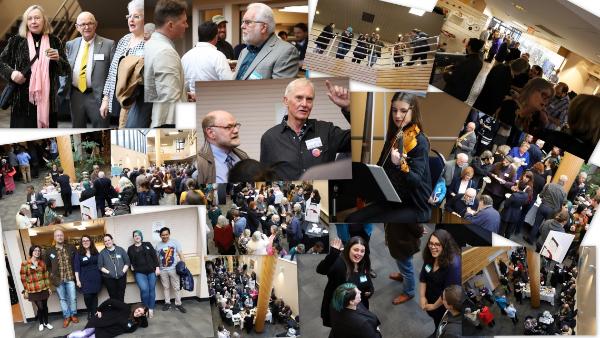 Our event was very well attended; we were delighted to see so many former and current faculty, staff, and students, as well as numerous FSAC delegates and members of the general public!
The celebration was capped off with a terrific concert organized by the folks at the St. John's Storytelling Festival. Performers included Sophie Angnatok, Anita Best, Tama Fost, and Kelly Russell. The concert was hosted by the province's Intangible Cultural Heritage Development Officer - our very own Folklore alumnus - Dale Jarvis.
---
Annual Tribute to Dr. Peter Narvaez (November 2018)
The 7th Annual Tribute to Dr. Peter Narvaez: Wednesday, November 14th, 2018, 9:00 pm - 11:30 pm, The Ship Pub. Hosted by the Folk Arts Society; for further information, click here.
---
Folklore 50 (October 2018)
Inaugural event: A conversation with Hilda Murray and Margaret Bennett - Tuesday, October 2nd, 2018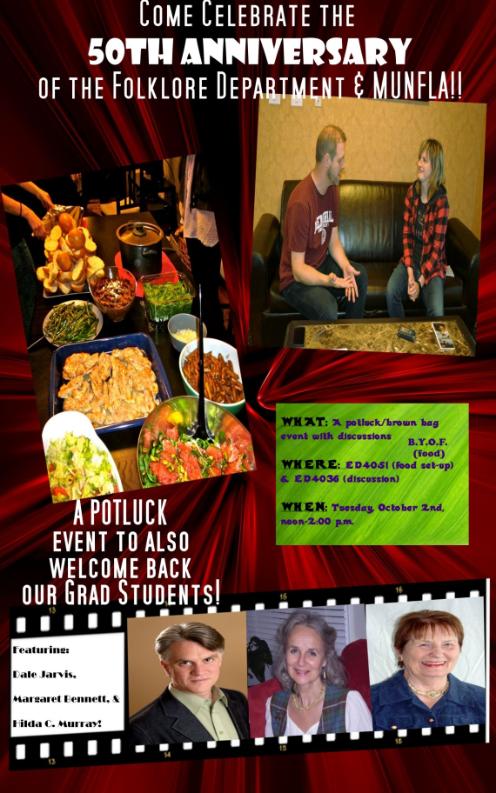 Click the gallery below to view more photos from the event:
---
REGULARLY-SCHEDULED CLOSURE (2017)
Effective Wednesday, September 27th, 2017, MUNFLA will be closed to all researchers on Wednesdays in order to facilitate work on backlog reduction. We apologize for any inconvenience this may cause.
---
DOORS OPEN (2015)
On September 12th-13th, 2015 MUNFLA participated in the Newfoundland & Labrador Historic Trust's annual 'Doors Open' event – an opportunity for visitors not necessarily familiar with the Department of Folklore or the Folklore and Language Archive to drop by for a tour of our facility and to gain a better understanding of our holdings and what we do. We had a wonderful turnout over the two-day period and look forward to participating again!
Click the gallery below to view photos from the event:
---
Presentation of Newfoundland National Convention Recordings (2014)
On Wednesday, December 10th, 2014, the Canadian Broadcasting Corporation (CBC) presented CNS, The Rooms, and MUNFLA with over 200 hours of recordings from the Newfoundland National Convention. These recordings were originally broadcast on radio between 1946-1948 and gave listeners unprecedented access to the debates that would lead the Dominion of Newfoundland into Confederation with Canada.
Many thanks to Christine Davies, Associate Producer with CBC Radio, for her tremendous efforts in reformatting these files and to the Corporation for this most generous gift. Prior to this presentation, MUNFLA held 60 of these recordings in both 1/4" reel and CD format; the gift of the external drive will now mean researchers can have easier access to all the recordings.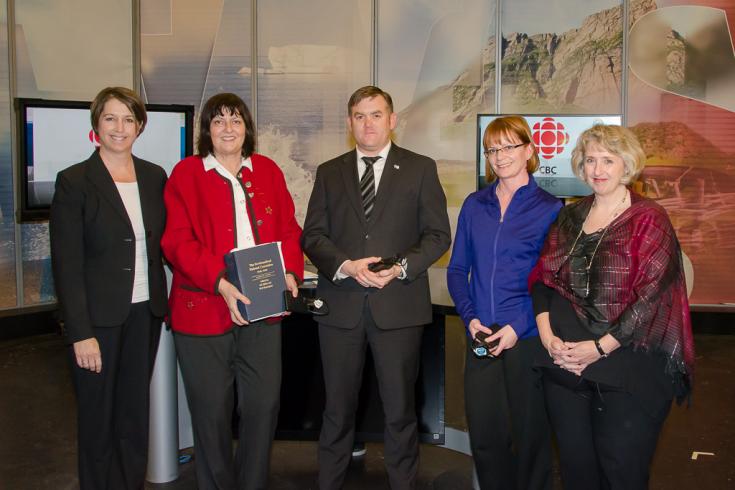 Present for the presentation: Denise Wilson, CBC Atlantic Managing Director; Joan Ritcey, Head – Centre for Newfoundland Studies; Greg Walsh, Provincial Archivist – The Rooms; Pauline Cox, Archivist – MUNFLA; Christine Davies, Associate Producer – CBC Radio.
---
CEFT Online Collection Launch (2013)
A celebration to mark the launching of the Centre d'études franco-terreneuviennes (CEFT) online collection was held on Friday, November 23, 2013. This project was made possible by the Association régionale de la côte ouest (ARCO) in collaboration with the Memorial University Folklore and Language Archive (MUNFLA) and the QEII Library's Digital Archives Initiative (DAI), which hosts the collection. The launch of this site means materials from CEFT's French-language holdings are now available online to not only the community that created them, but to the research world at large. To browse the CEFT collection, click here: Digital Archives Initiative (DAI)
Click the gallery below to view photos from the event:
---
Meet Memorial (2010)
Wednesday, June 9th, 2010 saw MUNFLA participate for the first time in the third annual Meet Memorial campaign. Close to thirty faculty, staff, retirees, and other friends of the University visited the Archive, browsed our displays, went on guided tours throughout our facility and, afterwards, enjoyed some delicious locally-baked goods and refreshments.
Click the gallery below to view photos from the event:
---
Open House (2009)
On Tuesday, November 24th, 2009, MUNFLA hosted a two hour Open House as part of the provincially-designated Archives Month celebrations. Our thanks to all those who helped facilitate this successful event and also to those who took time out of their busy schedules to come join in the festivities.
Click the gallery below to view photos from the event: