Synergy Session: The Productivity Puzzle
With Elizabeth Beale
Monday, June 15, 2015
Business Boardroom, Business Administration Building, Memorial University, St. John's Campus
About this Session
Elizabeth Beale, outgoing CEO of the Atlantic Provinces Economic Council, discusses the challenge of productivity in Newfoundland and Labrador. With the province's competitive position tied tightly to the rise and fall of energy prices, Beal offers her views on industrial diversification opportunities, innovation challenges, the embrace of technology and leveraging the creative economy. Her presentation will include important observations about women in leadership roles and how prosperity is tied to paying greater attention to the physical environment.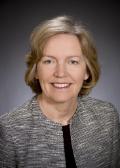 Elizabeth Beale is the outgoing President and CEO of the Atlantic Provinces Economic Council (APEC). Her policy and research interests cover a wide range of topics related to the economy of Atlantic Canada including energy, labour market and innovation strategies. Ms Beale has authored numerous studies on public policy topics and is a frequent media commentator. Under her direction, APEC has grown to become an influential voice furthering the economic development of Atlantic Canada.
Ms. Beale has also participated on a number of external advisory panels including the Labour Market Information Advisory Panel (Forum of Labour Market Ministers, 2009), the Nova Scotia Economic Advisory Panel (2009) and the Expert Panel on a Yarmouth-US Ferry (2012). Ms. Beale resides in Halifax, Nova Scotia. She holds a B.A. from the University of Toronto and an M.A. in Economics from Dalhousie University. Ms. Beale has taken an active role in a number of professional and community organizations. She is currently a member of the National Statistics Council, director of the Leslie Harris Centre of Regional Policy and Development at Memorial University and advisory board member for the Mowat Centre, University of Toronto.