Synergy Session: Social Enterprise in the Age of Globalization
With Howard Weinstein
Monday, March 10, 2014, The Fluvarium, 5 Nagle's Place, St. John's, NL
Did you watch the live webcast? Take a moment to let us know how we did by filling out our quick evaluation survey.
The Ark was built by an amateur, the Titanic by professionals: Social enterprise in the age of globalization
Social business generates triple bottom line profits. A social business often creates new technologies as well as new paradigms for doing business, which benefit, not only the worker, but also the community, the province and potentially the global economy. This presentation will show how a small NGO in rural Botswana, created by 10 hearing-handicapped people, invented the first rechargeable hearing aid, which went on to win many international prizes. It was on exhibit at the Smithsonian and Alexander Graham Bell museums and has also been written up in National Geographic and Newsweek magazines. The presentation will highlight new ways of transferring technologies and how these technologies can have a social, educational, health, and environmental outcome and long-term impact. Finally, the presentation will address the abilities of people with a disability and show why it is often beneficial for companies to hire people with disabilities.
---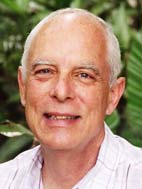 Howard Weinstein was raised in Canada by parents who immigrated from Poland and Russia. He earned an MBA from Syracuse University, where he focused on issues of consumer protection before working for many years in various private companies, including his father's plumbing company which had branches in Newfoundland.
After a period of personal and professional difficulties Howard decided to work abroad in the field of development, and took a volunteer position with the World University Service of Canada to work at Camp Hill Community Trust, a community for disabled people in Botswana. Howard spent four years at Camp Hill, implementing the start-up company Godisa Technologies, where he employed persons with hearing and physical disabilities, primarily women. Through Godisa, Howard produced three new products including: a solar energy powered hearing aid, the Analogue solar charger, and the rechargeable battery. The innovation of these products won Godisa an International Design Award for the best product in Africa in 2005. Within three years, Godisa manufactured more than 60,000 hearing aids. Howard was able to turn his attention to helping other hearing-impaired people, starting with his employees, integrate into society. After four years in Botswana, Howard travelled to numerous other locations around the world. During this period he started 8 sustainable social businesses. He recently moved back to Canada to help start sustainable business for under-represented members of society, be it people with a disability or First Nation members with a disability.
This event is presented in conjunction with the Faculty of Business Administration.