Synergy Session: BUILDing Prosperity One Green Job at a Time
With Shaun Loney the Executive Director of BUILD.
Tuesday, February 25th, 2014, The Fluvarium, 5 Nagle's Place, St. John's, NL
Session Description
"Poverty has no causes," wrote Jane Jacobs. Shaun Loney, social entrepreneur and former Manitoba Director of Energy Policy agrees: "Only prosperity has causes."
Shaun will be in St. John's to talk about what's happening in Manitoba, where hard-to-employ individuals are lowering improving energy efficiency and cutting utility bills in First Nations communities by installing insulation, low-flow toilets and showerheads, and installing geothermal heating. Others are doing apartment maintenance and even remediating bed bugs. While others are leading a food movement where accessing government cafeterias is often more meaningful than direct government funding.
Learn about how thinking of poverty as the absence of prosperity has led to nothing short of a revolution in marginalized communities. Can entrepreneurial thinking help solve social problems in Newfoundland and Labrador?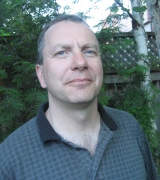 Shaun Loney is the co-founder of four different social enterprises in Manitoba, one of which, BUILD (Building Urban Industries for Local Development) won the Scotia Bank EcoLiving Business Leadership in 2011 and Employer of the Year by Manitoba Apprenticeship in 2013. He is also the author of BUILD Prosperity: Energizing Manitoba's Local Economy. Shaun was the Director of Energy Policy at the Government of Manitoba from 2002 to 2008 and prior to that political advisor to Manitoba's Minister of Finance.