Master's Program
"Having a background in gender studies allows me to better assess ways in which gendered experiences shape things like law and policy, health and well-being, business and advertising, arts and culture, and, quite frankly, just about everything. Having completed both an undergraduate and master's degree at Memorial, I can honestly say that studying Gender Studies has changed the way I see the world, for the better." (Memorial graduate, 2015)
"I believe that the program's most valuable attribute is its capacity to foster critical thinking skills that encourage thoughtful reflection about feminist research and practice. Throughout the program I learned the profound importance of incorporating feminist theory into my study of women's reproductive health."
Christina Young, Master of Women's Studies, 2013
An Interdisciplinary Program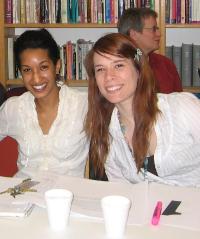 The Master of Gender Studies degree allows students to critically examine – at an advanced level – how gender shapes our identities, our social interactions and our world. Students will incorporate into their study frameworks for thinking about power relations and the ways those relations are shaped and challenged by intersecting constructions of gender, race, class, sexuality, age, ability and nationality.
We offer three degree completion options: thesis, project and internship. Memorial University is the only university in Canada to offer degree completion by internship.
Faculty members in the Department of Gender Studies bring research expertise and interests in a range of fields, including: citizenship and human rights; corporeal feminism; reproductive rights; auto/biography and life writing; postcolonial and transnational feminisms; and First Nations studies. This interdisciplinary master's program offers a thriving environment that draws on the expertise of scholars from a wide range of academic disciplines. Interdisciplinary resources in cognate areas are available to all MGS students
Program Requirements
The program offers course work combined with three options: thesis, project or internship.

All candidates must complete Gender Studies 6000, 6100 and 6200, in addition to three to nine additional elective credit hours approved by the Graduate Studies Advisory Committee, Department of Gender Studies. These elective credit hours may be gender studies courses or selected from graduate courses in cognate academic units.
Before the end of the second semester of their program each graduate student completing a thesis is responsible for identifying two supervisors with whom they will work. As well, each graduate student completing a project or internship is responsible for identifying one supervisor with whom they will work. An additional field supervisor is required for the internship option.

A thesis, project, or internship proposal, approved by the student's supervisors, and the Graduate Studies Advisory Committee, Department of Gender Studies, must be submitted no later than the end of the candidate's third semester of the program.

Each student must also give a public presentation on her/his approved thesis research, project, or internship. This must be scheduled at least one term in advance.
Interested in applying? Check out our Frequently Asked Questions
Prospective students please go to www.mun.ca/become/graduate for more information.