2nd Workshop 2014

Workshop Overview
By Jackey Locke
For the second year in a row, safety and integrity experts and researchers came together in St. John's for the Safety and Integrity Management of Operations in Harsh Environments Workshop.
From Oct. 22-23, more than 130 experts from industry, academia and government discussed challenges that arise as a result of harsh environments to develop a collective action plan to ensure safer designs and operations.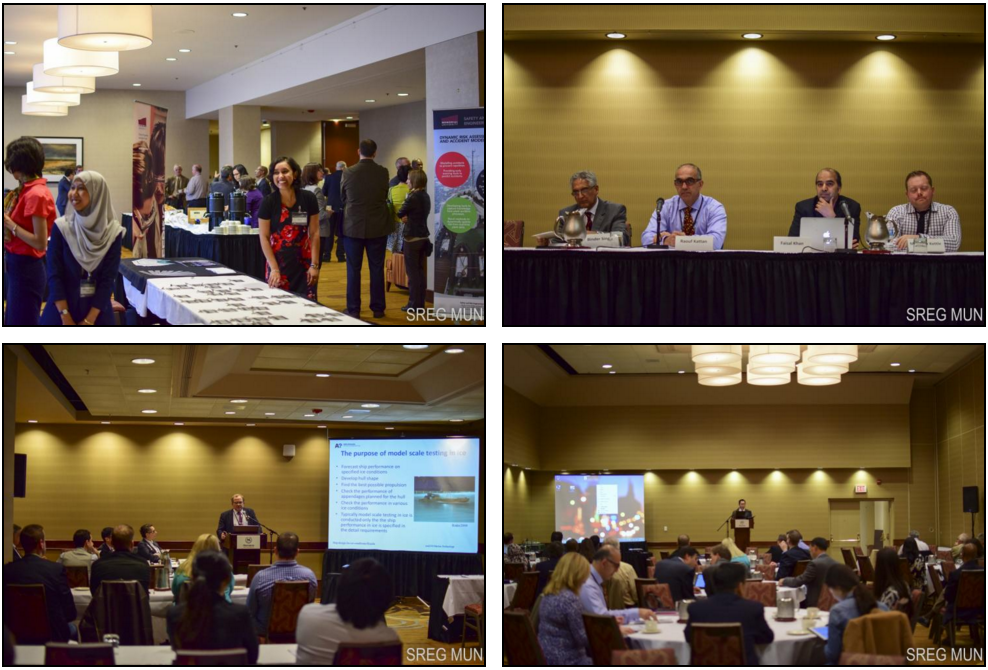 Dr. Faisal Khan is the Vale Research Chair in Process Safety and Risk Engineering and head of process engineering at Memorial University. It was his vision to create such a workshop and he is pleased with its progress to date.
"We need to enhance our understanding and practice with regards to safety and risk management," said Dr. Faisal Khan, Vale Research Chair in Process Safety and Risk Engineering and head of process engineering at Memorial. "This workshop provides an international platform to share our knowledge. By sharing knowledge, we strengthen our belief and take a step closer to developing innovative solutions to prevent failures, incidents and accidents, thus improving safety and integrity."
Keynote Speaker Romney Duffey, president, DSM Associates Inc., spoke about safety and expressed the importance of workshops that focus on safety and asset integrity.
"It's absolutely essential," he said. "I was so pleased to learn that Memorial has a safety and risk program. This is a never-ending journey we're on. It's technically challenging, physically challenging, enduringly challenging and financially challenging. However, we are doing our very best to ensure the safety of our assets and the safety of our operations.
"We need to reassure the public that we are doing that and I believe that as programs mature and develop and new programs are introduced, it goes a long way in increasing knowledge and increasing confidence and increasing safety."

During the two days, sessions included discussions on design and operational integrity in harsh environments, efficient winterization strategies, corrosion prevention and control and condition monitoring in harsh environments and safety.
Dr. Khan says that such an event could not happen without the hard work of an exceptional committee.
"I would like to thank the organizing committee, who did excellent work," he said. "I would especially like to acknowledge the hard work of Dr. Salim Ahmed, the organizing committee lead, who facilitated smooth operation of the event."
The next workshop is planned for March 2016.
Sessions Overview
Day 1: Asset Integrity - Sheraton Hotel
Design and operational integrity in harsh environments: Session will aim to identify the unique short- and long-term integrity issues expected while operating in harsh, and remote areas and to explore potential models to assess and address these issues.
Efficient winterization strategies: Session will focus on the challenges faced in developing efficient winterization strategies; identify innovative approaches to winterization and creativity in implementation

.

Condition monitoring in harsh environments: Session will discuss the challenges to condition monitoring in harsh environments; new innovation and proven methods

.

Corrosion prevention and control: Session will focus on identifying challenges to identification, prediction and prevention of corrosion, and to identify conditions in harsh environments that challenge traditional methodologies.
Day 2: Safety - Johnson GEO CENTRE
Process, occupational and inherent safety in harsh environments: Session aims to increase understanding of the differences faced in process and occupational safety when operating in harsh environments, and will discuss opportunities for inherent safety design.
Risk management: Session will examine methodologies to perform the risk assessment and risk prediction for better management when sufficient information is not available including discussion of cross industry communication to aid risk management in harsh environments.
Human factor engineering and safety culture in harsh environments: Session goal is to identify existing and potential challenges to people working in extreme environments to improve safety and efficiency of operations, and to discuss new strategies to deal with this unique environment.
Innovation in data collection and remote monitoring: Session will discuss new methods of data collection and monitoring in harsh environment to improve operational safety.
Workshop working committee members and volunteers celebrated the successful organization of the workshop.