Message from the Director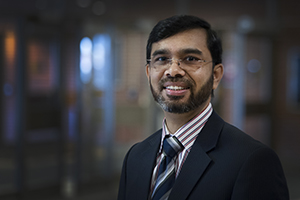 Welcome to the Centre for Risk, Integrity and Safety Engineering (C-RISE) at the Faculty of Engineering and Applied Science, Memorial University.
At C-RISE, we envision to make Sustainable, Safe and Green Processing a Reality.
The Centre for Risk, Integrity and Safety Engineering (C-RISE) leads interdisciplinary research on safety, integrity and sustainability of industrial processes and systems, with a particular focus on harsh environment operations.
The centre engages highly qualified experts and brings together faculty and researchers from various departments and faculties to foster collaboration among faculty, researchers, industry partners, and other experts, nationally and internationally. C-RISE helps to develop new knowledge and provide education and training for safe and green design, operation and maintenance of process facilities.
The main goals of the centre is to develop new knowledge to solve complex problems related to fault detection and management, process, safety and risk management; to develop new technology to improve safety, integrity and sustainability of process operations; to train highly qualified personnel for academia and industry; and to transfer knowledge effectively through publications, workshops, symposiums and trainings.
As risk management techniques grow increasingly complex, and energy, mining, and transportation companies continue to seek new ways to manage total cost of risk, it has become even more imperative to have a firm grasp on the nature of losses that have historically occurred. At C-RISE, we help the industry better understand, quantify and manage risk to survive and thrive. The research in C-RISE covers a wide range of theoretical and applied research activities mainly related to process safety and asset integrity management.
The growing maritime, safety and integrity management of offshore oil and gas and mining industries operated in harsh environments are exciting and strategic area of growth for C-RISE. I look forward to welcoming students and researchers who are looking for rewarding careers and real-world research opportunities.

Dr. Salim Ahmed
Director, Centre for Risk, Integrity and Safety Engineering (C-RISE)
Faculty of Engineering and Applied Science
Memorial University