5th Symposium 2021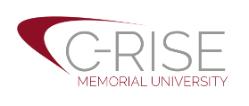 Monday, March 22, 2021
Day 1: Incidences & Lessons Learned from the COVID-19 Pandemic
YouTube link
Tuesday, March 23
Day 2: Emergency Preparedness / Resilience in Operations - Moving Forward
YouTube link
The Centre for Risk, Integrity and Safety Engineering (C-RISE), in collaboration with partners, will be hosting a Virtual Symposium on Pandemic Risk to Safety and Integrity of Process Operations on March 22 and 23, 2021. Each day will begin at 10:30 am NL (9:00 am ET) and conclude at 2:30 pm NL (1:00 pm ET).
C-RISE welcomes this opportunity to host its 5th Symposium (C-RISE 5) to a virtual audience. As we continue to be motivated by the success of our last four conferences, C-RISE 5 will bring together both industry experts and researchers to share their knowledge and experiences as the world navigates its way through the COVID-19 pandemic.
Click here for our C-RISE 5 promotional video and here for our C-RISE 5 brochure.
C-RISE 5 will include 8 talks in total: 4 academic talks on pandemic risk and impact from different regions around the globe; and 4 industry talks sharing pandemic impact to field operations and safety, including success stories. Talks will be 20 minutes plus 10 minutes for Q&A.
Each day will have a 60-minute panel discussion of 5 experts followed by 30 minutes of Q&A.
The theme for Day 1 is "Incidences & Lessons Learned from the COVID-19 Pandemic" and theme for Day 2 is "Emergency Preparedness and Resilience in Operations – Moving Forward".
Day 1 Panel Discussion titled "Pandemic Risk Management: Past and Present" will discuss / brainstorm ideas on pandemic risk management, adoption of lessons learned, and success stories.
Day 2 Panel Discussion titled "Looking Towards Digitalization / Resilience in Operations" will give an opportunity to broaden and expand our experience with learning as the core element from the panel discussion.
AGENDA is available for download here.
Registration is complimentary and may be accessed here.
Have questions about Webex Events, the virtual symposium platform? Visit FAQ's at the following link.

Thank you to our partners and supporters for making this virtual event possible.